Papillary Mesothelioma
Fact Checked
Our fact-checking process begins with a thorough review of all sources to ensure they are high quality. Then we cross-check the facts with original medical or scientific reports published by those sources, or we validate the facts with reputable news organizations, medical and scientific experts and other health experts. Each page includes all sources for full transparency.
Medically Reviewed
A medical doctor who specializes in mesothelioma or cancer treatment reviewed the content on this page to ensure it meets current medical standards and accuracy.
This Page was Medically Reviewed By
Papillary mesothelioma is a rare subtype of epithelial mesothelioma. Often referred to as well-differentiated papillary mesothelioma, papillary mesothelioma is commonly found in the lining of the abdomen (the peritoneum), but it can also be found in the lining of the lungs (pleura) or the lining of the testes (tunica vaginalis).
Page Topics
Where Does Papillary Mesothelioma Develop?
The majority of well-differentiated papillary mesothelioma tumors develop in women, specifically in the abdominal cavity. Less commonly, doctors have found WDPM tumor growth on several of the body's protective membranes, including the pleura (lining of the lungs), pericardium (heart sac) and tunica vaginalis (lining of the testes).
Is WDPM Cancerous?
From a medical standpoint, these tumors are practically benign. Studies have reported WDPM turning into malignant mesothelioma over time, although the chance of this happening is unlikely. Some people with WDPM have also experienced multiple recurrences after treatment.
A February 2019 study published in the Annals of Diagnostic Pathology observed 75 cases of WDPM diagnosed between 2000 and 2017 at Fudan University Shanghai Cancer Center in China.
Patients in the study included 58 females and 17 males ranging in age from 18 to 69 years. Of the 75 cases, only one turned cancerous.
Is There an Asbestos Connection?
At this point, researchers are unsure whether papillary mesothelioma is linked to asbestos exposure. Some patients have a history of asbestos exposure, but most do not. The cause of this disease remains poorly understood.
According to a 2019 study published in Annals of Surgical Oncology, approximately 50 cases of WDPM in the peritoneum have been described in medical literature. There are also several small case reports of WDPM of the pleura. Another study indicated that there are fewer than 20 documented cases of testicular papillary mesothelioma.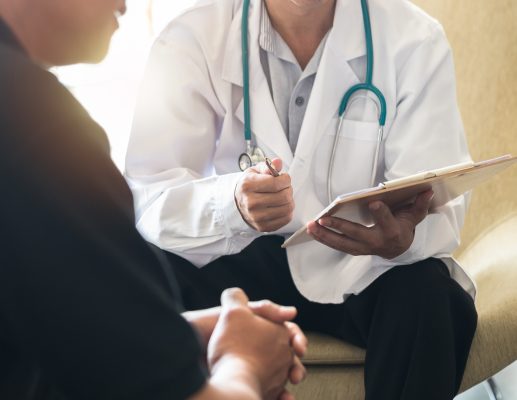 Find a Top Mesothelioma Doctor
Gain access to top mesothelioma doctors and get help scheduling appointments.
Symptoms and Characteristics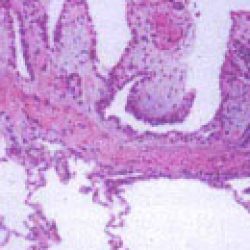 Many cases of well-differentiated papillary mesothelioma have no symptoms, but the disease has been known to cause pain and excessive fluid buildup in the pleura or abdomen of some patients.
WDPM of the tunica vaginalis can cause scrotal swelling or the formation of testicular lumps. In one study of 22 WDPM cases, only two patients reported to their doctors with symptoms. One patient experienced acute abdominal pain, and the other had chronic pelvic pain.
Primary Characteristics of WDPM
Well-differentiated tumors are low grade, meaning their cancer cells resemble healthy cells and grow and multiply at a slow rate.
The cancer does not invade nearby tissues or spread throughout the body.
In many cases, WDPM is completely inactive, showing no signs of cell division.
The tumor's cells feature small, finger-like projections called papillae. These projections are lined by a single layer of flat mesothelial cells and can appear uniform, coarse or branching.
Papillae sometimes create round swirls of calcium known as psammoma bodies.
Tumors form white or grey nodules ranging from less than 1 centimeter in size to more than 3 centimeters.
WDPM can develop as a solitary mass or arise in many sites. The latter is known for more aggressive behavior.
Tumors are smaller than 1 centimeter in more than half of all cases.
Misdiagnosis and Challenges
Because well-differentiated papillary mesothelioma rarely causes symptoms, doctors usually discover tumor growth during an unrelated pelvic or abdominal surgery. WDPM can sometimes be found with an imaging test, such as a CT scan, but this technique isn't sensitive enough to detect tumors smaller than 1 centimeter in size.
The only definitive procedure for diagnosing WDPM and other mesotheliomas is a biopsy — the collection of a tissue sample for laboratory analysis.
It is important for doctors to collect a comprehensive sample to prevent misdiagnosis, because highly aggressive malignant mesothelioma tumors sometimes feature areas of papillary cell growth.
Doctors may confuse WDPM with several other cancers and conditions:
Reactive mesothelial hyperplasia
Adenomatoid tumor
Peritoneal carcinomatosis
Tuberculous peritonitis
Serous papillary carcinoma of the ovary
Serous papillary carcinoma of the peritoneum
Papillary Mesothelioma Treatment
With only a limited amount of research on the management of well-differentiated papillary mesothelioma, doctors have yet to reach a consensus on the most effective course of treatment.
Therapy usually involves a combination of the main types of mesothelioma treatment, including surgery, chemotherapy and radiation therapy.
Treatment options also depend on where the papillary mesothelioma tumors form.
For example, WDPM on the peritoneum may be treated with a combination of cytoreductive surgery and hyperthermic intraperitoneal chemotherapy, also known as HIPEC. In the 2019 study published in Annals of Surgical Oncology, 37 of the 56 patients were treated with this combination.
Create a Free Personalized Mesothelioma Guide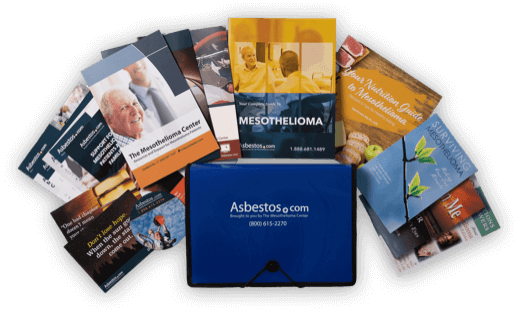 What is your or your loved one's diagnosis?
Next Step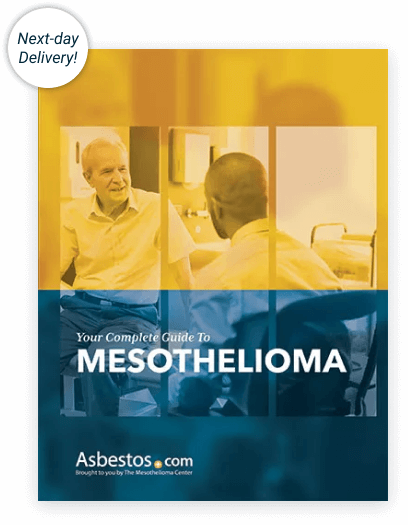 Customize Your Free Mesothelioma Guide
Do you need help finding a top specialist or getting a second opinion?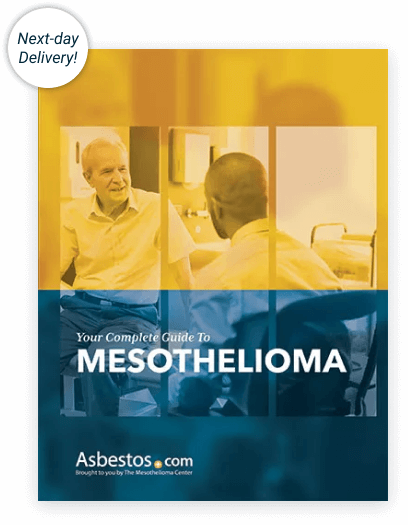 Prognosis and Survival Rate of Papillary Mesothelioma
The survival outlook for patients with well-differentiated papillary mesothelioma is significantly better than the prognosis of patients with most other mesothelioma cell types.
While only 5% to 10% of malignant mesothelioma patients survive five years after diagnosis, several patients with WDPM have survived for decades.
Median Survival for Well-Differentiated Papillary Mesothelioma
| WDPM of the Pleura | WDPM of the Peritoneum |
| --- | --- |
| 6 years and 2 months | 12 years |
Source: American Journal of Surgical Pathology, 2004; Annals of Surgical Oncology, January 2019
---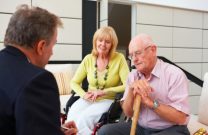 Get the Compensation You Deserve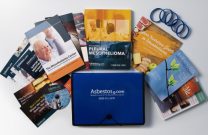 Learn About Top Mesothelioma Treatments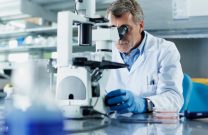 Immunotherapy & Mesothelioma Clinical Trials
---
Tell us what you think
Did this article help you?
How did this article help you?
What about this article isn't helpful for you?
Did this article help you?
Thank you for your feedback. Would you like to speak with a Patient Advocate?
---