Asbestos Exposure & Bans
Erionite Still A Serious Threat In North Dakota
Fact Checked
Our fact-checking process begins with a thorough review of all sources to ensure they are high quality. Then we cross-check the facts with original medical or scientific reports published by those sources, or we validate the facts with reputable news organizations, medical and scientific experts and other health experts. Each page includes all sources for full transparency.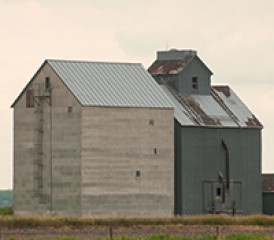 The threat of a sudden rise in mesothelioma cases around Dunn County, North Dakota is not going away anytime soon, despite a variety of precautions that have been taken in the last few years.
A recent study, reported in the July 25, 2011 issue of Proceedings of the National Academy of Sciences (PNAS), details the risks still being posed by erionite, the fibrous mineral used in the western parts of the state to produce gravel, mostly for roads.
Erionite is very similar to asbestos, the primary cause of pleural mesothelioma, which attacks the lining of the lungs. Erionite fibers, which become airborne, already have been linked to an alarmingly high number of mesothelioma cases in Cappadocia, Turkey, where it is found in homes, roads and nearby mountains.
"What the study found in North Dakota was that the concentration of erionite was comparable, or even higher than, what was found in Turkey," said Haining Yang, Ph. D, at the University of Hawaii Cancer Center, which spearheaded the study. "This is serious. Some studies have found that erionite can be more dangerous than asbestos."
There are at least 12 Western states where erionite deposits have been found, but the highest concentration of use has been in North Dakota. According to the study, erionite has been used for almost 30 years, covering an estimated 300 miles of roads and parking lots in North Dakota.
The research was a collaboration of scientists from the Environmental Protection Agency, the National Institute of Environmental Health Sciences, the University of Hawaii, and the University of Iowa.
The North Dakota Health Department and the EPA also did an 18-month study that ended in October of 2010, but it was inconclusive. Although it did not find an increase of mesothelioma cases related to erionite, it noted that the long latency period of the cancer (20-50 years) may have masked its findings.
It did conclude that occupational exposure to road gravel containing erionite can result in increased problems to the lungs or surrounding chest areas. The study also concluded "that the problems are consistent with those seen with commercial asbestos exposure." It recommended that exposure to erionite gravel dust be kept to a minimum, which is almost impossible on dry summer days.
The North Dakota Department of Health issued recommendations three years ago to discontinue using gravel containing erionite., and the Department of Transportation made that a requirement for state road projects. Since the study, three different counties agreed to follow the state recommendations. The town of Killdeer removed affected gravel from several parking lots, including ones at a baseball park and a swimming pool.
"It's impossible to predict what will happen there. You can only hope for the best," Yang said Tuesday during an interview with the Mesothelioma Center. "It's better to face the problem sooner than later, or it could be a disaster."
Free Mesothelioma Resources
Get Access to Free Resources for Patients & Loved Ones