Asbestos use was rampant across the U.S. until the 1980s.
Estimates of mesothelioma deaths between that time and 2001 are unclear because the government did not officially track mesothelioma deaths until 1999. However, from 1999 to 2010, about 32,000 people died in the U.S. because of asbestosis or mesothelioma.
Some heavily affected states, including Pennsylvania and Washington, have high rates of exposure, and related deaths in those states extend into the thousands.
Occupational Exposure Hot Spots
Employees in industries such as manufacturing, mining and shipping were at high risk of being around asbestos, making it more likely that they could inhale it and eventually get sick. Although occupational exposure occurred at job sites across the nation, high-risk companiess were extremely prevalent in industrial states like Michigan and New Jersey.
Ohio's heavy emphasis on rubber and plastic production resulted in a number of factories operating in the area, including Owens-Corning fiberglass. Headquartered in Toledo, the company eventually went bankrupt from asbestos claims filed by former workers who were exposed while producing Kaylo insulation, Fibreboard and One Cote. Employees making these products were frequently exposed to the fibers while creating cement, insulation and roof tile.
Spruance is the largest employer of DuPont employees, who were commonly exposed during the company's early operations for products such as Kevlar and Rayon. The company has notoriously exposed their workers to numerous environmental hazards, earning it a position in 2009's "Toxic 100 Corporations List."
Shipyards were also sources of frequent exposure. Massachusetts' Boston Naval Shipyard operated for nearly a century and a half, producing vessels for the Navy as well as private owners. Boston Shipyard employees were exposed when they constructed new boats with asbestos insulation or repaired ships with asbestos materials.
Have a Question About Occupational Exposure?
Our team of Patient Advocates are available to answer questions about occupational asbestos exposure.
Environmental Exposure Hot Spots in the US
Naturally occurring asbestos has been found across the United States. Hilly, mountainous ranges are most likely to be home to asbestos deposits, but any area with large concentrations of host rocks such limestone or serpentine may also be laced with asbestos. Residents in these areas face an elevated risk of asbestos exposure, especially if the naturally occurring asbestos was commercially mined.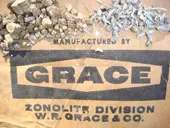 East
According to the United States Geological Survey (USGS), 60 asbestos mines were once in operation on the eastern United States. These mines varied in size and were active at different times. The first asbestos mining operation began in 1894 at the Sall Mountain region of Georgia. The mines produced anthophyllite asbestos, which was also mined in areas of North Carolina, Virginia, Maryland, Connecticut and Massachusetts.
Amphibole asbestos was mined in Pennsylvania in the early 1900s. Chrysotile asbestos, recognized as the most commercially-used type of the mineral, was mined on Belvidere Mountain in Vermont until 1993.
West
The western region is home to arguably the worst natural asbestos exposure in the country. Libby, Montana is one of the most heavily asbestos-polluted cities in the nation. The town's W.R. Grace Company produced more than 80 percent of the world's vermiculite, but the material was contaminated with heavy concentrations of asbestos. The contaminated vermiculite from Libby was used primary for Zonolite insulation, which found its way into about 35 million homes across the country. Every state in the nation received shipments of tainted vermiculite from the mine in Libby, Montana. While Vermont received only two shipments (the fewest of all states), California and Texas both received millions of tons of the vermiculite.
More than 400 deaths in Libby are attributed to asbestos exposure, and more than 1,750 town residents have been diagnosed with a related disease, including mesothelioma.
The EPA added Libby to the National Priorities List in 2002, launching a cleanup program to help remove the asbestos that now lies in the soil, trees and buildings across the city. By 2000, one pulmonologist in Spokane, Wash., had seen as many as 20 patients with related diseases whose only exposure to asbestos was in the environment at Libby.
The Rocky Mountains were home to several small asbestos deposits. Five areas were mined for commercially used asbestos. One site, the Kamiah anthophyllite deposits in Idaho, operated from 1909 to 1925. Asbestos from here was used to make pipe insulation, boiler covers, wall plaster and paint. It was also used as a binding agent in cement and asphalt.
Another western site was the Karst mine in southern Montana, where small amounts of anthophyllite asbestos were harvested in 1923, 1928 and from 1933-35. Asbestos from this mine was used to make wall and ceiling insulation, roofing compound and insulation at oil refineries.
Three other chrysotile asbestos mines in Wyoming were the Fire King deposit, the Smith Creek deposit and the Casper Mountain deposit. The mineral mined was used for chimney construction in 1920 and was shipped to flooring manufacturers in 1912.
California has many naturally occurring sources of asbestos because serpentine rock, from which chrysotile originates, is common in the state.
Experts are watching El Dorado County in Northern California, a community built on top of a large asbestos deposit. Air samples gathered by the Environmental Protection Agency (EPA) in 2004 raised concerns about exposure from stirred up dirt in county parks.
Another site for concern in California is the Clear Creek Management Area, which sits on one of the largest NOA deposits in the world. This 31,000-acre serpentine deposit is frequently visited by thousands of off-road motorcyclists, hikers and campers each year. The Clear Creek Management Area was once home to the Atlas Asbestos Mine, which has now been designated a superfund site by the EPA.
Central
The central part of the United States experienced relatively low asbestos deposits compared with other regions, according to the USGS. Although 26 natural asbestos occurrences are documented, only five central sites were evaluated for mining or commercial production. None was ever developed. Although there is no evidence that asbestos was mined in the region, that's not to say exposure to it wasn't a risk for anyone living near the deposits.
Lawsuits in America
As of 2002, approximately 730,000 individuals had filed asbestos lawsuits in the United States. This litigation, which is the longest-running mass tort in American history, has cost insurers and legal teams more than $70 billion, calling into question whether more than 8,400 companies contributed to related injuries.
Explore your legal options regarding asbestos and mesothelioma
Top US Mesothelioma Treatment Centers
Several major hospitals in the United States have emerged as leaders in mesothelioma treatment. The leading mesothelioma care centers employ a multidisciplinary staff, including surgeons, medical oncologists, radiation oncologists, dietitians and nurses with experience treating mesothelioma patients. These facilities are often larger hospitals or cancer care networks, and many mesothelioma patients from across the country travel to these top treatment centers when the options in their own state offer less experienced medical care.
Want to Find a Specialist? Use Doctor Match
Last Modified October 26, 2018
9 Cited Article Sources
How did this article help you?
What about this article isn't helpful for you?
Did this article help you?
Thank you for your feedback.
Would you like to speak with a Patient Advocate?