About Wyoming
Ranking in U.S. for mesothelioma & asbestosis deaths

44th

Mesothelioma Deaths

98

Asbestosis Deaths

18

Total Deaths

116
Wyoming's vermiculite processing plants also put workers in danger of developing mesothelioma or other serious illnesses, such as asbestosis and lung cancer. Contaminated materials from the W.R. Grace mine in Libby, Montana, were shipped to four vermiculite processing plants in Wyoming. More than 8,851 tons of Libby's asbestos-tainted vermiculite were "exfoliated" by refinery workers at these plants, where they were responsible for transporting, heating, packaging and shipping the mineral.
Refinery workers at these plants transported and heated 8,851 tons of Libby's asbestos-tainted vermiculite in a process known as exfoliation. They also packaged and shipped the mineral.
Occupations at Risk
Wyoming's abundant petroleum sources made it a hotspot for refineries. Workers at these refineries often worked with high-temperature machines that were insulated with asbestos. Construction workers who repaired these facilities may have come in contact with contaminated tiles, panels or insulation.
Power station workers were also at an elevated risk for inhaling asbestos. Refineries and power plants were often built using the mineral or were home to various forms of asbestos insulation, and the workers faced exposure threats when fixing damaged machinery or renovating the buildings.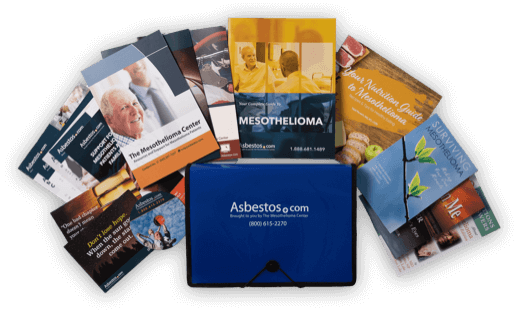 Get a Free Mesothelioma Guide
Free information, books, wristbands and more for patients and caregivers.
Get Yours Today
Treatment Centers near Wyoming
Jobsites with Known Exposure
Mines
Commercial asbestos mining in Wyoming peaked between 1905 and 1921. Casper Mountain was the largest such mine in the state, producing fibers of more than an inch in length. More than half of the material in the serpentine deposits at Casper Mountain was asbestos.
Other deposits included:
Brown Bear
Smith Creek
Laramie Mountain
Fire King
Beaver Creek
The Fire King deposit specialized in producing chrysotile blocks for chimneys, while Smith Creek and Casper Mountain's asbestos was primarily shipped to flooring manufacturers.
Refineries
Frontier Oil and Sinclair Oil are two prominent oil refineries in Wyoming. The refineries, both built prior to the 1970s, used asbestos during construction. Over the decades, the workplaces exposed countless individuals to the hazardous fiber.
Other oil refineries in Wyoming included:
Consumer Oil
Fargo Oil
Continental Oil
Mutual Oil Company
Coal refineries were also scattered across the state. Like oil refineries, these facilities were home to large quantities of asbestos-insulated equipment.
Vermiculite refineries were also a significant part of Wyoming's industrial economy. Four refineries received shipments of Libby's contaminated vermiculite. Workers at these refineries handled as many as 221 shipments of vermiculite from the W.R. Grace mine.
Wyoming's vermiculite refineries were located in:
Cody
Lovell
Burlington
Thermopolis
Power Plants
Black Hills Power's facility in Osage was constructed with asbestos insulation around its boilers. Anyone who worked for the company prior to 1993 may have been exposed to the toxic mineral. By 1993, however, the company had completed an abatement project. Although some encapsulated asbestos was left in place, the facility was deemed safe.
Similarly, PacifiCorp's Dave Johnston Power Plant was built with asbestos insulation surrounding the boiler machinery. In 2007, the company began installing air pollution control equipment to help reduce the risk of exposure to various contaminants.
University of Wyoming
As with many private buildings constructed before the 1980s, the University of Wyoming was built with contaminated materials. In 2009 the college was issued a violation by the Department of Environmental Quality for failing to conduct asbestos inspections and remove asbestos-contaminated materials before demolishing several campus buildings. As a result, asbestos-containing materials were scattered during the demolition.

Get Help Contacting this Cancer Center
7 Cited Article Sources
The sources on all content featured in The Mesothelioma Center at Asbestos.com include medical and scientific studies, peer-reviewed studies and other research documents from reputable organizations.
How did this article help you?
What about this article isn't helpful for you?
Did this article help you?
Thank you for your feedback.
Would you like to speak with a Patient Advocate?
Last Modified April 8, 2019