Treatment & Doctors
Japan Study Finds Standard Chemotherapy Still Best Hope for Mesothelioma
Fact Checked
Our fact-checking process begins with a thorough review of all sources to ensure they are high quality. Then we cross-check the facts with original medical or scientific reports published by those sources, or we validate the facts with reputable news organizations, medical and scientific experts and other health experts. Each page includes all sources for full transparency.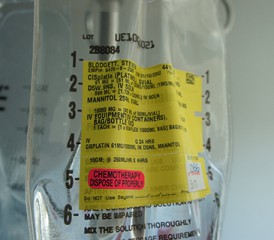 The long-standing chemotherapy combination of cisplatin and pemetrexed will remain the front-line treatment regimen for mesothelioma patients in the foreseeable future, despite recent efforts to develop newer and more effective drugs.
Nothing better has emerged.
Researchers at the Shizuoka Cancer Center and Juntendo University in Japan recently concluded that the cisplatin/pemetrexed (Alimta) combination remains the best choice.
"It should continue to be the standard, front-line chemotherapeutic regimen for inoperable MPM (malignant pleural mesothelioma)," wrote the authors of the March study, published in Respiratory Investigation.
The medications are most effective with asbestos-related cancer when used in conjunction with surgery and radiation, but more often they are used alone with patients who are not surgical candidates because the cancer already has metastasized.
Although Alimta was not approved by the U.S. Food and Drug Administration (FDA) until 2004, it has been used since the mid-1990s after it was granted an early compassionate-use exception. It was the first medication specifically approved for the treatment of mesothelioma. It has been used for almost two decades in combination with cisplatin, and both drugs increase the effectiveness of the other.
Study Compares Chemotherapy Combinations
Gemcitabine, carboplatin, doxorubicin and vinorelbine are other chemotherapy drugs used, but often found to be less successful. More are being tested in clinical trials.
The recent study in Japan compared the combination of gemcitabine (Gemzar) and cisplatin with the combination of pemetrexed (Alimta) and cisplatin. Both Gemzar and Alimta, the two most widely used drugs, are marketed by Eli Lilly and Company and used with a variety of cancers.
The study included 30 MPM patients between 2002 and 2011, including 17 with the cisplatin/Alimta combination, and 13 with the Gemzar/cisplatin combination. Doctors analyzed the patients' medical charts for antitumor efficacy and drug toxicity.
The response rate for cisplatin/Alimta was 35 percent, but only 15 percent for Gemzar/cisplatin. The progression-free survival rate was 215 days for Alimta and 142 days for Gemzar. The median overall survival rate was 597 days for Alimta patients and 306 days for Gemzar patients.
Researchers found hematological toxicities, particularly neutropenia and thrombocytopenia, were more severe and more frequent with those in the Gemzar/cisplatin group.
Powerful Drugs
The study was in response to previous trials that showed an improvement in both response and survival rates when cisplatin (approved by the FDA in 1978) was supplemented by either Alimta or Gemzar. The study was the first to compare the two separate combinations.
Cisplatin has been used for a wide variety of cancers, both as a single-agent treatment and in conjunction with other chemotherapy drugs. As a single agent for mesothelioma, the response rate has been less than 15 percent.
Chemotherapy has been the most widely used category of drugs for mesothelioma patients, but others are growing in use as doctors and patients seek more effective treatment options.
Immunotherapy, targeted therapy, photosensitizing and anti-angiogenesis drugs also are used on various levels. Chemotherapy agents are powerful, but they attack both cancer and healthy cells, causing a variety of side effects.
Targeted therapy drugs, such as NGR-hTNF, are designed to target specific molecular alternations in cancer cells. Immunotherapy drugs are designed to help the body's immune system better recognize and attack the cancer cells. Photosensitizing drugs are constructed to make the cancer cells easier targets for particular beams of light to destroy. Anti-angiogenesis drugs help starve cancer cells and prevent them from multiplying. The newer categories of drugs are less toxic.
While the newer types of drugs have shown considerable promise, they remain in clinical trial phases, out of reach to many doctors and patients.
Researchers in Japan concede the limitations of their retrospective study, particularly the limited number of patients, but do assert the cisplatin/Alimta combination remains the best option available today.
Medically Reviewed by Top Mesothelioma Doctors
Free Mesothelioma Guide