Legislation & Litigation
Indiana Asbestos Case: Good News for Mesothelioma Patients
Fact Checked
Our fact-checking process begins with a thorough review of all sources to ensure they are high quality. Then we cross-check the facts with original medical or scientific reports published by those sources, or we validate the facts with reputable news organizations, medical and scientific experts and other health experts. Each page includes all sources for full transparency.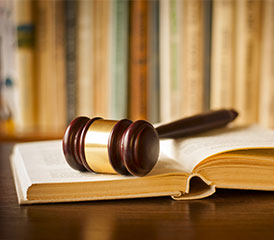 The Indiana Supreme Court recently struck down a portion of the state's Product Liability Act, giving mesothelioma patients more flexibility in filing asbestos-related legal claims against negligent manufacturers.
It was a much-needed, long-awaited victory for those stricken by the incurable disease.
The ruling, though, still must be finalized, awaiting the court's decision on whether to rehear the case. The delay stems from a motion filed in March by the state and the defendant.
If finalized, as anticipated, the ruling will put Indiana in step with other states that are more receptive to claims from mesothelioma patients.
"All [the new provision] does is give them [patients] the right to actually present their cases to a jury, to actually come forward with their case, instead of being stopped at the courthouse doors," Indianapolis attorney Kathy Farinas told Indystar.com. Her law firm represented the plaintiff.
At issue: The constitutionality of the statute of repose within the Product Liability Act that created a 10-year cutoff date for allowing a plaintiff to sue a manufacturer.
The 10-year countdown, according to the current statute, must begin at the time the product reaches the consumer. Unfortunately, for those with an asbestos-related disease, such as mesothelioma, the latency period between exposure and diagnosis is typically 20-50 years.
Indiana Will Be More Receptive to Asbestos Cases
Essentially, the statute of repose eliminated most asbestos claims in Indiana. It forced victims to seek jurisdiction in another state, which often was difficult to do.
The state Supreme Court ruled the 10-year cutoff should not apply to cases involving diseases, such as mesothelioma, that take decades to be diagnosed.
"It's impossible for these people to look into a crystal ball and know one day they could get sick," Farinas said.
There already was a separate provision within the Product Liability Act that gave a plaintiff two years after a diagnosis to bring a case — which is consistent with many states — but it could only be applied to companies that mined and sold raw asbestos.
The recent ruling would allow that provision to include companies that manufactured products containing asbestos, which clears a much-wider legal path for plaintiffs and their attorneys.
According to Indystar.com, the Indiana Supreme Court ruling initially involved 78-year-old Larry Myers, who worked 40 years as an electrician in northern Indiana. He was diagnosed with mesothelioma in 2014 — a total of 15 years after he retired and several decades after his first exposure to asbestos.
Mesothelioma is a rare and aggressive cancer, typically coming with a 6- to 18-month life expectancy.
More Asbestos Filings Expected in Indiana
Myers tried to bring legal action against a number of companies that manufactured asbestos products that he used or was exposed to as an electrician, but the state law denied him any legal recourse, based on the 10-year cutoff date.
He appealed the ruling to the state's Supreme Court, believing the statute of repose was not meant to block cases like his. In 1989, the Indiana Supreme Court ruled that the statute should not apply to illnesses that take decades to emerge. Yet in 2003, the court decided otherwise, reverting back to the 10-year cutoff and significantly limiting the number of asbestos-related cases presented before a jury.
In several other states, according to Myers' attorneys, courts already have ruled a similar statute of repose as unconstitutional. The statute of limitations, in regard to a mesothelioma diagnosis, typically ranges from two to five years, depending upon the state.
The Indiana Supreme Court, in its ruling last month, reversed course after 13 years and said asbestos-related claims can't be blocked by a 10-year provision if a person doesn't know he is sick.
Michael Martinez, the Chicago attorney representing one of the defendants in the case, told Indystar.com the ruling will lead to more asbestos-related filings within the state.
"Now that the statute of repose has been struck down, there will likely be an uptick in filings and possibly reinstatement of cases that were dismissed in the past based on the changes in the law," Martinez said.
Access Trust Funds, Grants & Compensation for Mesothelioma
Get Financial Assistance