Legislation & Litigation
Anti-Asbestos Advocates Uneasy with EPA Pick Scott Pruitt
Fact Checked
Our fact-checking process begins with a thorough review of all sources to ensure they are high quality. Then we cross-check the facts with original medical or scientific reports published by those sources, or we validate the facts with reputable news organizations, medical and scientific experts and other health experts. Each page includes all sources for full transparency.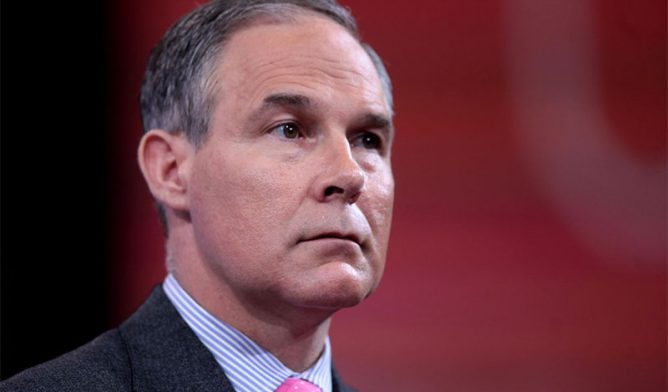 For weeks, U.S. Senate Democrats, anti-asbestos activists and workers' rights groups have fought the confirmation of Scott Pruitt, President Donald Trump's controversial nominee to head the Environmental Protection Agency.
Despite a Democratic boycott and a pushback campaign from environmental advocates, Pruitt will likely replace former administrator Gina McCarthy, who held the position since 2013 under the Obama administration.
Pruitt, the Oklahoma attorney general, recently provided a 252-page document answering more than a thousand questions Democrats on the U.S. Senate Committee on Environment and Public Works (EPW) asked him.
The word "asbestos" is mentioned 51 times in that document.
EPA officials recently designated the notorious carcinogen as a top-10 high-risk chemical for priority action under the Frank R. Lautenberg Chemical Safety for the 21st Century Act.
Asbestos is the known cause of serious illnesses, including mesothelioma cancer. Despite being linked to approximately 15,000 American deaths each year, asbestos is still used legally in the U.S.
Pruitt's critics fear his appointment may have a significant impact on future asbestos regulation, including prolonging a full, comprehensive ban on the toxic mineral.
'Lack of Thoroughness' in Pruitt's Responses
In the written questions for the record following Pruitt's nomination, Sen. Tom Carper, D-Del., the top Democrat on the Senate Environment Committee, asked Pruitt a series of questions regarding asbestos.
Pruitt failed to give a definitive answer to his stance on asbestos or if he will pursue a ban. Instead, he repeatedly referenced the newly reformed Lautenberg Act and the risk evaluation process it requires for substances like asbestos.
"Prejudging the outcome of that risk evaluation process would not be appropriate," Pruitt wrote.
The Lautenberg Act amended the Toxic Substances Control Act (TSCA) and grants the EPA more leverage against asbestos and other hazardous materials. This includes the power to ban and regulate "toxic, persistent and bioaccumulative" chemicals without concern for industry cost or any other nonrisk factor.
Independent scientific groups, including the World Health Organization (WHO) and the International Agency on Research for Cancer acknowledge asbestos as a known human carcinogen with no safe level of exposure.
The EPA made several efforts to ban asbestos, the strongest one in 1989 when the agency issued the Asbestos Ban and Phase-Out Rule (ABPR). But the Fifth Circuit Court of Appeals overturned the ban two years later after asbestos manufacturer Corrosion Proof Fittings won a landmark lawsuit against the EPA.
Pruitt, a longtime attorney, led or participated in 14 lawsuits aimed at blocking EPA regulations, according to the New York Times.
His anti-EPA track record and lack of transparency in his responses to the EPW is escalating legislators' worries.
"The Committee Democrats are deeply concerned about the lack of thoroughness of Mr. Pruitt's responses to our questions for the record," Carper wrote in a letter to EPW Chairman John Barrasso, R-Wyo. "I share their concerns. On their behalf, I ask you to direct Mr. Pruitt to disclose information requested by Democratic members with the same level of transparency that this Committee has required of past nominees."
Pruitt's Critics Concerned over Trump's Influence
Escalating apprehension over Pruitt's nomination and qualifications come from Democrats and Republicans alike.
Christine Todd Whitman, former EPA administrator under George W. Bush, accused Pruitt of having a disdain for the EPA and the "science behind what the agency does."
Sen. Susan Collins, R-Maine, expressed concerns over the amount of times Pruitt sued the agency he may soon lead.
Another concern: Trump's influence over a Pruitt-led EPA.
Trump publicly praised asbestos in the past, calling it "the greatest fireproofing material ever made" during a 2005 U.S. Senate Committee on Homeland Security and Governmental Affairs hearing. In that hearing, he blamed the collapse of the Twin Towers on Sept. 11, 2001, on the lack of asbestos in the buildings.
Experts estimated more than 400 tons of asbestos materials were pulverized during the collapse of the towers.
Cancers related to 9/11 have spiked in the last 30 months. Many oncologists expect cancer cases, including mesothelioma, which has a latency period of 20-50 years, will continue to rise among first responders, cleanup workers and survivors of the terrorist attack.
In his 1997 book, "The Art of the Comeback," Trump said the anti-asbestos movement is a mob-led conspiracy, claiming "it was often mob-related companies that would do the asbestos removal." He also claimed the toxic mineral was "100 percent safe, once applied."
Carper alluded to these claims in the written questions to Pruitt, asking if the EPA nominee would "heed the decades of conclusive science about asbestos" or allow Trump's personal opinions to "skew the EPA's actions on asbestos."
Pruitt once again gave a templated answer, citing the Lautenberg Act.
"If confirmed I will implement the law following those statutory requirements," he wrote.
Asbestos Remains a Major Health Problem in the US
Asbestos is responsible for approximately half of all occupational cancer deaths, according to WHO.
The Centers for Disease Control (CDC) and Prevention reports 12,837 Americans have died of mesothelioma since 2011. Thousands more died as a result of asbestosis or asbestos-related lung cancer.
Sen. Ed Markey, D-Mass., noted the CDC mortality records in his written questions to Pruitt.
"More than 30 Americans die each day from diseases like asbestosis and cancer caused by asbestos," Markey wrote. Continuing, Markey asked "Do you agree with Mr. Trump that asbestos is 100 percent safe once applied or that the movement against asbestos was led by the mob?"
Pruitt's answer was nearly the same word-for-word response he gave Carper.
Asbestos is banned in 58 countries around the world, including all 28 nations of the European Union. Canada recently announced a plan to prohibit asbestos by 2018, which leaves the U.S. as one of the only major industrialized countries not fully committed to a federal ban.
While asbestos use has significantly declined among industries that once dependent on it heavily, including construction and automotive, it continues to be used in many products.
Carper noted the chloralkali industry accounts for 90 percent of all asbestos consumed in the U.S. The industry uses asbestos diaphragms in its chlorine manufacturing process.
"The chlor-alkali industry has been the only point of public pushback against an asbestos ban under TSCA, and they have asked the EPA to exempt the chlor-alkali industry's use from any regulation on asbestos," Carper wrote. "Exempting the primary user from a restriction or ban, of course, would result in negligible impact."
EPW Chairman & Republicans Defend Pruitt
Chairman Barrasso defended Pruitt's responses to EPW Democrats and dismissed complaints about the EPA nominee.
"Attorney General Pruitt has answered more questions than any past EPA administrator nominee in recent memory," Barrasso said, adding that Pruitt's hearing was historic in its length, lasting nearly seven hours.
In an extraordinary move, EPW Republicans temporarily suspended committee rules, which require the presence of at least two Democrats to hold votes. So despite the boycott from committee Democrats, the EPW approved Pruitt with an 11-0 vote, sending the nomination to the full Senate.
Sen. Shelley Moore Capito, R-W.Va., called the boycott a waste of time, saying "88 percent of life is showing up" and Democrats are just "wasting their lives."
Meanwhile, Carper and other critics continue to push for more clear answers about Pruitt's intentions as the head of the EPA.
"From the outset of this confirmation process, Scott Pruitt has consistently misrepresented his environmental record and denied us the information we require to perform our duty to advise and consent," Carper said in a statement. "The EPA performs a critical duty that protects Americans and saves lives. If Mr. Pruitt is serious about leading this important agency, he should be more than willing to provide straightforward answers to our fundamental questions."
Access Trust Funds, Grants & Compensation for Mesothelioma
Get Financial Assistance