Major Changes Coming to Mesothelioma Immunotherapy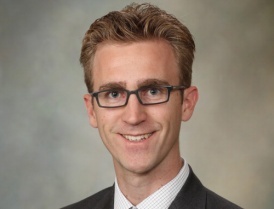 Dr. Aaron Mansfield at Mayo Clinic in Minnesota believes that checkpoint inhibitors, immunotherapy, are on the verge of changing traditional treatment for mesothelioma.
"If we talk again in a year or two, there is going to be a different treatment landscape than there is now," Mansfield told Asbestos.com. "Immunotherapy is knocking on the door of our standard of care right now."
And the long-awaited change will be significant.
Standard of care for mesothelioma has not changed since 2003 when pemetrexed was added to cisplatin as a chemotherapy combination to accompany surgery.
Mansfield believes a series of recent clinical trials — and several that will launch soon across the country — will continue to show immunotherapy drugs can significantly improve survival for mesothelioma patients.
"Immunotherapy is not a cure-all. And don't get overly optimistic for the reality of what it does, but for a subset of patients who respond, they are going to do better with fewer side effects," he said. "I can't predict, but my hope is that these [checkpoint inhibitors] become standard of care."
Finding the Right Targets
Mansfield wrote about the potential of immunotherapy as a future treatment of mesothelioma in an editorial published recently in the journal Lung Cancer.
He cited recent mesothelioma clinical trials that targeted the PD-1 and PD-L1 proteins that play a major role in preventing a patient's immune system from recognizing and destroying certain tumor cells.
Approximately 40 percent of the mesothelioma cases studied express PD-L1 proteins.
Checkpoint inhibitor drugs essentially take the brakes off a patient's immune system, allowing it to recognize the tumor cells and attack them effectively.
Pembrolizumab (Keytruda) and nivolumab (Opdivo) were among trial drugs showing remarkable effectiveness. The U.S. Food and Drug Administration (FDA) already approved both for treating non-small cell lung cancer, melanoma, renal cell carcinoma, urothelial carcinoma, and some head and neck cancers.
"The lung cancer data today supports the fact that these drugs are effective, but you can't always make the leap that because they work for lung cancer, that they'll work for mesothelioma," Mansfield said. "That being said, patients with mesothelioma are responding."
ClinicalTrials.gov lists 28 studies nationally — underway or in the recruitment phase — that involve immunotherapy and mesothelioma. Fifteen of those include Keytruda or Opdivo, the two most popular immunotherapy drugs.
Trial Results Are Impressive
There currently is no approved second-line treatment for mesothelioma. Oncologists are using these immunotherapy drugs in clinical trials or in off-label, special-access situations.
Mansfield's editorial cited a handful of recent trial results:
Researchers in a phase I trial reported a 76 percent disease control of mesothelioma with Keytruda at the American Association for Cancer Research annual meeting in 2015. Only patients whose tumor cells had at least 1 percent expression of PD-L1 were used.
During the 2016 International Association for the Study of Lung Cancer, researchers in a phase II trial reported a 56 percent disease control rate with Keytruda, even though more than half the patients had no detectable PD-L1 expression.
A third trial, involving Opdivo and no requirement of PD-L1 expression, reported a disease control rate of 50 percent.
In the largest clinical trial for a PD-L1 inhibitor, researchers reported a disease control rate of 56.6 percent using the drug avelumab.
"We're trying to get smarter on how we select these patients. The problem is with mesothelioma we can't always predict who will benefit and who will not," Mansfield said. "It's nice to say the car you just bought is going to get you home. For a subset of patients with lung cancer, you can say with some certainty that this drug will shrink the tumor and you'll feel better. I hate saying the drug we're giving you [for mesothelioma] has a 40 percent chance of working."
Immunotherapy Clinical Trials Remain Imperative
Mansfield stressed the importance of continued patient participation in clinical trials, which will move immunotherapy closer to FDA approval. Mesothelioma is a rare and aggressive cancer diagnosed in an estimated 3,000 people each year in the U.S.
He said the Mayo Clinic in Minnesota will open two mesothelioma clinical trials, involving checkpoint inhibitors, in coming months.
"These trials have similarly demonstrated prolonged survival data that beat our current standards of care," he wrote in his editorial. "…As these data mature and more definitive trials are completed, immunotherapy will likely replace our second-line approaches and challenge our front-line therapy standard."
---
Related News Posts