Research & Clinical Trials
Parasite Drug Shows Effectiveness Against Mesothelioma
Fact Checked
Our fact-checking process begins with a thorough review of all sources to ensure they are high quality. Then we cross-check the facts with original medical or scientific reports published by those sources, or we validate the facts with reputable news organizations, medical and scientific experts and other health experts. Each page includes all sources for full transparency.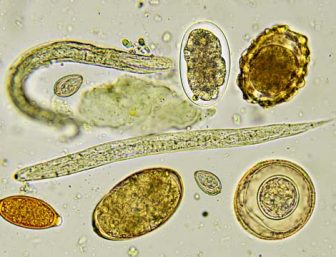 Dr. Antonio Giordano believes his team has cleared the path to the next breakthrough in the treatment of malignant pleural mesothelioma.
The advancement involves a new use for an old drug, pyrvinium pamoate, which doctors have successfully used for more than 50 years to treat infections of pinworm parasite.
"This drug that no one expected to be involved with mesothelioma is potentially a new weapon against this aggressive type of tumor," Giordano told Asbestos.com. "Our findings are exciting, very exciting. This one can move forward."
Giordano is the founder and director of the Sbarro Health Research Organization (SHRO) at Temple University in Philadelphia. He also is an internationally renowned professor of pathology and oncology at the University of Sienna in Italy.
His expertise involves identifying novel targets and therapies at the molecular level. This particular drug has shown promise with mesothelioma as well as pancreatic and breast cancer.
Better Mesothelioma Treatments Needed
The findings have been published in the latest issue of Journal of Cell Physiology. A summary is available on the SHRO website.
"This should trigger interest and attention of oncologists all over the world to work on it," Giordano said. "It's now about taking the initiative to bring this drug to the clinical bedside, to the patients."
Pleural mesothelioma, which is caused by exposure to asbestos, is a rare and aggressive cancer with no definitive cure. Less than one-third of patients live more than two years after diagnosis.
Standard-of-care treatment combines surgery, chemotherapy and radiation, but its effectiveness has been limited. The FDA has not approved any new drugs for first-line treatment of mesothelioma in more than a decade.
The development of immunotherapy — which many believe is the future of cancer therapy — has been slowed by the FDA's new-drug approval process and the inconsistent effectiveness of the drugs.
Pyrvinium Pamoate Controls Mesothelioma Cells
Giordano envisions adding pyrvinium pamoate to a multidisciplinary approach to mesothelioma treatment.
"Right now, the prognosis [for mesothelioma] is still poor, a median survival of 9-17 months, even with an aggressive approach," he said. "We could be adding an important piece to this regimen as we try to understand how to cure, or at least control, these aggressive tumors."
According to laboratory research at SHRO and the University of Siena, pyrvinium pamoate showed a clear ability to impair the growth and migration of mesothelioma tumor cells.
It works by inhibiting a particular gene that encourages mesothelioma tumor cell proliferation. This gene's expression contributes to mesothelioma's aggressiveness and resistance to chemotherapy.
Drug Could Get to Patients Quicker
Giordano's team was the first to test pyrvinium pamoate against malignant mesothelioma.
His findings are especially significant because the repurposing of an established drug — as opposed to developing a new drug — can shortcut the path from laboratory discovery to clinical use.
"This should be encouraging to oncologists. The fact that we have identified a known drug, already approved, is extremely important," he said. "You can bridge the gap quickly, without spending millions of dollars and so many years before using it."
Pyrvinium pamoate belongs to a class of medications known as anthelmintics, which expel parasitic worms from the body. It works by killing parasites without damaging the body or causing serious side effects, which would make it ideal as a cancer drug.
Genetic Focus Improves Treatment
A few years ago, Giordano's team of researchers at Sbarro also helped develop RITA, another novel mesothelioma drug. They designed it to boost a particular tumor suppressor gene and make chemotherapy more effective.
The mesothelioma tumor cells in his latest research came from the National Institute of Cancer Research in Genova, Italy; the American Type Culture Collection in Rockville, Maryland; and the University of Hawaii Cancer Center.
"The results of this study represent a step forward in the development of new treatments for mesothelioma," Giordano said. "The repurposing of this drug could represent a new, promising therapeutic approach."
Connect with a Mesothelioma Doctor
Find a Top Specialist Near You