Aircraft Mechanics
Fact Checked
Our fact-checking process begins with a thorough review of all sources to ensure they are high quality. Then we cross-check the facts with original medical or scientific reports published by those sources, or we validate the facts with reputable news organizations, medical and scientific experts and other health experts. Each page includes all sources for full transparency.
Medically Reviewed
A medical doctor who specializes in mesothelioma or cancer treatment reviewed the content on this page to ensure it meets current medical standards and accuracy.
This Page was Medically Reviewed By
Aircraft mechanics were at risk of exposure to asbestos because a variety of products installed in aircraft contained asbestos fibers.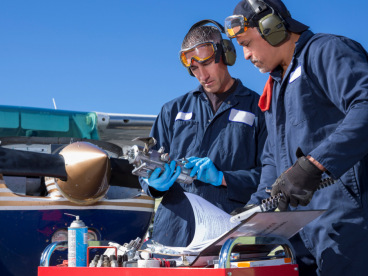 Written By: Matt Mauney,
Last modified: February 18, 2021
Quick Facts
Known within their trade as aircraft maintenance technicians, these mechanics are responsible for grassroots upkeep and safety of U.S. commercial and military planes.
They are certified by the Federal Aviation Administration to diagnose, adjust, repair or overhaul aircraft engines and assemblies, including hydraulic and pneumatic systems. Some of their tasks are changing aircraft batteries, brake pads, electrical components, tires, oil and other aircraft equipment.
They typically work in hangars, in repair stations or in airfields. To maintain flight schedules, they must often meet strict deadlines, and most mechanics and technicians work full time, overtime and weekends.
Although aircraft mechanics play an important role in safety, those involved in the repair of commercial and U.S. military aircraft between the 1930s and 1970s were at risk for exposure to toxic asbestos because asbestos was used to aid in the protection against fire and heat in most aircraft at that time. The risk for asbestos exposure in today's mechanics is minimal but may be a concern if the aircraft in need of maintenance was manufactured before the 1980s and still contains asbestos-containing products.
Asbestos Product and Locations for Aircraft Mechanics
These mechanics were exposed to different types of asbestos products such as:
Aircraft Components: Prior to the 1980s, asbestos was found in several aircraft components including engine and electrical insulation, asbestos blankets, brakes, cockpit heating systems, heat shields for engines, torque valves, gaskets, electrical wiring and insulation in the cargo bays.
Repairing Equipment: The equipment aircraft mechanics used to repair aircraft prior to the 1980s most likely contained asbestos. These products include adhesives and epoxies, which are used as structural glue.
Occupational Exposure for Aircraft Mechanics
Commercial and U.S. military aircraft mechanics' exposure to asbestos was usually the result of direct handling of components during routine repair. Asbestos was used in a number of parts for its heat and friction resistance. However, repairing brakes gave mechanics the greatest risk of exposure to asbestos, because prior to the 1970s, these brakes were manufactured with asbestos. The replacement of brake pads consists of constant manipulation and tugging back and forth, which most likely exposed workers to airborne asbestos fibers. The collection of fibers, over time, can lead to asbestos-related illnesses.
Because of the heat generated by the engines, mechanics would protect the engine and the test stand with asbestos blankets, which can pose a hazard when they are damaged over time or the fibers are burned off by extreme heat. They also would handle asbestos-containing gaskets in engines and other parts of the aircraft, furthering their exposure.
Other jobs that carried this risk included the installation of insulation around engines and electrical components. If a part of an aircraft was at risk of catching on fire, it was likely insulated with some form of asbestos material. When mechanics cut, sawed, sanded or removed any of these aircraft parts, not only were they exposed to the asbestos in these parts, but also to the asbestos in the adhesives and epoxies holding them together.
A 2009 study performed in Georgia on airborne asbestos exposure occurring during light aircraft brake replacement did not show alarming levels of asbestos fibers, indicating that repair jobs that were once dangerous to aircraft mechanics because of asbestos exposure do not pose such a threat today.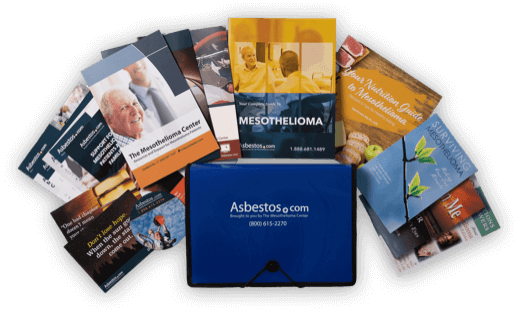 Learn About Your Legal Rights in Your Mesothelioma Guide
Also learn how to choose an attorney and how to qualify for compensation. Your free guide will be shipped overnight.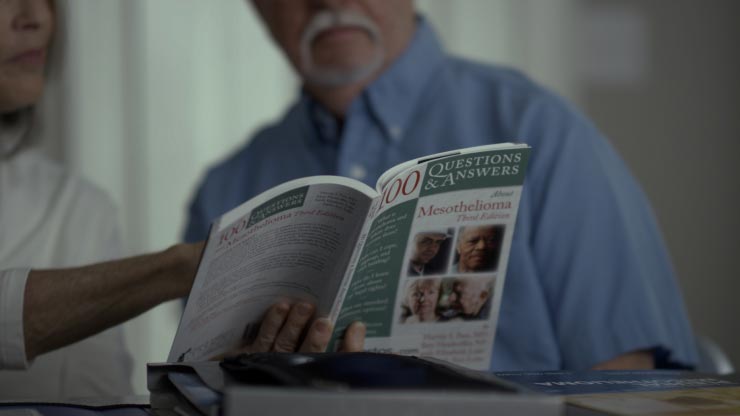 Mesothelioma Lawsuits Involving Aircraft Mechanics
In a case that is still ongoing, Jenny Bowser, the wife of former aircraft mechanic Gerald Bowser, filed a lawsuit against Parker-Hannifin Corporation after he died from mesothelioma. She blamed her husband's exposure on asbestos-containing aircraft brakes distributed under the brand name Cleveland Wheel & Brakes, which were produced by a predecessor to Parker-Hannifin Corporation.
From 1965 to 1967, Bowser worked on a fleet of three helicopters at Doan Helicopter in Daytona Beach, Florida. Bowser recalled seeing unopened Cleveland brake boxes at Doan but did not believe that his work there exposed him to any asbestos. Bowser then worked as an aviation mechanic at the Shelby, N.C., airport from 1967 to 1973, where he recalled removing and installing four different brands of asbestos-containing airplane brakes; Cleveland, Bendix, Goodyear and Goodrich.
Bowser testified to performing airplane brake jobs while working as maintenance director at Beaunit Corporation from 1973 to 1976, and as an aircraft mechanic and maintenance director at Henry Wurst, Inc. from 1976 to 1990. Gerald Bowser worked as an aircraft mechanic for several decades beginning in the early 1960s. He was diagnosed in 2009 and died in 2010. In 2011, Jenny Bowser alleged in her lawsuit that the defendants each manufactured, distributed, sold or installed asbestos-containing products that caused her husband's mesothelioma.
Manufacturers Who Made Products Used by Aircraft Mechanics
Cleveland Wheel & Brakes, Honeywell International/Bendix, Goodyear, and Goodrich manufactured asbestos products used by aircraft mechanics.
Parker-Hannifin Corporation/Cleveland Wheel & Brakes has been involved in asbestos litigation for exposing workers.
---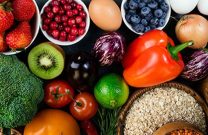 Get Free Recipes for Mesothelioma Patients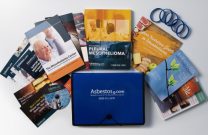 Read the Top Mesothelioma Guide for Free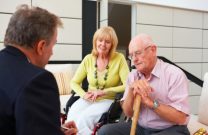 Get the Compensation You Deserve
---
Tell us what you think
Did this article help you?
How did this article help you?
What about this article isn't helpful for you?
Did this article help you?
Thank you for your feedback. Would you like to speak with a Patient Advocate?
---