About North Dakota
Ranking in U.S. for mesothelioma & asbestosis deaths

39th

Mesothelioma Deaths

113

Asbestosis Deaths

20

Total Deaths

133
North Dakota maintains a low death rate from asbestos-related diseases compared to other states. A large part of that low ranking can be attributed to the fact that the state is the third least-populated state in the nation, with much of its economy based on agriculture.
States with the highest rates of asbestos-related disease typically have economies driven by mining, manufacturing or other industrial sectors. However, North Dakota residents still face an increased risk of asbestos exposure even if the threat is not clearly apparent.
Much of the asbestos exposure risk in the state comes from natural disasters, product imports from Montana and relatively unknown environmental dangers, in addition to hazardous job sites where the majority of exposures occur. Statistically, the threat of the toxic substance may be as close to residents as within the four walls of their North Dakota homes. Because of its widespread use in previous decades, asbestos can still be found in homes or buildings across the state in the form of construction materials or consumer products.
Asbestos lawsuits are not common in North Dakota despite known instances of asbestos exposure. Because asbestos-related diseases frequently take decades to show symptoms, the long-term effects of previous exposure may not become apparent for years to come. Therefore, the landscape of asbestos issues possibly may change in the future. Continued observation of asbestos risk factors is required to ensure that the proper treatment resources and environmental policies are place to meet the needs of the public.
Occupations and Environmental Areas at Risk
No single occupation in North Dakota presents an outstanding risk for asbestos exposure, but there are a few jobs to watch. Harmful exposures in the state primarily stem from construction and industrial jobs.
Occupations with asbestos exposure hazards:
Insulators
Construction workers
Industrial plant workers
Emergency workers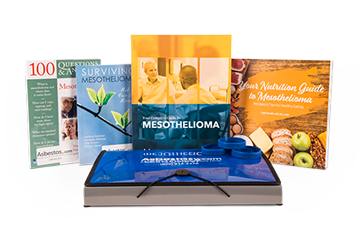 Get a Free Mesothelioma Guide
Free information, books, wristbands and more for patients and caregivers.
Get Yours Today
Treatment Centers near North Dakota

Jobsites with Known Asbestos Exposure
Most asbestos exposure cases stem from occupational exposure, which refers to an employee's interaction with asbestos in the workplace. Despite North Dakota's relatively low number of mesothelioma diagnoses, some places within the state still face a serious threat. Certain job sites have had confirmed cases of asbestos exposure where the full extent of harm is still not yet known.
Robinson Insulation Plant
Located in Minot, North Dakota, the former Robinson Insulation Plant was a job site where employees were exposed to hazardous levels of asbestos. From 1967 and 1983, the plant housed over 16,000 tons of asbestos-containing vermiculite. The surrounding areas of the plant consisted of industrial, residential and commercial sites.
According to the Agency for Toxic Substances & Disease Registry, environmental samples from the Robinson Insulation Plant showed that some of the asbestos came from a mine in Libby, Montana. The site was eventually purchased by the city and the buildings were demolished. All former employees of the plant are recommended to undergo medical testing to identify any potential health issues if they have not already done so.
Minot and Widespread Flooding
In the summer of 2011, the First District Health Unit, along with the U.S. Environmental Protection Agency (EPA), warned homeowners in the city of Minot and surrounding areas that asbestos exposure was a serious threat. Homes that were destroyed from recent floods possibly contained asbestos. By some accounts, the floods of 2011 were the worst floods in the state's history. More than 11,000 residents were evacuated and more than 4,000 homes were damaged. The underlying environmental threat existed within the materials in the homes. Some homes likely contained asbestos in either the foundation of the structure or in various products throughout the home. Zonolite insulation, a branded form of vermiculite-containing asbestos material, was of major concern for local health organizations. This attic insulation was likely used in thousands of homes in the state during previous decades, where it likely remains today.
Importing Asbestos from Libby
One of North Dakota's most notable cases of asbestos exposure stems from Libby, Montana, where a large portion of the population contracted asbestos-related diseases. Vermiculite-tainted asbestos that was mined in Libby was shipped to many other states, including four cities in North Dakota. The vast majority of it was sent to Stanton and Minot.
Erionite in North Dakota
One hidden threat to North Dakotans is a toxic substance that is widespread but unknown to many. Erionite is a naturally occurring mineral that closely resembles the chemical structure of asbestos. It is located in at least a dozen states in the nation. Its similarity to asbestos can be very misleading. Early data show that erionite may be as much 800 times more likely to cause mesothelioma than asbestos, which poses a potential threat.
In North Dakota, erionite is frequently used as gravel for roadways. Like asbestos, the mineral doesn't become toxic until the fibers are disturbed. Residents who drive on these roads release fibers into the air on a regular basis. Once airborne, the fibers can become lodged into the lungs of unknowing motorists, students and commuters.
Asbestos Fines and Litigation in North Dakota
Despite the state's low ranking for asbestos-related deaths, several lawsuits have stemmed from asbestos exposures and illegal handling of asbestos projects in North Dakota. While North Dakotans benefit from a lengthy statute of limitations for filing asbestos claims, the state does not readily welcome cases from outside states.
The owner of Meide & Son pleaded guilty in 1998 to illegally removing and disposing of asbestos-containing materials during renovations to the Ben Franklin and Action Reaction Sports stores in Wahpeton, North Dakota. Jerry Meide was sentenced to 10 months in jail with one year of supervision upon release. He was also ordered to pay $200,000, which included the cost of asbestos cleanup and a $100,000 fine.
In 1997, a North Dakota jury decided Richard Anderson suffered $340,000 in damages from workplace asbestos exposures that led to his diagnosis of asbestosis. Anderson, a boiler worker who served the Minot Air Force Base from 1959 to 1985, breathed harmful fibers released from Kaylo asbestos products, including pipe covering and block insulation. The jury found Owens-Corning, the manufacturer of the Kaylo products, 25 percent responsible for Anderson's illness, and ordered the company to pay him $85,000. Owens-Corning appealed the verdict, and the court reduced the award to $83,114.
In 1986, the Hebron Public School District in Morton County, North Dakota filed a claim against United States Gypsum Co. to recover the cost of removing asbestos-containing ceiling plaster from two school building additions. Hebron argued that the material was added by contractors who did not disclose that asbestos materials were being used. The jury returned a verdict in favor of Hebron and awarded the school district $382,000 in compensatory damages and $450,000 in punitive damages.
A six-year statute of limitations for filing legal claims has made North Dakota an attractive venue for asbestos plaintiffs across the nation, but the North Dakota Supreme Court maintains that out-of-state asbestos claimants put an unfair burden on the state's courts. In 2011, the state Supreme Court tossed 13 cases from its courts that missed deadlines in other states, arguing these cases placed unnecessary strain on its judges, litigants, jurors and taxpayers.
Learn How to Hire a Qualified Mesothelioma Lawyer
Last Modified October 26, 2018
13 Cited Article Sources
How did this article help you?
What about this article isn't helpful for you?
Did this article help you?
Thank you for your feedback.
Would you like to speak with a Patient Advocate?