About Pennsylvania
Ranking in U.S. for mesothelioma & asbestosis deaths

3rd

Mesothelioma Deaths

3,092

Asbestosis Deaths

568

Total Deaths

3,660
Deep roots of American history run through Pennsylvania, which was central to the formation of the U.S. Philadelphia is home to the Liberty Bell and Independence Hall, where the Declaration of Independence was signed, and the city is known as the home of founding fathers Benjamin Franklin and William Penn.
But Pennsylvania is also one of the few states in the country that has a long history of mining asbestos.
Coal mining is largely associated with the western regions of Pennsylvania, but records from the United States Geological Survey indicate that four asbestos mines had formerly been located in the southeastern region of the state.
The precise type of the asbestos found in these mines is amphibole. One subtype of amphibole asbestos, crocidolite, is considered to be the most dangerous type of asbestos because of the fibers' tendency to remain in the lungs for longer periods of time. This creates the opportunity for mesothelioma cancer.
Job Sites with Known Asbestos Exposure
The U.S. Environmental Protection Agency (EPA) has cited a number of facilities throughout the commonwealth that could be harmful to human life, based on hazardous waste and contamination. Many businesses and municipalities were required to clean up their sites. Once the EPA completed and approved the cleanup, the agency removed the site from the National Priorities List (NPL).
A number of industries, such as shipbuilding, construction, pipefitting and demolition, also contributed to the asbestos problem in this region of the U.S. Chemical plants, power plants, shipyards, landfills, mining sites and other locations were included (and later deleted) from the NPL. Moreover, Pennsylvania was one of the many states that received large shipments of asbestos-contaminated vermiculite from Libby, Montana, from 1948 to 1993.
In January 2019, residents of Bucks County appeared at a town hall meeting to discuss the discovery of asbestos at Rockhill Quarry in Perkasie Township. Asbestos was found at the job site in December 2018 during routine testing. A local congressman sent a letter to the quarry operator urging them to halt production. Operations were ceased until a thorough environmental review is conducted.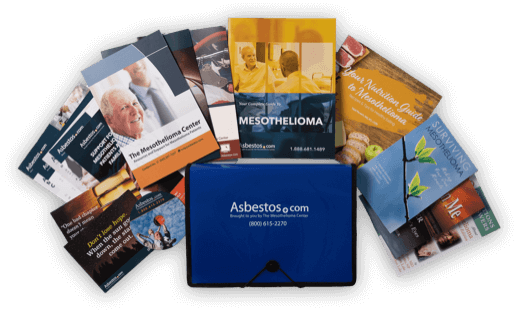 Get a Free Mesothelioma Guide
Free information, books, wristbands and more for patients and caregivers.
Get Yours Today
Job Sites with Known Asbestos Exposure:
Bethlehem Steel Shipyard
Penn Shipbuilding
Philadelphia Naval Shipyard
Key Highway Shipyard
Pennsylvania Shipyard (Beaumont)
Sun Shipbuilding
Alcoa Aluminum
Electralloy
USX Corporation
Bethlehem Steel
LTV Steel
Treatment Centers near Pennsylvania
Doctors in Pennsylvania
Asbestos-Related Deaths in Pennsylvania
Pennsylvania currently ranks third in the nation for mesothelioma deaths and fourth in the nation for deaths from asbestosis.
Statistics from the Centers for Disease Control and Prevention (CDC) show that 3,092 Pennsylvanians died of mesothelioma from 1999 to 2017, and another 568 died from asbestosis.
Additional CDC records from this period list 36 Pennsylvania counties that reported deaths from mesothelioma and asbestosis. The ten leading counties for mesothelioma deaths include:
Allegheny County (288)
Philadelphia County (222)
Montgomery County (205)
Delaware County (165)
Bucks County (123)
Lancaster County (101)
Berks County (74)
Chester County (74)
Luzerne County (63)
Lehigh County (59)
Learn About Mesothelioma Treatment Options
Asbestos Litigation in Pennsylvania
While decades ago Pennsylvania was a leading state for asbestos litigation — at one point accounting for 50 percent of plaintiffs whose claims reached a verdict — the number of cases filed in the state has dropped significantly in recent years. According to RAND Corporation, 17 percent of all asbestos claims filed in U.S. state courts from 1970 to 1987 were filed in Pennsylvania. But by 1993, the number dropped to 3 percent, where it remained through 2000.
In 1991, the Judicial Panel on Multidistrict Litigation transferred all asbestos claims filed in federal courts to Judge Charles Weiner of the Eastern District of Pennsylvania to be evaluated before trial. He also handled more than 7,000 cases filed locally in his district. By September 2004, Weiner dismissed 74,152 of more than 100,000 cases transferred to him, returning only 366 cases to their filing districts for trial.
Many plaintiff attorneys grew concerned that their cases filed in federal courts would be transferred to Weiner and rejected, which led to changes in the landscape of asbestos litigation. The number of cases filed in federal courts fell, while the number of state court filings skyrocketed.
Mesothelioma Lawsuits
The family of a man from Indiana County, Pennsylvania, was awarded $226,000 by a jury in 2008 after it was ruled that he died because of exposure to asbestos. George Baroni died in 2005 from mesothelioma. Baroni worked for Fisher Scientific from 1959 to 1994. Fisher Scientific is a named defendant in other asbestos-related lawsuits in Pennsylvania, all involving former employees who develop asbestos-related diseases.
Learn How to Hire a Qualified Mesothelioma Lawyer
Mesothelioma Cases Will Continue
In a 1999 interview on the Living on Earth radio program, mesothelioma expert Dr. Daniel Sterman offered this unsettling observation: "Even … if no one else in America was exposed to asbestos again, starting tomorrow, we would still have a marked increase in the number of cases [of mesothelioma] over the next 10 to 15 years."
Cases would continue to increase because of the lengthy latency period associated with mesothelioma and other asbestos illnesses. On average, it takes 30 to 45 years after initial exposure to asbestos before symptoms arise and doctors can make a diagnosis. The gap can vary significantly depending on the patient and the nature of his or her exposure.
For nearly two decades, Sterman served as lead clinical investigator for the Thoracic Oncology Research Group at the University of Pennsylvania Medical Center. He completed groundbreaking research in gene therapy for mesothelioma before accepting a position as inaugural director of the Multidisciplinary Pulmonary Oncology Program at the NYU Langone Medical Center in late 2014.
Superfund Sites in Pennsylvania
Because of its mining history – and its history of importing and exporting asbestos – Pennsylvania has had its share of EPA Superfund sites. The BoRit Asbestos Site in Ambler, Pennsylvania, was added to the list in April 2009. Air and soil tests showed that airborne asbestos levels were not a public health hazard, as long as the on-site soil was not aggressively disturbed. As a precautionary measure, visitors were instructed to avoid any direct soil activity. The Pennsylvania Department of Health and the Agency for Toxic Substances & Disease Registry (ATSDR) recommended the removal of asbestos-contaminated materials in order to prevent cases of asbestos-related diseases. The agencies also recommended that the site be continually evaluated.
The Ambler Asbestos Piles, another Superfund site in Montgomery County, Pennsylvania, was removed as an NPL site in 1996. There are about 40 residences within a quarter mile of the 25-acre site, and before it was cleaned up, the air, groundwater, soil, sediments and surface water of the site were contaminated with asbestos. Reviews of the site in 1997, 2002 and 2007 ensured that remedies had been implemented fully. However, because a local tributary, Wissahickon Creek, and its floodplain border the site, further reviews are mandated.

Get Help Contacting this Cancer Center
14 Cited Article Sources
The sources on all content featured in The Mesothelioma Center at Asbestos.com include medical and scientific studies, peer-reviewed studies and other research documents from reputable organizations.
Agency for Toxic Substances & Disease Registry/CDC. (2008). Asbestos. Retrieved from: http://www.atsdr.cdc.gov/asbestos/more_about_asbestos/what_is_asbestos/
Best, Tiffany. (2011). Asbestos in Pennsylvania. February 23rd blog entry in The LuLac Political Letter, Edition #1488. Luzerne and Lackawanna Counties, PA. Retrieved from: http://lulacpoliticaletter.blogspot.com/2011/02/lulac-edition-1488-feb-23rd-2011.html
Environmental Protection Agency. (2011). Mid-Atlantic Superfund – Ambler Asbestos Piles: Current Site Information. EPA Region 3. Retrieved from: http://www.epa.gov/reg3hwmd/npl/PAD000436436.htm
Environmental Working Group. (2009). Asbestos Shipments Received in Pennsylvania. Retrieved from: http://www.ewg.org/research/maps/states-received-asbestos-shipments
Lilienfeld, D.E., Mandel, J.S., Coin, P. & Schuman, L.M. (1988). Projection of asbestos-related diseases in the United States, 1985-2009 I. Cancer. British Journal of Industrial Medicine 45, 283-291. Retrieved from: http://www.ncbi.nlm.nih.gov/pmc/articles/PMC1007996/?tool=pubmed
U.S. Department of Health and Human Services. (2008). Health Consultation: BoRit Asbestos.
Air Sampling Results from 2006 to 2007, BoRit Site, Ambler, Montgomery County, PA. Retrieved from: http://www.epaosc.org/sites/2475/files/borithealthconsult_- air_data_reviewpubcomment7-08.pdf
Van Gosen, B. (2005). Reported Historic Asbestos Mines, Historic Asbestos Prospects, and Natural Asbestos Occurrences in the Eastern United States. Retrieved from: http://pubs.usgs.gov/of/2005/1189/
Carroll, S. et al. (2005). Asbestos Litigation. Retrieved from: http://www.rand.org/content/dam/rand/pubs/monographs/2005/RAND_MG162.pdf
Living on Earth. (1999, May 21). Asbestos Legacy. Retrieved from: http://loe.org/shows/segments.html?programID=99-P13-00021&segmentID=7
NYU School of Medicine. (2015, January 1). Daniel Sterman Named Director of the Division of Pulmonary, Critical Care and Sleep Medicine. Retrieved from: https://www.med.nyu.edu/medicine/%5Btype%5D/daniel-sterman-named-director-division-pulmonary-critical-care-and-sleep-medicine
Centers for Disease Control and Prevention, National Center for Health Statistics. (2018). Underlying Cause of Death 1999-2017 on CDC WONDER Online Database. Retrieved from: http://wonder.cdc.gov/ucd-icd10.html
United States Environmental Protection Agency. (2016, August 9). EPA Superfund Program: BoRit Asbestos, Ambler, PA. Retrieved from: https://cumulis.epa.gov/supercpad/cursites/csitinfo.cfm?id=0301842
Farris, J. (2019, January 21). Residents pack meeting about Rockhill Quarry. Retrieved from: http://www.wfmz.com/news/southeastern-pa/residents-pack-meeting-about-rockhill-quarry/983595820
How did this article help you?
What about this article isn't helpful for you?
Did this article help you?
Thank you for your feedback.
Would you like to speak with a Patient Advocate?
Last Modified May 20, 2020