Pleural Specialist
A medical doctor who treats pleural mesothelioma, an asbestos-related cancer that develops in the pleura, which is the thin lining that covers the lungs and chest wall.
Dr. Adam Lackey
Thoracic Surgeon
Dr. Adam Lackey is division chief of thoracic surgery at Staten Island University Hospital, focusing on lung and esophageal cancer and malignant pleural mesothelioma.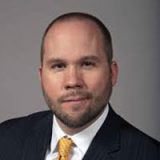 Staten Island University Hospital Staten Island, New York (NY)
Lackey joined the staff in Staten Island in 2018, shortly after a yearlong study by the New York State Department of Health detailed a higher-than-normal lung cancer rate in the borough, compared with surrounding areas.
Before his arrival, the Staten Island University Hospital did not have a lung cancer specialist with his unique set of skills.
Lackey will be leading the minimally invasive robotic surgery team, doing video assisted thoracoscopic surgery as well as the more aggressive, curative-intent surgery required with pleural mesothelioma.
"No patient who lives in this borough should have to leave it now to seek proper medical care," Lackey said. "My job here is to build upon the reinvention of this program and focus on non-heart-related surgeries and procedures."
Carved His Reputation in the Midwest
Lackey previously served for five years at Beaumont Hospital in suburban Detroit, where he carved his reputation for excellence and the long-haul commitment he makes to patients, particularly those with mesothelioma.
He doesn't leave when their surgery ends.
Lackey is a big believer in a multidisciplinary, collaborative approach to treatment, working closely with pulmonologists, radiologists, oncologists and pathologists.
"I tell my [mesothelioma] patients when they come, they are signing up for the 'Big Show' here. This is not a one week, one month, or even a six month deal," he said. "I'm going to be involved in your care for the rest of your life. We are forming a partnership against this disease."
Long Term Commitment
Lackey spends considerable time talking to his surgical patients about making a long-term commitment — mentally and physically. He makes sure they know about the long-odds survivors, even when the typical prognosis can be rather grim.
"These are projects. For these patients, this is not working up to one particular moment in life, show up for surgery, and that's it," he said. "They have to sustain the optimism and resolve for a long time. It's very important from a functional standpoint that they maintain hope as we go through it together."
Despite advances in therapy, a typical diagnosis of pleural mesothelioma still comes with a prognosis of only six to 18 months.
And the majority of patients are not candidates for aggressive surgery that can extend survival time with a curative approach.
"All the studies that are done, there always are a few long-term survivors who live 5-10-15 years. I tell our patients, you may end up dying from this disease, but we will do everything we possibly can to buy you more quality time," he said. "And you may actually be one of those long-term survivors."

In 2021, Lackey published his research on the impact of postoperative complications on long-term survival after esophagectomy in older adults.
Trained Under Dr. Harvey Pass
Lackey went to Beaumont after finishing a fellowship with New York Medical College, where he trained with surgeon Dr. Harvey Pass, who has been studying pleural mesothelioma for four decades.
Pass taught him the intricacies of the pleurectomy and decortication and extrapleural pneumonectomy, surgeries that Lackey does now.
The commitment to early screening for thoracic malignancies at Staten Island Hospital was one reason he made the move East.
"This is an exciting opportunity. Higher-quality scanning modalities are allowing us to pick up on more cancers earlier than we would have in the past," he said. "And because lung cancer can be asymptomatic until the tumor reaches a more advanced stage, this is a big for our specialty."
Lackey graduated from the University of Virginia Medical School. He did his residency in general surgery in Denver at the Anschutz Medical Center at the University of Colorado.
His surgical group specializes in minimally invasive techniques for lung cancer and esophageal cancer. They handle all types of pleural effusions, pneumothoraces, gastroesophageal reflux and hyperhidrosis, along with many other diseases. The group also offers a full spectrum of endoscopy procedures of the esophagus and lungs.