Beaumont Hospital, Royal Oak
Beaumont Hospital in Royal Oak, Michigan, is renowned for its highly trained specialists, including Dr. Craig Stevens, a national leader in lung cancer and mesothelioma treatment. Beaumont provides highly rated services such as mesothelioma clinical trials and innovative radiation oncology.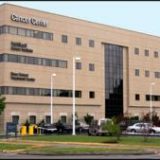 3601 W. 13 Mile Rd, Royal Oak, MI 48073
Specialized Treatment for Mesothelioma Cancer at Beaumont Hospital, Royal Oak
Beaumont Hospital, Royal Oak has grown into a model for oncology services with its latest multidisciplinary programs that provide patients with the finest care possible.
Each program at Beaumont includes a highly trained group of specialists who work closely in a well-coordinated team effort, making sure every patient gets the most from the latest technological advances.
Multidisciplinary programs available at Beaumont are specifically aimed at lung, breast, colorectal, head and neck, GI/hepatobiliary, melanoma, brain and spinal cord, prostate and urologic cancers.
The multidisciplinary lung cancer program at Beaumont can provide a malignant pleural mesothelioma patient with personalized care that is tailored to his or her particular needs and desires. There is no one-size-fits-all therapy at Beaumont.
Mesothelioma treatment at Beaumont often includes a combination of surgery, radiation and chemotherapy, a multimodal approach that has survivors today living longer than ever before. Specialists from each of those fields meet regularly to discuss every case, making sure their efforts are well coordinated.
Beaumont's commitment to multidisciplinary excellence spans a wide range of expertise. Among the disciplines that all factor into the mix:
Medical oncology
Radiation oncology
Thoracic surgery
Pulmonology
Pathology
Nuclear medicine
Cancer support service
Genetic counseling
Clinical trials
Beaumont Leads the Way in Radiation Oncology
Beaumont's radiation oncology department has been ranked among the country's best for several years for its innovative treatment approach, technology and research.
The department moved another step forward by adding Craig Stevens, M.D., as the new chairman in 2013, utilizing his skills as a national leader in the treatment of lung cancer and mesothelioma. Stevens came from the Moffitt Cancer Center in Tampa, where he focused on thoracic cancers.
Beaumont has developed image-guided radiation therapy, hyperthermic therapy, adaptive radiation therapy and high-dose brachytherapy, all of which have helped patients with various cancers.
Life-Saving Lung Cancer Screening at Beaumont
As a commitment to patients, Beaumont has introduced an inexpensive lung cancer screening program that should save lives through early detection.
The program involves low-dose computed tomography imaging (CT scan) that uses X-ray beams to help physicians diagnose many conditions. It is recommended for anyone older than 55 who is at high risk for lung cancer or mesothelioma, the cancer caused by asbestos exposure.
"Without early detection, most lung cancer patients soon die from their lung cancer," Stevens said. "By introducing an affordable, high-quality lung cancer screening program, more patients can be diagnosed early enough to save their lives."
Beaumont Nationally Recognized for Excellence in Cancer Care
Beaumont has used its vast resources to take a national leadership role in a number of areas. Early in 2014, urologists there became the first in the United States to treat prostate cancer locally with transurethral ultrasound therapy guided by magnetic resonance imaging.
Surgeons at Beaumont pioneered a robotic surgery technique in 2013 to remove cancerous tumors from a patient with only one kidney remaining, taking advantage of this novel, minimally invasive procedure.
Beaumont became the first center outside of Japan to use a novel balloon ablation technology to treat atrial fibrillation. It also opened a Cardiovascular Performance Clinic to help reduce associated health risks that come with exercise programs.
The National Cancer Institute (NCI) designated Beaumont Hospital, Royal Oak as one of 49 Community Clinical Oncology Programs that provide patients with cutting-edge clinical research trials.
Beaumont Hospital in Royal Oak received Best Hospital ranking for the 19th consecutive year by U.S. News & World Report. It was nationally ranked in seven medical specialties for the 2013-14 period. Only 3% of all hospitals received a national ranking in any of the medical specialties.
It is designated as a Blue Cross Distinction Center for the Treatment of Rare and Complex Cancers, which should help attract mesothelioma patients.
Studying Cancer Genetics at Beaumont Hospital
Beaumont also has a highly rated multidisciplinary cancer genetics program, which can help individuals reduce the risk of cancer and possibly even prevent cancer. Part of the program includes early screening, which has proven effective in early detection, improved therapies and better outcomes.
The genetics program includes an oncologist/program director, cancer genetics counselors, an attending physician and supportive care nurses. They provide genetic testing, risk assessment, family-history evaluation, genetic education and counseling services.
Mesothelioma Clinical Trials at Beaumont Hospital, Royal Oak
Clinical trials can be a good way to find the latest treatment for many cancers. They also help advance medical strategies for those who follow. The clinical trials office at Beaumont Health System has been offering personalized service since 1999.
There are more than 60 treatment, prevention and support trials covering a wide variety of cancers currently underway at Beaumont, which has been a leader in many of the specialties.