Pleural Specialist
A medical doctor who treats pleural mesothelioma, an asbestos-related cancer that develops in the pleura, which is the thin lining that covers the lungs and chest wall.
Dr. Laurence H. Brinckerhoff
Thoracic Surgeon
Dr. Laurence Brinckerhoff is chief of thoracic surgery and leader of the Interstitial Lung Disease Program at Tufts Medical Center in Boston.
Get in Touch
Get to Know Dr. Laurence H. Brinckerhoff
Thoracic surgeon Dr. Laurence Brinckerhoff is an associate professor at Tufts University School of Medicine, focusing on surgical oncology, tumor immunology and clinical trials.
He performs minimally invasive surgery and more aggressive operations, including the pleurectomy and decortication surgery used to treat malignant pleural mesothelioma.
At Tufts, Brinckerhoff works closely with medical and radiation oncologists, gastroenterologists, pathologists, interventional pulmonologists and pain experts to provide personalized treatment for each patient.
He sees patients at Tufts Medical Center in Boston, Lowell General Hospital in Lowell and the Tufts Medical Center Cancer Center in Stoneham.
Much of his time is spent working with patients who have serious lung diseases, which includes lung cancer and pleural mesothelioma.
Brinckerhoff often performs video-assisted thoracic surgery, also known at VATS, to biopsy a diseased portion of the lung. He works with those in the Tufts Lung Nodule Evaluation Center and the multidisciplinary Thoracic Oncology Program, making sure each patient is treated with the utmost importance.
Contact Dr. Laurence H. Brinckerhoff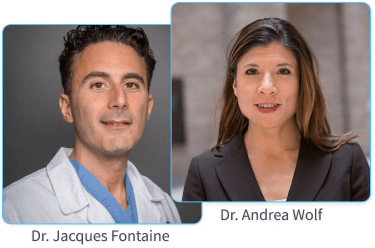 Find a Mesothelioma Specialist
Get specialized treatment from experienced mesothelioma doctors.
Specialties of Dr. Laurence H. Brinckerhoff
Thoracic surgical oncology
Minimally invasive surgery
Tumor immunology
Clinical trials
Lung cancer
Pleural mesothelioma
Dr. Laurence H. Brinckerhoff's Experience and Medical Education
Tufts Medical Center
University of Colorado Health Science Center (Fellowship)
University of Virginia Health System (Residency)
Dartmouth School of Medicine (M.D.)
Awards and Certifications
Board certified in general surgery and thoracic surgery
Top Doctor, Boston Magazine (2012-20)
TUSM Excellence in Teaching Award (2017)
TUSM Dean's Outstanding Mentor Award (2017)
Top Cancer Doctors, Newsweek (2015)
Outstanding Core Clerkship Director Award
Publications of Dr. Laurence H. Brinckerhoff
Munoz-Largacha, J.A. et al. (2019, August). Induction chemoradiation is associated with improved survival in chest wall invasion lung cancer. Tumori.
Peev, M.P. et al. (2017, September). Metastatic Epicardial Leiomyoma with uncertain malignant potential. Journal of Surgical Case Reports.
Burke, S.M. et al. (2015, September). Granular cell tumor of the stellate ganglion presenting with Horner's syndrome. Journal of Clinical Neuroscience.
Thompson, L.W. et al. (2004, November-December). Competition among peptides in melanoma vaccines for binding to MHC molecules. Journal of Immunotherapy.