Tufts Medical Center
Table Of Contents
Tufts Medical Center in Boston is a teaching hospital with a long-standing reputation for combining groundbreaking research and sophisticated, cutting-edge care for patients.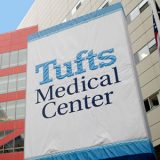 800 Washington St, Boston, MA 02111
Treating Mesothelioma Cancer at Tufts Medical Center
The Tufts Cancer Center handles all forms of cancer, including complex and rare diseases such as mesothelioma.
Patients at the cancer center are under the watch of doctors in various roles, each with an expertise in a different aspect of care.
The multidisciplinary approach to treatment has worked well at Tufts, which is part of the Tufts University School of Medicine.

The Tufts Cancer Center received an 'A' Rating in the spring 2021 Leapfrog Hospital Safety Grade for meeting the highest patient safety standards.
Tufts Utilizes HIPEC Treatment for Peritoneal Mesothelioma
Surgical oncologist Dr. Martin Goodman is director of the Peritoneal Surface Malignancy Program at Tufts, handling cases of peritoneal mesothelioma.
Goodman specializes in the combination of cytoreductive surgery and hyperthermic intraperitoneal chemotherapy, otherwise known as HIPEC.
The combination, which is used only at select cancer centers around the country, has been especially effective in treating peritoneal mesothelioma and several other abdominal malignancies.
Tufts was the first hospital in Massachusetts to perform the procedure, and it has continued in a leadership role.
Dr. Laurence Brinckerhoff, chief of thoracic surgery at Tufts, handles cases of pleural mesothelioma. He also leads the Interstitial Lung Disease Program at Tufts.
He performs aggressive surgeries such as the pleurectomy and decortication, and minimally invasive, video-assisted surgeries, including lung biopsies.
Research at Tufts Medical Center Leads to Treatment Advances
Tufts offers a wide range of targeted clinical trials that have given patients access to emerging cancer treatment advances that are working through the FDA approval process.
The Tufts Clinical and Translational Science Institute has played a major role nationally in accelerating the transition from laboratory discoveries to clinical adaptation.
Its successes have not gone unnoticed. Vizient, a health care performance improvement company, ranked the Tufts Medical Center as one of the top 10 academic medical centers in the country. The ranking was based on a national study of patient experience data and clinical results.
Newsweek included Tufts Medical Center on its 2019 World's Best Hospitals list. The National Institutes of Health ranked Tufts among its top 10% of independent hospitals.
U.S. News & World Report puts several Tufts physicians among the top 1% nationally.
The cancer center offers some of the most advanced treatments in the New England area.
In addition to the HIPEC procedure for peritoneal malignancies, it has the only Gamma Knife Center in Boston for treating brain tumors without surgery.
It also includes Boston's only Adolescent & Young Adult Cancer Program, which is dedicated to the unique needs of younger adult patients.
Also within the medical center complex is the Neely House, an apartment-style bed-and-breakfast reserved for patients and families being treated at the cancer center.