About Paul H. Sugarbaker
Accolades

Peritoneal Mesothelioma

Top Doctor

Excellence in Research

Mesothelioma Pioneer

Team Leader

Hyperthermic Intraperitoneal Chemotherapy
There are oncology surgeons throughout the country today using the techniques that Dr. Paul Sugarbaker pioneered years ago.
While his brother, Dr. David Sugarbaker is renowned for his work at Baylor College of Medicine in Houston, Paul Sugarbaker has carved an equally impressive career in Washington, D.C., serving as the director of the Peritoneal Surface Malignancy Program at the Washington Cancer Institute.
Sugarbaker Procedure
The Sugarbaker Procedure, which is used in many specialty centers today, bears his name because he was the first to utilize the treatment more than a decade ago. It included cytoreductive surgery that was followed immediately by heated chemotherapy.
It became his signature treatment procedure for peritoneal mesothelioma and other abdominal cancers. Although its use was initially criticized as too radical, he promoted it openly as the best way to treat certain cancers.
The surgery involves removing the lining of the abdomen, then carefully examining all organs for traces of the cancer and meticulously removing the tumor cells.
After finishing the tumor removal, a heated chemotherapy solution is pumped into the abdomen and used to bathe the organs for up to 90 minutes before it is drained and the surgical incisions are closed. The entire procedure can last 10 hours.
It has been credited for extending the lives of numerous patients today. It is the biggest reason that peritoneal mesothelioma patients are living five years or more, and considerably longer then pleural mesothelioma patients.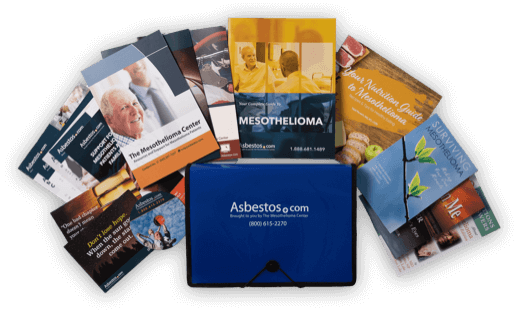 Get a Free Mesothelioma Guide
Free information, books, wristbands and more for patients and caregivers.
Get Your Free Guide
His research has been widely published. His textbook on sarcoma surgery has been translated into five languages, and he has received international praise for his work.
Sugarbaker is the founding member of the International Society of Regional Cancer Therapy and a member of the editorial board for the European Journal of Surgical Oncology. He created the Foundation for Applied Research in Gastrointestinal Oncology.
Interview with Dr. Sugarbaker
On the topic of peritoneal mesothelioma, there is no bigger authority than Paul Sugarbaker, M.D., a director at the Washington Cancer Institute in Washington, D.C.
And on the topic of one day finding a cure for the disease, there is no hesitation or indecision on his part.
Dr. Sugarbaker

"I think it can be cured. I'm convinced that it can be cured. There will be a cure. I don't share the pessimism that some others have."
Sugarbaker has been studying different cancers for more than 30 years.
He is best known for his multi-modal approach to therapy, especially with peritoneal mesothelioma, which attacks the lining of the abdomen and has no known cure. It is usually caused by exposure to deadly asbestos fibers.
"I would hope we'll get to the point where patients will go home cancer free," he said. "And then just follow up with their oncologist."
Advancements in Peritoneal Treatment
Sugarbaker has based his optimism on the gradual and most recent advancements in treatment, many of which he has helped pioneer. The cytoreductive surgery in combination with the perioperative intraperitoneal chemotherapy has been especially effective with the right patients.
Dr. Sugarbaker

"The steps have been incremental over the last 20 years. There are five drugs that we use sequentially now in these patients with a reasonable number of adverse events. We do have terrific outcomes with most of the patients who we take to the operating room. The most satisfying thing is seeing people do well in the long run."
Sugarbaker admits that the key to his recent success is finding the right patients. History has shown him that younger is better and that women have a better chance than men.
"Patients who are young and strong, with a small volume of disease and a minimally aggressive disease, they have the best chance," he said. "I can't take care of all mesothelioma patients. We're selective. They don't get to us until we've reviewed their pathology, reviewed their history, reviewed their CT scans, found the ones we think can benefit. That's extremely important."
Sugarbaker has lectured extensively on the subject of mesothelioma. He has published more than 780 works. One of his textbooks on cancer has been translated into five languages.
And while he is adamant that a cure is coming, he doesn't give false hope. He rejected a recent suggestion that mesothelioma in the future could become something like diabetes, a manageable disease.
"I know the medical oncologists do that, but I don't like that comparison," he said. "That's false hope for many. Right now we have two young women in the hospital – both had minimally aggressive (mesothelioma) disease. They had the complete cytoreductive surgery and chemotherapy. And their prognosis after 10 years is 80 percent free of disease."
See More Top Mesothelioma Doctors
Publications by Paul Sugarbaker, M.D.
Dr. Sugarbaker has published more than 780 works. One of his textbooks on cancer has been translated into five languages.
Disclaimer: Dr. Paul H. Sugarbaker has no professional affiliation with Asbestos.com.

Get Help Contacting this Doctor
Find an Active Mesothelioma Clinical Trial
Find Now
7 Cited Article Sources
The sources on all content featured in The Mesothelioma Center at Asbestos.com include medical and scientific studies, peer-reviewed studies and other research documents from reputable organizations.
How did this article help you?
What about this article isn't helpful for you?
Did this article help you?
Thank you for your feedback.
Would you like to speak with a Patient Advocate?
Last Modified December 9, 2019