Pleural Specialist
A medical doctor who treats pleural mesothelioma, an asbestos-related cancer that develops in the pleura, which is the thin lining that covers the lungs and chest wall.
Dr. Rafael Santana-Davila
Medical Oncologist
Medical oncologist Dr. Rafael Santana-Davila joined the University of Washington and the Seattle Cancer Care Alliance (SCCA) in 2014, adding his experience in treating malignant pleural mesothelioma to an already elite facility.
As the son of an accomplished physician in Mexico City, Santana-Davila found his niche improving the lives of cancer patients in the U.S. — while they better his.
"My interest in oncology grew from two things: First from a fascination with trying to understand the process of why cancer develops," he said. "And secondly and probably most importantly, is because while caring for cancer patients, they invariably teach you a variety of life lessons that make you a better person."
Santana-Davila spent four years previously at the Medical College of Wisconsin and Froedtert Hospital, where he took the lead in handling mesothelioma cases.
He is board certified in hematology, internal medicine and medical oncology, and he has treated a range of cancers, including breast, pancreatic, esophageal and gastrointestinal.
Now, Santana-Davila spends much of his time in Seattle treating lung cancer, head and neck cancers, and mesothelioma, the rare and aggressive cancer caused by exposure to asbestos.
His research interests range from health services to clinical trials, which he designs and implements to advance the treatment of various cancers.
Contact Dr. Rafael Santana-Davila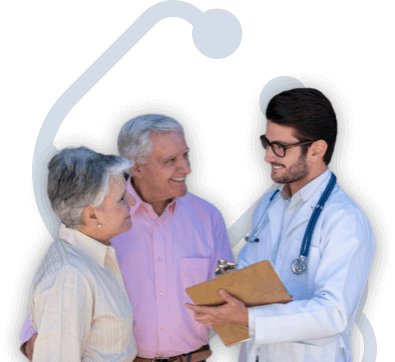 Talk to a Doctor About Your Diagnosis
We can help you or a loved one get in contact with Dr. Santana-Davila and find the treatment that's best for you.
"We have come a long way [in treating cancer] from a few decades ago, but there still is a lot of work to do," he said. "I want to continue seeking advances in therapeutic options for patients with cancer."
Santana-Davila received his medical degree from Universidad Anahuac in Mexico City. He completed a residency at the University of Minnesota and a fellowship at the Mayo Clinic.
He is a big believer in the multidisciplinary approach to cancer care, contributing his expertise in hematology and oncology alongside his peers in radiology and surgical oncology. He strives to personalize care, knowing that patients all respond differently to the treatments.
Much of his latest research has focused on the genetic mechanisms that cause cancer cells to spread, grow or die. He also has investigated prognostic factors that indicate response to cancer treatment.
He has access now to some of the nation's leading equipment and technology, including Gamma Knife radiation delivery machines and an on-site clinical pathology laboratory.
"It is our responsibility to offer the best possible treatment, providing state-of-the-art care within a multidisciplinary team," he said. "My goal is to provide patients and their families the most up-to-date and clear information about their disease, prognosis and treatment options."