Dr. Robert Meguid joined the team as an assistant professor in summer 2012 after a residency at Johns Hopkins University School of Medicine and a fellowship in cardiothoracic surgery at the University of Washington.
His interest in lung transplants, along with malignant and benign lung diseases, became a good fit at the Colorado Medical Center, where more than 115 patients have undergone successful transplants in the last 20 years.
He joined a group of experienced surgeons, including John Mitchell, M.D., the chief of thoracic surgery at Colorado, and Michael Weyant, M.D. Together, the three also are handling patients with pleural mesothelioma, the cancer caused by exposure to asbestos.
Before arriving, Meguid was part of research team at Johns Hopkins that conducted one of the largest studies ever done examining the correlation between volume of cases and survival rates at hospitals for both heart and lung transplants.
What he found in both instances was that survival rates were the highest at the centers that handled the most cases, and that hospitals that did the fewest transplants usually had the highest mortality rates. The results contradicted early government findings.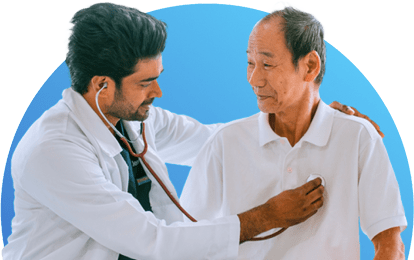 Find a Mesothelioma Cancer Center
Access top mesothelioma cancer centers that have experience treating this rare disease.
The Colorado School of Medicine has an experienced, multidisciplinary lung transplant team that includes pulmonologists, cardiothoracic surgeons, anesthesiologists, respiratory and physical therapists who work closely together to provide the best possible care for patients.
Meguid also brought his strong interests in minimally invasive thoracic surgical procedures (VATS), and a clinical interest in general surgery, esophagus and mediastinum diseases, chest wall tumors, reconstruction and end-stage lung diseases.

In March 2021, Dr. Meguid performed the first COVID-19 lung transplant in Colorado.
Contact Dr. Robert Meguid
Research Interests
He came with research interests that included the identification of health care policies that lead to improved outcomes for surgical patients, nutrition metabolism, thoracic oncology and lung transplantation outcomes. He wrote several papers, including one that examined why surgical outcomes for lung cancer resections were improved at teaching hospitals in contrast to non-teaching hospitals.
In-hospital mortality is reduced for patients undergoing lung cancer resections at teaching hospitals, with results prominent at all but the highest volume institutions. Understanding and disseminating the processes of care associated with these settings may improve quality of care for lung cancer patients, and decrease patient bias against teaching hospitals."
Dr. Meguid has received national recognition for several research articles in the field of thoracic surgery.
Joining the Colorado School of Medicine only strengthened his belief that teaching hospitals can provide excellent care.
At the American Association for thoracic surgery conference in 2010, he presented on the topic "Should esophagectomies only be performed by thoracic surgeons?" He was also part of an examination that included long-term survival outcomes by smoking status in surgical and nonsurgical patients with non-small cell lung cancer. He compared never smokers to current smokers.
He graduated from Brown University Medical School in 2002, following an undergraduate degree also at Brown. At Johns Hopkins, he received the G. Melville Williams Hero Award for outstanding service.