Peritoneal Specialist
A medical doctor who treats peritoneal mesothelioma, an asbestos-related cancer that develops in the peritoneum, which is the lining that covers the abdominal cavity.
Dr. Suzanne Schiffman
Surgical Oncologist
Table Of Contents
Dr. Suzanne C. Schiffman is a top surgeon at Allegheny General Hospital in Pittsburgh. She specializes in advanced minimally invasive abdominal surgeries for peritoneal mesothelioma, including hyperthermic intraperitoneal chemotherapy (HIPEC).
Get to Know Dr. Suzanne C. Schiffman
Dr. Suzanne C. Schiffman joined the Allegheny Health Network in 2014, following a fellowship at the nearby University of Pittsburgh Medical Center and a residency at the University of Louisville. Schiffman has experience in mesothelioma, pancreatic, liver, small bowel, colon and stomach cancers. Her practice also includes the treatment of benign gastrointestinal disease.
Schiffman earned her medical degree from Sidney Kimmel Medical College at Thomas Jefferson University. She served as a chief administrative resident at the University of Louisville before joining AHN.
She is the lead contact at AHN for patients with peritoneal mesothelioma, the rare and aggressive cancer that begins in the lining around the abdomen.
Mesothelioma typically carries a poor prognosis, although advanced treatments like those available at AHN are steps toward significantly extended survival times.
Schiffman is specially trained in cytoreductive surgery, minimally invasive techniques and hyperthermic intraperitoneal chemotherapy, an effective combination for peritoneal mesothelioma. The combination of surgical cytoreduction and HIPEC can also treat various abdominal cancers.
This aggressive surgery involves the removal of all visible tumor cells throughout the abdominal cavity. HIPEC, which is delivered directly into the abdomen following surgery, is designed to kill any remaining microscopic cancer cells.
After 60 to 90 minutes of HIPEC, the surgeon drains the solution and closes the incision. Heating the chemotherapy makes it more effective, and direct contact with the abdomen allows it to be more effective without the harsh side effects characteristic of chemotherapy.
Contact Dr. Suzanne Schiffman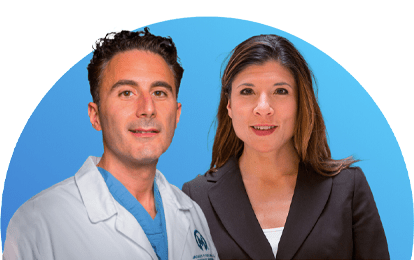 Find a Mesothelioma Specialist
Get specialized treatment from experienced mesothelioma doctors.
Specialties of Dr. Suzanne C. Schiffman
Peritoneal mesothelioma
Heated chemotherapy
Minimally invasive surgery
Dr. Suzanne C. Schiffman's Experience and Medical Education
Allegheny Health Network
Sidney Kimmel Medical College (M.D.)
University of Louisville (Residency)
University of Pittsburgh Medical Center (Fellowship)
Awards and Certifications
American Board of Surgery: Certified in Complex General Surgical Oncology
American Board of Surgery: Certified in Surgery
Publications of Dr. Suzanne C. Schiffman
Ambani, R.N., Uemura, T & Schiffman, S.C. (2018, March). Paradoxical Portal Anatomy in a Young Gentleman with Hepatocellular Carcinoma. The American Surgeon.
Schiffman, S.C. et al. (2016, May 15). A Pancreatic Cancer Multidisciplinary Clinic: Insights and Outcomes. Journal of Surgical Research.
Schiffman, S.C. et al. (2015, February). Laparoscopic Versus Open Liver Resection for Metastatic Colorectal Cancer: A Metaanalysis of 610 patients. Surgery.
Schiffman, S.C., Boyd, T.G. & Wrightson, W.R. (2013, November). Intercostal Herniation of the Gallbladder after Thoracotomy with Right Lower Lobe Lung Resection. The American Surgeon.
Schiffman, S.C., et al. (2013, October 7). Molecular Factors Associated with Recurrence and Survival Following Hepatectomy in Patients with Intrahepatic Cholangiocarcinoma: A Guide to Adjuvant Clinical Trials. Journal of Surgical Oncology.