Allegheny General Hospital
Allegheny General Hospital in Pittsburgh is among the top hospitals for malignant mesothelioma treatment and clinical research. The team includes Dr. Suzanne Schiffman, who specializes in pleural and peritoneal mesothelioma treatments such as cytoreductive surgery and HIPEC.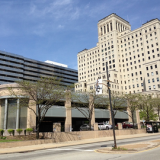 320 E. North Ave., Pittsburgh, PA 15212
Mesothelioma Specialists at Allegheny General Hospital
The multidisciplinary team at Allegheny General Hospital in Pittsburgh includes specialists in medical oncology, radiation oncology, thoracic and abdominal surgery, gastroenterology, pathology, nutrition and supportive care.
These services serve as an ideal backdrop for Allegheny's treatment of malignant mesothelioma.
Thoracic surgeon Dr. Lana Schumacher, a specialist in lung diseases, handles pleural mesothelioma cases.
General surgeon Dr. Suzanne Schiffman, who specializes in complex abdominal malignancies, spearheads the treatment of peritoneal mesothelioma in the Allegheny Health Network (AHN).
"We can extend survival," Schiffman said. "Allegheny Health Network is a comprehensive cancer center, offering many types of innovative cancer treatments. There are options to consider for these patients."
They are joined by Dr. Blair Jobe, director of the Esophageal and Lung Institute. The specialty center attracts patients throughout western Pennsylvania.
Jobe is involved in clinical research and treating lung diseases, including pleural mesothelioma.
Allegheny General Hospital Stresses Personalized Care
The Esophageal and Lung Institute, where pleural mesothelioma is handled, has everyone under one roof. This allows patients to meet with specialists and doctors who can diagnose and treat a specific disease without having to travel to multiple locations.
This coordination makes for seamless referrals.
The team approach at the institute allows a unique collaboration on a personalized treatment plan for each individual, making sure the patient is getting the best possible multidisciplinary care.
The institute handles a variety of problems, including advanced esophageal diseases such as Barrett's esophagus, motility disorders and dysplasia.
It treats lung issues that include cancer, mediastinal tumors, tracheal diseases, asbestosis and mesothelioma.
Specialized Surgery Makes a Difference at Allegheny General Hospital
Allegheny has a staff that puts considerable emphasis on personalized treatment for its patients.
It rejects the one-size-fits-all philosophy that too often is used for mesothelioma cancer.
"My approach to patient care when I meet a new patient is really to educate them on the disease process they are seeing me for. So when they leave my office, they are very well informed and can make educated decisions on what their next step will be," Schumacher said. "Fortunately, in [thoracic surgery], you can make a real difference in their lives."
Allegheny can offer a variety of therapeutic options, including the complex surgical debulking and hyperthermic chemoperfusion combination for pleural mesothelioma patients.
It involves the surgical removal of all visible cancer before bathing the chest cavity in a chemotherapy solution.
Although the institute has several satellite locations, it handles the most complex cases at Allegheny General Hospital.
Jobe, Schumacher and Schiffman are a big part of the recent resurgence of the Allegheny Health Network, which recently partnered with Highmark Insurance as a competitor to nearby UPMC.
Jobe is widely known for his groundbreaking treatment and research of esophageal disease.
The staff prides itself on exploring the newest, least-invasive treatment options. The surgical staff is complimented by an extensive research program that has pioneered cutting-edge diagnostic and treatment advances.
Allegheny General Hospital Offers HIPEC Treatment
Schiffman, who joined AHN in 2014, is now offering hyperthermic intraperitoneal chemotherapy (HIPEC) for patients with peritoneal mesothelioma.
She often combines it with cytoreductive surgery, which involves meticulously
removing all visible cancer cells throughout the abdominal area.
When surgery is complete, a heated chemotherapy solution is flushed through the abdominal cavity, where it remains for up to two hours before being drained.
The chemotherapy is designed to kill any remaining cancer cells in the abdomen.
Cytoreduction and HIPEC is only done at a select number of cancer centers. The combination has proven to be highly effective, extending survival for 10 years and beyond in some cases.
Curative Approach to Treatment at Allegheny General Hospital
Allegheny has multiple programs designed to promote early detection of many serious diseases. This often expands the treatment options available and gives patients the best chance with a curative approach to therapy.
The Esophageal and Lung Institute is one of seven specialty services in the Allegheny Health Network.
Others include:
Cancer Institute
Cardiovascular Institute
Neuroscience Institute
Orthopaedic Institute
Transplant Institute
Women's Health
AHN includes more than 2,000 physicians spanning every clinical specialty, providing world-class medical care to patients everywhere.
It encompasses seven hospitals and more than 200 primary care and specialty care practices.
Mesothelioma Clinical Trials at Allegheny General Hospital
A phase II clinical trial studying the use of the immunotherapy combination nivolumab (Opdivo) and ipilimumab (Yervoy) for rare tumors such as mesothelioma. The combination may help a patient's own immune system kill tumor cells.