Michael Cole
Cancer Advocate & Long-Time Mesothelioma Survivor
Michael Cole is a seven-year pleural mesothelioma survivor and social worker living in Fort Worth, Texas. He was diagnosed at age 46 with this rare form of cancer caused by asbestos exposure. He aims to raise awareness about mesothelioma and comfort those affected by the disease.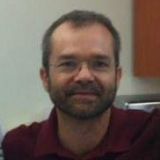 Last modified: March 13, 2023
Quick Facts
Expertise:

Mesothelioma
Extrapleural Pneumonectomy
Immunotherapy
Survivorship
About Michael
Michael Cole's journey with pleural mesothelioma has been long and challenging, but he has never lost his spirit or resolve. Despite the grim prognosis, he refused to give up and has become a passionate advocate for mesothelioma awareness and patient support.
In April 2015, Cole's doctor diagnosed him with pleural mesothelioma. He initially saw his doctor for a cough and lack of energy, symptoms he thought pointed to pneumonia. He followed up with Dr. David Sugarbaker, a pioneer in mesothelioma treatment.
Cole has undergone an extrapleural pneumonectomy. This aggressive surgery removes an entire lung with the surrounding cancer tissue. He also completed several rounds of chemotherapy after his surgery.
His doctors informed him two years later that the cancer had returned. A repeat surgery resulted in several complications. He opted for multimodal therapy with immunotherapy and radiation. Since his treatment in 2018, he has had only slow tumor changes and no new growths.
With a commitment to improving the lives of others, Cole has dedicated his efforts to writing about his experiences. He aims to educate the public about the dangers of asbestos and the importance of early detection and treatment. He has written his personal story to offer hope and inspiration to others facing similar challenges.
Through his writing, Cole offers support to those who are struggling. He is a true inspiration and a testament to the power of perseverance and determination in the face of adversity.