Walking In Your Shoes: Deciding Whether to File an Asbestos Lawsuit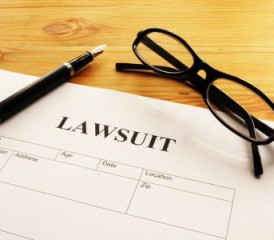 If you've been following the legal blog this month, you know I recently found out that my mom may have been exposed to asbestos at work. This month, I'm reflecting on my family's experience and what we would have done if we had found out about asbestos earlier.
In last week's post, we walked through some things you can do and questions you can ask to find out if asbestos exposure is responsible for your illness. This week we'll take a closer look at what you can do once you're aware that asbestos is a contributing factor to your illness.
Health Is Important, but Not Only Issue
Unfortunately, my mother died of stomach cancer in March 2006. Her name was Lena and she was an amazing woman.
I always admired how carefully and confidently she made decisions. In some early posts, I talked about health care and financial decisions she made during her illness.
I hope you'll take the time to read about how she coped. Her courage to confront these issues while she was sick was inspiring.
At the time, we didn't know that asbestos may have contributed to her illness. So I don't know for sure whether she would have filed a lawsuit against her old employer or anyone else. I can only imagine what she would have done in your shoes.
But I know she would have asked questions and carefully considered her choices. Most of all, I know she wouldn't have avoided the issue. In fact, that courage alone may be more important than what she ultimately would have decided.
Even if we tried to ignore financial issues, they weren't going anywhere. In fact, they might have gotten worse.
What Does the Decision Mean to You?
My mom always stayed focused on why she had to make a decision in the first place. I think that's why she was so confident about her decisions. Her family and health were very important to her. They were usually the most compelling reasons behind any decision she made.
For instance, my mom didn't make a will or financial and health care powers of attorney just for the sake of having crisp, new legal documents. She had more important concerns than that.
She wanted to get her affairs in order before it was too late. She needed to do certain things for herself and her loved ones.
I imagine she would have approached the decision whether to sue the same way. She wouldn't have sued just for the sake of suing. She had a serious illness.
Her time and energy were precious. To her, the chance to get crisp new bills from a legal settlement probably wouldn't have been worth those precious resources. But providing for her family and making sure she received proper treatment probably were.
I say "probably" because I can imagine her making different decisions about whether to sue at different points in her illness. And Karen, the lawyer and daughter, would have supported any of them. I'll share more in next week's blog.
But for now, consider this: What's important to you? What reasons have led you to consider filing an asbestos lawsuit? Maybe it's making sure you can afford good medical care. Maybe it's making sure your family's needs are met. Maybe it's serving justice.
While I don't know exactly what's most important to you or whether you'll make a decision that leads to the courthouse, I do know this: Staying focused on what's important to you can help you make the most appropriate decision for you. It can also inspire you to keep moving forward in your fight.
I'm still inspired by the special woman who taught me that.