Legislation & Litigation
4 Ways Caregivers Can Support Loved Ones with Asbestos Claims
Fact Checked
Our fact-checking process begins with a thorough review of all sources to ensure they are high quality. Then we cross-check the facts with original medical or scientific reports published by those sources, or we validate the facts with reputable news organizations, medical and scientific experts and other health experts. Each page includes all sources for full transparency.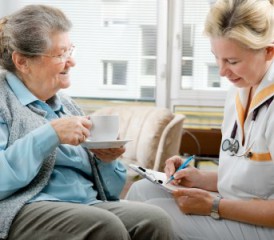 If someone you love is suffering because of an asbestos-related disease, you probably will want to help. This desire is powerful motivator. One way that you can help is by supporting your loved one's asbestos legal claim.
Those of us familiar with caregiving know that being an effective caregiver requires more than just a desire to help. It's also useful to have a clear understanding of your duties as well as your own strengths and limitations.
This understanding is not only useful, but necessary when it comes to supporting a legal claim.
Understanding Caregiving Duties
Before we talk about specific ways a caregiver can support a loved one's asbestos claim, it may help to understand caregiving duties in general. This is especially true if you're a new caregiver.
Family and friends who provide care for loved ones with asbestos-related diseases have lots of responsibilities. Some caregiving duties may seem routine — like cleaning, cooking and driving to and from medical appointments.
Other duties aren't exactly routine, but may come naturally — like quietly holding a hand and providing comfort.
But many care-giving duties are neither routine nor natural for most of us. For example, I'm fairly organized, but giving my mom her meds was tough. Meal time can be difficult for cancer patients, so coordinating her medications with meals was a special challenge.
Supporting a loved one with an asbestos personal injury claim is also a special challenge. At some point, most of us have gotten sick and gone to the doctor. So seeking medical care is usually a no-brainer.
But most of us have never been involved in a lawsuit. Most have never made a claim to (or even heard of) a personal injury trust.
How You Can Help
People with asbestos-related illnesses need money. These diseases burn through money and hinder a family's ability to make more. Perhaps you share a household with your loved one and are directly affected by these financial burdens. Perhaps you don't share a household, but are aware of a loved one's financial struggles. If so, you may be interested in helping your loved one file an asbestos personal injury claim.
But as I mentioned, simply wanting to help isn't enough. Filing a legal claim is serious business and, ultimately, your loved one's decision (we'll talk about exceptions in another post). If your loved one decides to file a claim, they'll need help from a qualified mesothelioma attorney. So there are definitely limits on what you can do to help with a legal claim.
However, there are some important things you can do:
Educate Yourself: It's hard to help with something you don't know about. Asbestos.com has lots of resources for you. Take a look and share with your loved one.
Don't Be Afraid to Admit What You Don't Know: There's no need to pretend you've become an asbestos law expert overnight. Just set a useful example for your loved one by asking a mesothelioma attorney for more information.
Listen to Your Loved One: Caregivers should comfort, not agitate. If your loved one is unsure about filing a claim respect that. But if you're worried they'll miss their opportunity, contact a Patient Advocate for suggestions on approaching your loved one without pressure.
Remember It's Not Your Lawsuit: This is important. You can help your loved one get legal information and even find an attorney. But ultimately the attorney works for your loved one, not you. The most effective caregivers respect the line between taking over and providing support.
Stay tuned for upcoming posts on how you can help during the asbestos case process.
Get Financial Assistance
Access Trust Funds, Grants & Compensation for Mesothelioma