Health & Wellness
Alternative Therapies Can Benefit Mesothelioma Patients and Caregivers
Fact Checked
Our fact-checking process begins with a thorough review of all sources to ensure they are high quality. Then we cross-check the facts with original medical or scientific reports published by those sources, or we validate the facts with reputable news organizations, medical and scientific experts and other health experts. Each page includes all sources for full transparency.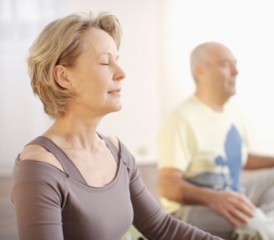 Caring for a loved one with an incurable disease like mesothelioma is a heartbreaking experience, but it is also a privilege, as you are in the position to make a huge difference to the quality of your loved one's life.
Reflecting back on my caregiving journey, there was nothing I would not do for Brian. From the moment he was diagnosed with pleural mesothelioma, his well-being became my reason for living. All I thought of was how he was feeling and how I could help him to feel better.
At no time during the two years that I cared for Brian did I step away from my caregiver role to focus on how I was feeling, and what I could do to make myself feel better.
Not surprisingly, I lost my sense of self in the process. Though I was aware of this at the time, I did not know how to change the situation, nor did I really want to. Everything I did, I did for love.
In hindsight, I have come to understand that if I had allowed myself some time away from Brian, it would not have meant that I loved or cared for him any less. It would, however, have helped me to love and care for myself as well.
One thing that would have been very beneficial to me was complementary and alternative medicine (CAM).
Through my work with SolarisCare Cancer Support Centre, I have learned a lot about complementary therapies and have witnessed the physical and emotional benefits they bring to both cancer patients and their caregivers.
What are Complementary Therapies?
Complementary therapies are those that work alongside mainstream cancer treatments and procedures to provide support and to help improve quality of life.
Complementary therapies fall into three main categories:
Mind-body
Touched-based
Energy-based
What is Mind-Body Therapy?
Mind-body therapy is designed to help people focus on what is causing them emotional stress and to provide them with the tools they can use to help them create positive changes that will influence their physical and emotional well-being.
Here are some mind-body therapy types and the benefits they provide:
When you are caring for a loved one with cancer, it can be difficult to talk to them about how you are feeling. A counseling session with a trained professional gives you the opportunity to talk about anything that is causing you emotional stress. Being able to voice your concerns freely and to have them acknowledged can provide a huge relief. The counselor can also help you to think about your concerns from another perspective and help you to move toward a resolution.
Creative visualization therapy, sometimes referred to as controlled daydreaming — helps you to use the power of your imagination to create and store an internal image in your mind of something that brings you pleasure.
Once you have created this image to memory, the therapist will help you to clear your mind of troubling thoughts by focusing on the image. This therapy is very relaxing and can even make you fall asleep. With practice, you will be able to use this technique at home.
Meditation can free the mind of its endless chatter. One method is focusing on one particular object such as a flower, a candle or a photo and concentrating on this alone. With practice, it is possible to clear the mind of its endless chatter and become totally relaxed in both the mind and the body.
What is Touched-Based Therapy?
As the name suggests, touch-based therapies are those that involve touch. These therapies are very popular with both cancer patients and their caregivers due to their immediate effect on the body.
Here are some touch-based therapies and the benefits they provide:
Massage is well known for its relaxing effect on the body. It can also be useful for lowering levels of pain and improving energy. For cancer patients, a very gentle massage is given with the aim of relieving stress and relaxing the patient. For the caregiver, a firmer massage is possible.
Reflexology is derived from the Chinese practice of acupressure, which concentrates on different points on the palm of the hand or sole of the foot that are connected with the body's system of organs. Reflexology therapy involves the therapist systematically putting pressure on these points. Patients have reported many benefits from having this therapy, including improvement in breathing, lowering of blood pressure and improved sleep.
Bowen therapy is designed to stimulate the body to restore health and balance and consists of a series of gentle, rolling movements on the body to activate a systemic response. A pattern of these movements with pauses in between continue throughout the therapy, which can be very relaxing. Many people doze off during the session.
What is Energy-Based Therapy?
Energy-based therapies are gentle, non-invasive therapies that revitalize the body's energy levels. Energy therapies provide a deep sense of relaxation, and many patients drift off to sleep during these sessions.
Here are some energy-based therapies and the benefits they provide:
Reiki therapy is a gentle treatment that clears energy fields within and around the body to promote a deep sense of relaxation.
Healing touch is a very gentle and relaxing therapy that works with the body's energy fields to assist with its natural ability to heal.
Qi Gong therapy involves the repetition of slow, rhythmic breathing, along with coordinated movements of the body to balance life energy. The slow, rhythmic breathing technique can assist with meditation and is also good to use when exercising to prevent becoming out of breath. This type of therapy is suitable for groups.
I hope I have whet your appetite for some complementary therapies. I highly recommend them all and suggest that you try at least one of each of the three categories that together cover the mind, body and spirit.
I look forward to hearing about your experiences on Facebook.
Take care.
Free Mesothelioma Resources
Get Access to Free Resources for Patients & Loved Ones