AdventHealth Celebration
AdventHealth Celebration in Kissimmee, Florida, is a top cancer treatment facility that offers clinical trials for mesothelioma. It focuses on whole-patient care with a multidisciplinary team that includes renowned thoracic surgeon Dr. Farid Gharagozloo, who specializes in robotic procedures.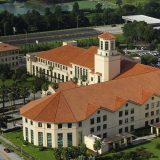 400 Celebration Pl, Kissimmee, FL 34747, USA
Quick Facts
Treating Malignant Mesothelioma at AdventHealth Celebration
The Cancer Institute at AdventHealth Celebration intensified its focus on malignant mesothelioma with the addition of innovative thoracic surgeon Dr. Farid Gharagozloo in 2015.
It was the perfect fit.
Gharagozloo was the first to use minimally-invasive robotics as part of aggressive surgery for pleural mesothelioma, believing it could change future treatment of the disease.
"Mesothelioma, in the past, has been treated with a simplistic approach," he said. "We hope to change that. We came here to do something big, to make a difference."
AdventHealth Celebration's Innovative Approach to Health Care
The resort-like AdventHealth Celebration is located in the Walt Disney World-planned community of Celebration, in the shadow of Central Florida's booming tourism industry.
Opened in 1997, it has become a global leader and model for future facilities, recognized for its innovative approach to health care.
"The patients coming here should get a Disneyesque experience," Gharagozloo said. "Not a fantasy one, but a real one, with the best care available anywhere. It's like being in a Ritz Carlton."
Doctors at AdventHealth Celebration perform more than 2,000 robotic surgeries each year, more than any hospital in the nation. Gharagozloo, medical director of thoracic surgery, has been a longtime leader in minimally invasive surgical techniques for benign and malignant diseases.
He left the University of Arizona Cancer Center to launch the thoracic surgery program at AdventHealth Celebration, where the Global Robotics Institute already was housed.
Extensive Use of Robotics at AdventHealth Celebration
Robotics involve tiny instruments controlled remotely by a surgeon at a nearby computer board. It allows a surgeon to be more precise and improves maneuverability.
With a tiny camera attached to the instruments, it also can serve as a final diagnostic tool before aggressive surgery. The use of robotics often leads to a shorter, post-surgery recovery.
"Robotics can change the way we view this very complex disease [mesothelioma]," Gharagozloo said. "It really is the right marriage for the way I do medicine."
AdventHealth Celebration handles a myriad of cancers, excelling in early detection, diagnostics and treatment. The hospital relies on research from labs worldwide. Each patient is handled from start to finish by a specially trained care coordinator.
Gharagozloo brought much of his own thoracic surgical team when he made the move from Arizona, making sure it was a seamless transition. He brought his surgical first assistant, surgical nurse, nurse practitioner and his office manager.
AdventHealth Celebration Offers Multidisciplinary Care
The upscale atmosphere at AdventHealth Celebration often gives patients an added sense of confidence in a multidisciplinary approach to healing.
AdventHealth Celebration has been recognized for its technological breakthroughs, clinical innovations and groundbreaking solutions in fighting incurable diseases, including mesothelioma treatment.
Its proximity to Walt Disney World has made it an international destination hospital for advanced and primary medical care, attracting specialists such as Gharagozloo and their novel techniques.
"Mesothelioma is more than a one-man show," he said. "It takes an experienced village to give patients the finest care they can get. That's what we bring to the table: The most advanced health care you can find."
Mesothelioma Clinical Trials at AdventHealth Celebration
A multi-center phase II clinical trial studying the effectiveness of using nivolumab (Opdivo) and ipilimumab (Yervoy) in a combination treatment for rare cancers such as mesothelioma.
---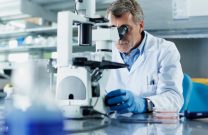 COVID-19 and Mesothelioma Presentation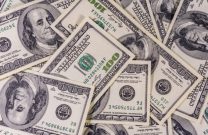 Access More than $32 Billion in Trust Funds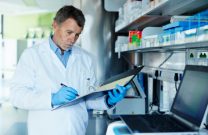 Find Active Mesothelioma Clinical Trials
---
Tell us what you think
Did this article help you?
How did this article help you?
What about this article isn't helpful for you?
Did this article help you?
Thank you for your feedback. Would you like to speak with a Patient Advocate?
---