VA Hospital
Medical centers under the federal Veterans Health Administration that provide health care to military veterans.
VA Boston Healthcare System
The VA Boston Healthcare System in Massachusetts is one of the top mesothelioma treatment centers for veterans, utilizing expertise from nearby Brigham and Women's Hospital. Thoracic surgeon Dr. Hassan Khalil directs the Boston VA's mesothelioma program.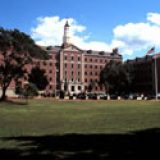 1400 VFW Pkwy West Roxbury, MA 02132
VA Boston Healthcare System Treats Asbestos-Related Diseases
The VA Boston Healthcare System is one of the highest-rated Veterans Administration medical programs. Veterans with a history of asbestos exposure can receive screening and treatment for asbestos-related diseases from experienced specialists through the Boston system.
The system has three main campuses. Depending on their medical needs, patients may visit the Jamaica Plain division in Boston, the Brockton division or the West Roxbury division.
Together, the VA Boston Healthcare System is the largest advanced inpatient care facility in New England. The primary medical centers are also supplemented by six outpatient clinics in the greater Boston area.
The Boston system has partnerships with several esteemed medical institutions, including the medical schools of Boston University and Harvard University.
Thanks to its accomplished staff, state-of-the-art technology and strong research focus, the VA Boston Healthcare System has earned accreditations from the College of American Pathologists, the American College of Surgeons Commission on Cancer and The Joint Commission.
The Boston VA's research projects are conducted by a staff of more than 125 laboratory workers. Many clinical trials performed at the facility earn sponsorship from the National Institutes of Health.
Lodging and Mental Health Counseling Available at VA Boston Healthcare System
Most mesothelioma patients who go to a Boston VA medical center are treated at the Jamaica Plain campus. This location offers advanced subspecialty clinics including oncology, radiology and surgery.
Social services are also offered at the VA hospitals in Boston. Veterans who are struggling emotionally with their mesothelioma diagnosis may benefit from counseling sessions. Late-stage mesothelioma patients can take advantage of palliative care and hospice benefits at the Brockton campus.
Free lodging is available at the Huntington House for patients traveling to the Jamaica Plain campus for outpatient appointments from 50 or more miles away. The Fisher House Foundation offers relatives of hospitalized veterans a place to stay near their loved ones, also free of charge.
Compensation for Veterans
We can help you or a loved one file asbestos-related VA claims and access potential benefits.
VA Boston Healthcare System Includes Mesothelioma Specialists
Thoracic surgeons Dr. Hassan Khalil, Dr. Daniel Wiener and Dr. John Shiang-Shi Young are all part of the multidisciplinary treatment of veterans with mesothelioma at VA Boston.
All three also see patients at Brigham and Women's Hospital and the Dana-Farber Cancer Institute in Boston.
Khalil joined VA Boston in 2020, succeeding renowned mesothelioma specialist Dr. Abraham Lebenthal, who guided the program for more than a decade and established its expertise.
Khalil specializes in minimally invasive and robotic surgery, emphasizing the importance of multidisciplinary care with thoracic and foregut diseases. He also is a member of the Harvard Medical School faculty.
Wiener, who is board certified in general surgery and thoracic surgery, left a robust practice at nearby Tufts Medical Center to join VA Boston and Brigham and Women's Hospital. He specializes in pleural effusion management, which is critical for patients with mesothelioma, and has a clinical interest in lung cancer, esophageal cancer, achalasia and gastroesophageal reflux disease.
Young, the newest member of the thoracic surgery staff, has drawn rave reviews from patients with his surgical skills and impressive interpersonal relationships.