NCI-Designated Cancer Center
Cancer center recognized by the National Cancer Institute as one that meets rigorous standards for multidisciplinary, innovative research focused on developing new and improved approaches to preventing, diagnosing and treating cancer.
Duke Cancer Institute is a renowned mesothelioma treatment center in Durham, North Carolina. The Duke medical team includes Dr. Scott Antonia, director of the cancer immunotherapy program, and Dr. Betty Tong, a mesothelioma expert. Patients at Duke also have access to ongoing clinical trials.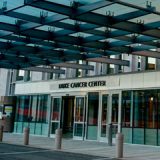 20 Duke Medicine Cir Durham, NC 27710
Treating Mesothelioma Cancer at Duke
Duke Comprehensive Cancer Center provides a wide range of services that include the latest in diagnostic and mesothelioma treatment advances available to patients from across the state.
The multidisciplinary team approach to care includes surgical oncologists, medical oncologists, radiation oncologists and cancer nurses who work closely together to coordinate individualized care for each patient.
Nutritionists, pharmacists, social workers, counselors and other cancer-specific caregivers also are part of the Duke Cancer Center.
Duke Is Home to Top Mesothelioma Doctors
Dr. Scott Antonia, who previously served at the Moffitt Cancer Center in Tampa, recently joined the staff as director of the new Cancer Immunotherapy Program, adding expertise to advance the treatment of thoracic malignancies.
Thoracic surgeons Dr. David Harpole Jr., vice chief of the Division of Surgical Services, and Dr. Betty Tong, thoracic and cardiovascular specialist, are authorities on pleural mesothelioma and various lung diseases.
Medical oncologists Dr. Jennifer Garst, Dr. Thomas Stinchcombe and Dr. Jeffrey Clarke specialize in thoracic disease. Radiation oncologist Dr. Christopher Kelsey sees patients with lung disease, too.
Patients have access to on-site mesothelioma clinical trials that often lead to the cutting-edge treatments. Those trials include the exploration of genomics and the advancement of gene therapy.
Serving Cancer Patients Throughout North Carolina
The Duke Cancer Center, which includes hospitals in Durham, Raleigh and Cary, North Carolina, also has a regional network of 20 community cancer programs spread across the state.
Within this network, patients have access to the same treatments, clinical trials and education programs.
Duke also holds a prestigious National Cancer Institute Comprehensive Cancer Center designation, which puts it in the top 4% of centers within the United States.
Duke has specialists that cover a wide-range of disease, including mesothelioma cancer, prostate, kidney, liver, gynecologic, lung, breast, colon, bladder, brain, esophageal and eye cancers, among many others.
The Duke Cancer Center takes pride in bridging the gap between cancer care and research by unifying more than 300 researchers and physicians, along with 500 clinical staff members.
One of the goals at Duke is moving groundbreaking discoveries in the laboratory to the clinic, where new cancer treatments are being utilized effectively for as many patients as possible.
The Duke Cancer Center is one of America's largest and most active research and clinical combinations. More than 6,000 new cancer patients are seen annually.
U.S. News & World Report put Duke University Hospital on its 2018-2019 Best Hospitals Top 20 Honor Roll.

In 2021, Duke Cancer Center opened a new Blood Cancer Center for patients diagnosed with leukemia, lymphoma or myeloma.
Mesothelioma Clinical Trials at Duke Cancer Center
A randomized phase l/ll clinical trial that compares the effectiveness of Keytruda (pembrolizumab) with — and without — anetumab ravtansine in treating pleural mesothelioma.