About David H. Harpole Jr.
Accolades

Pleural and Lung Cancer

Excellence in Research

Team Leader

20+ Years of Experience
The Duke University Cancer Center earned its reputation for excellence with a multi-discipline approach to both its research and the treatment of patients.
David Harpole is a big reason why.
In 2011, U.S. News and World Report recognized him as one of the top 10 percent of U.S. doctors specializing in Cardiovascular and Thoracic Surgery.
Duke employs Harpole as both a professor of surgery and assistant professor of pathology, and he is a key component to the comprehensive care it offers patients with mesothelioma.
Harpole first came to Duke for a general surgery internship after his graduation from the University of Virginia. He stayed for a Thoracic Surgical Research Fellowship. He then spent three years in Boston as an instructor at Harvard Medical School and an associate in Thoracic Surgery at Brigham and Women's Hospital.
Since coming to Duke in 1996, Harpole has focused on the treatment of non-small cell lung cancer and esophageal cancer, as well as the creation of databases for the Duke Thoracic Oncology Program.
Performing Research for Mesothelioma
Harpole's contribution to mesothelioma and lung cancer research includes evaluation of treatment procedures, experimentation with biomarkers and management of the staging process. He has worked alongside experts in the field to publish studies that assist in understanding this complex diagnosis.
One study by Harpole and his colleagues focused on radiation for patients with malignant pleural mesothelioma. The study was conducted by analyzing records of patients who received extrapleural pneumonectomies and radiation at Duke University Medical Center from 2005 to 2010. By increasing experience they were better able to plan intensity-modulated radiation therapy (IMRT) tailored to individual patients.
A study of 913 patients revealed that the utility of protein biomarkers is currently restricted by available technology. Although scientists have made some improvement in studying biomarkers, there is still work to be done. In response to whether this goal of using technology to measure biomarkers has been met, Harpole says, "It's close. It's much better, and the good news is that we have all this material banked, so it's available when the right machine comes around… Hopefully in 2013 or 2014 the answer will be yes."
Harpole and several colleagues conducted a study of new imaging techniques for chest cavity abnormalities. They proposed that positron emission tomography (PET) scans fused with computed tomography (CT) scans could better recognize and locate abnormalities. The results of their study confirmed this hypothesis, providing a way for better staging of diseases like lung cancer mesothelioma.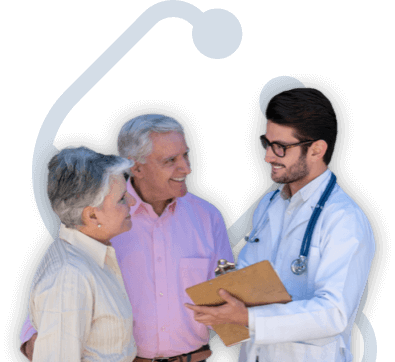 Talk to a Doctor About Your Diagnosis
We can help you or a loved one get in contact with Dr. Harpole Jr. and find the treatment that's best for you.
Get Started Today
Working with Dr. David Sugarbaker
David Sugarbaker, M.D, a heralded expert in mesothelioma and thoracic surgery, has conducted research with Harpole. Sugarbaker and Harpole worked with other physicians to evaluate the treatment of mesothelioma patients at Brigham and Women's Hospital and Dana-Farber Cancer Institute. Their study, published in 1996, produced guidelines for revising the current mesothelioma staging system, which measures the severity of cancer, determines appropriate treatment and informs prognosis.
In addition to his teaching positions at Duke, Harpole serves as the director of the Lung Cancer Prognostic Research Laboratory. He also is the chief of Cardiothoracic Surgery at Durham VA Medical Center in nearby Durham, North Carolina.
He is certified by both the American Board of Surgery and the American Board of Thoracic Surgery. He is a member of the American Society of Clinical Oncology. He is Co-chair of the National Cancer Institute's Thoracic Malignancy Steering Committee.
Harpole encourages future doctors to show a similar level of care and expertise as he holds the position of Duke Surgery's Vice Chair of Faculty and Education, with a goal of promoting hands-on surgical skill practices in a special education laboratory for students, physicians and residents.
Dr. David Harpole's Publications
Harpole has authored or contributed to more than 90 surgical articles discussing topics from prognosis to risk factors and patient selection. His works appear in journals such as the Annals of Thoracic Surgery and the European Journal of Cardiothoracic Surgery.
See More Top Mesothelioma Doctors
Disclaimer: Dr. David H. Harpole Jr. has no professional affiliation with Asbestos.com.

Get Help Contacting this Doctor
Find an Active Mesothelioma Clinical Trial
Find Now
9 Cited Article Sources
The sources on all content featured in The Mesothelioma Center at Asbestos.com include medical and scientific studies, peer-reviewed studies and other research documents from reputable organizations.
Duke Surgery. (2011). Faculty: David H. Harpole Jr., MD. Retrieved from: http://surgery.duke.edu/faculty/details/0100977
Duke Health. (2012 September 11). Top doctors 2011 award winners. Retrieved from: http://www.dukehealth.org/health_library/health_articles/top-doctors-2011-award-winners
Duke Health. (2012). Physicians: David H. Harpole Jr., MD. Retrieved from: http://www.dukehealth.org/physicians/david_h_harpole_jr
Thoracic Oncology. (2010). Chicago multidisciplinary symposium.
D'Amico, T.; Wong, T.; Harpole, D.; Brown, S. & Coleman, R. (2002 July). Impact of Computed Tomography-positron emission tomography fusion in staging patients with thoracic malignancies. Annuls of Thoracic Surgery, 74:1. Retrieved from: http://www.ncbi.nlm.nih.gov/pubmed/12118750?dopt=Abstract
Pretech, P.; Yoo, S.; Broadwater, G.; Marks, L; Miles, E.; D'Amico, T.; Harpole, D. & Kelsey, C. (2012). Effect of increasing experience on dosimetric and clinical outcomes in the management of pleural mesothelioma with intensity-modulated radiation therapy. International Journal of Radiation Oncology Biology Physics, 83:1. Retrieved from: http://www.experts.scival.com/reachnc/pubDetail.asp?t=pm&id=(800) 615-22706&n=David+Harold+Harpole&u_id=980010905
Bonislawski, A. (2011 July 22). Lung Cancer Study Highlights Current Limitations of MALDI Mass Spec. Retrieved from: http://www.genomeweb.com/proteomics/lung-cancer-study-highlights-current-limitations-maldi-mass-spec
Sugarbaker, D.; Garcia, J.; Richards, W.; Harpole, D.; Healy-Baldini, E.; DeCamp, M.; Mentzer, S.; Liptay, M.; Strauss, G. & Swanson, S. (1996 September). Extrapleural pneumonectomy in the multimodality therapy of malignant pleural mesothelioma. Annals of Surgery, 224:3. Retrieved from: http://www.ncbi.nlm.nih.gov/pmc/articles/PMC1235368/
Duke Surgery. (2006). News from the Department of Surgery. Retrieved from: http://surgery.duke.edu/files/documents/Fall06.pdf
How did this article help you?
What about this article isn't helpful for you?
Did this article help you?
Thank you for your feedback.
Would you like to speak with a Patient Advocate?
Last Modified August 2, 2020