Frederick Regional Health System
The Frederick Regional Health System has been providing high-quality oncology care since 1976, but joining the MD Anderson Cancer Network recently made it even better.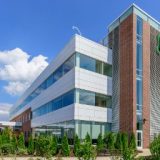 400 W 7th St, Frederick, MD 21701
Frederick Regional Health System Affiliated with MD Anderson
A partnership between Frederick Regional Health System and MD Anderson — recognized as one of America's elite cancer centers — became reality in 2016. It coincided with construction of the new James M. Stockman Cancer Institute, which is a major part of the Frederick Regional Health System today.
The affiliation with MD Anderson has added valuable resources and shared clinical expertise that should benefit patients throughout Frederick, Maryland.
"We've always had top care," said Tom Kleinhanzl, CEO of the Frederick Regional Health System. "This [affiliation] just ensures the best interfaces with patients in the best possible way. Every interaction relies on the evidence of best outcomes for patients."

In 2019, Frederick Regional Health System rebranded to Frederick Health and renamed many of its hospitals to include Frederick Health in the name.
HIPEC Procedure for Peritoneal Mesothelioma at Frederick Regional Health System
The cancer institute now handles cases of peritoneal and pleural mesothelioma, rare and aggressive malignancies caused by exposure to asbestos.
There are close to 20 physicians — medical, surgical and radiation oncologists — at the Stockman Cancer Institute who are members of the MD Anderson Cancer Network.
Among those members is surgical oncologist Dr. Jesus Esquivel, who is well known for his work with peritoneal mesothelioma.
Esquivel has been a pioneer in the development of hyperthermic intraperitoneal chemoperfusion, otherwise known as HIPEC.
The procedure, which is done only in select specialty centers, has extended survival significantly for cancer patients with surface malignancies such as mesothelioma.
Esquivel, who has mentored physicians around the world on the procedure, is founder and CEO at the Institute for Hyperthermic Regional Perfusions.
The Stockman Cancer Institute also has a Center for Chest Disease, which encompasses lung cancer and pleural mesothelioma. That team includes mesothelioma specialists in thoracic surgery, thoracic oncology, robotic surgery and video-assisted thoracic surgery.
The new cancer institute has the latest in oncology equipment, which includes the CyberKnife radiosurgery system, still the only one in Maryland.
Research at Frederick Regional Health System Advances Treatment
In addition to the traditional multidisciplinary approach to treatment, the institute has a Complementary Therapy Clinic and an Integrative Medicine Department. It accommodates complimentary treatments such as yoga and acupuncture.
"We wanted an environment that was centered around the patients and supported recovery," said Dr. Patrick Mansky, director of medical oncology. "It was a big change, creating an optimal healing environment."
The cancer institute also offers a range of clinical trials, where patients get access to the latest therapies that otherwise would be unavailable.
One of those trials is aimed at rare tumors such as mesothelioma and is studying the use of immunotherapy drugs Opdivo (nivolumab) and Yervoy (ipilimumab).
The combination, in earlier trials, has shown considerable promise in treating mesothelioma and extending survival times.
Mesothelioma Clinical Trials at Frederick Regional Health System
A phase II clinical trial studying the immunotherapy combination of nivolumab (Opdivo) and ipilimumab (Yervoy) for patients with rare tumors, such as mesothelioma.