Center of Excellence
Treatment center that utilizes a tumor board consisting of surgeons, radiation oncologists, pathologists, dietitians and other health care professionals who evaluate individual mesothelioma patients.
NCI-Designated Cancer Center
Cancer center recognized by the National Cancer Institute as one that meets rigorous standards for multidisciplinary, innovative research focused on developing new and improved approaches to preventing, diagnosing and treating cancer.
MD Anderson Cancer Center
The University of Texas MD Anderson Cancer Center is a powerhouse of mesothelioma research and specialists who provide a multidisciplinary approach to diagnosis and treatment. As one of the National Cancer Institute's designated Comprehensive Cancer Centers, it offers unique standards in patient care and cancer prevention.
Get in Touch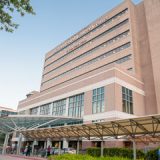 1515 Holcombe Blvd, Houston, TX 77030
MD Anderson Cancer Center Ranked No. 1
The University of Texas MD Anderson Cancer Center in Houston has been a long-time leader in the field, ranked as the No. 1 Adult Cancer Hospital in America by U.S. News & World Report for five consecutive years. The rankings are part of a broader Best Hospitals Honor Roll done annually. They are designed to help patients make decisions about the best places to receive their care.
MD Anderson stands out as a true powerhouse thanks to National Cancer Institute (NCI) grants and other funds totaling more than $547 million. It is one of the country's elite NCI-designated Comprehensive Cancer Centers, which requires the highest standards in diagnostics, patient care, clinical research, basic science and education.
The cancer center is known not just for its excellence in care, but its ability to diagnose rare diseases at their earliest, when treatment is most effective. MD Anderson is renowned for developing and using front-line diagnostic technology.
MD Anderson was founded in 1941 and has received more than $500 million in research funding. In addition to its 540-bed center in Houston, it includes satellite locations throughout Texas and the Southwestern United States.
The center employs an estimated 18,000 scientists, physicians, nurses, faculty members and health professionals of different kinds.
Multidisciplinary Mesothelioma Program at MD Anderson
With a mesothelioma program that specializes in both treatment and research, MD Anderson can offer the latest multidisciplinary care for patients.
Dr. Anne Tsao, a medical oncologist, is the director of the program and is considered a national authority on the research and treatment of mesothelioma. Under her leadership, MD Anderson is part of more than a dozen clinical trials that include mesothelioma cancer, giving patients access to the latest cutting-edge therapy options.
The team also includes thoracic surgeons Dr. David C. Rice and Dr. Stephen Swisher, along with surgical oncologist Dr. Paul F. Mansfield.
Medical oncologists Dr. George Simon and Dr. Frank Fossella, along with radiation oncologist Dr. Ritsuko U. Komaki, also specialize in the care of mesothelioma patients. They meet regularly to discuss their patients, making sure care is personalized for each individual.
Mesothelioma Treatment Options at MD Anderson
Lung cancer and mesothelioma may require multiple treatments, and these diseases often don't respond to conventional therapies. As part of the center's multidisciplinary approach, doctors and other specialists regularly collaborate to discuss new and advanced technologies and techniques.
These experts have access to the latest diagnostic approaches as well as advanced and minimally invasive surgery techniques, such as:
Drug therapies targeting specific cancer cells
Advanced bronchoscopic imaging
Endobronchial and esophageal ultrasound
High resolution CT scanning
Positron emission tomography (PET)
MD Anderson Is a Cancer Research Leader
Research is critical to the excellence of MD Anderson, which explains why it also ranks first nationally in the number of research grants awarded by the National Cancer Institute.
Novel, innovative therapies often are available at MD Anderson well before they become a standard of care throughout the medical field, which is a testament to its leadership.
The cancer center is proud of its ability to turn promising laboratory findings into the latest treatment advances, often more effective and less traumatic for patients. Scientists on staff have pioneered many medical advances throughout its history.
Mesothelioma Clinical Trials at MD Anderson
A phase l/II study of a novel T-cell therapy designed to help patients with cancers that express the mesothelin protein, which includes mesothelioma. The study will evaluate the response rate of the therapy.
A phase I study to determine the effectiveness of using the immunotherapy drug atezolizumab, along with standard chemotherapy, prior to surgery. The immunotherapy drug also will be given after the surgery.
A phase II/III study that involves giving ADI-PEG 20, an enzyme that targets and attacks a particular amino acid (arginine) that research has shown helps pleural mesothelioma cells grow and divide.
A phase II study that measures the safety and side effects of Intensity Modulated Radiation Therapy (IMRT) following pleurectomy and decortication surgery and chemotherapy for patients with pleural disease.
A first-in-human phase I study to evaluate the effectiveness of the drug BAY2287411, designed to target tumors in different cancers that express the protein mesothelin, which is common in mesothelioma.