Pleural Specialist
A medical doctor who treats pleural mesothelioma, an asbestos-related cancer that develops in the pleura, which is the thin lining that covers the lungs and chest wall.
Dr. Anne Tsao
Medical Oncologist
Medical oncologist Dr. Anne Tsao is director of the Mesothelioma Program and chair of the Clinical Research Committee at the University of Texas MD Anderson Cancer Center in Houston.
Get to Know Dr. Anne Tsao
Dr. Anne Tsao has been treating patients with mesothelioma since joining the Department of Thoracic/Head and Neck Medical Oncology division at MD Anderson in 2004.
Tsao works closely with the thoracic surgeons, radiation oncologists, pathologists and nurses to develop an individualized path to best treat each patient.
She is a big believer in immunotherapy, identifying new targets for treatment and the multidisciplinary approach, which includes the proton therapy and advanced imaging guidance system of radiology being used at MD Anderson today.
One of her ongoing goals is to develop a comprehensive and translational program to create novel treatments for mesothelioma using basic science.
"There is hope for these patients today," Tsao said. "Advancements are being made."
Beyond her clinical practice, Tsao is heavily involved in the research being done to move the world closer to finding a cure for mesothelioma. Part of that involves initiating and developing mesothelioma clinical trials that allow patients to participate in cutting edge therapy.
Specialties of Dr. Tsao
Pleural Mesothelioma
Lung Cancer
Clinical trials
Immunotherapy
Research
Raising Awareness
Dr. Anne Tsao's Experience and Medical Education
Massachusetts Institute of Technology
University of Chicago, Pritzker School of Medicine
Indiana University Department of Internal Medicine (Residency)
University of Texas MD Anderson Cancer Center (Fellowship)
Department of Thoracic/Head and Neck Medical Oncology, Division of Cancer Medicine, University of Texas MD Anderson Cancer Center (Professor)
Awards and Other Recognitions
American Society of Clinic Oncology Merit Award
MD Anderson Achievement Research Award
National Institutes of Health Clinician Scientist K12 Award
Specialized Programs of Research Excellence Career Development Award
Southwest Oncology Group Mesothelioma Steering Committee director
SWOG Executive Lung Committee member
International Association for the Study of Lung Cancer chair
Mesothelioma Clinical Trials Under Anne Tsao, MD
Phase II study of Adcetris (brentuximab vedotin), a drug targeting a specific protein found in various cancers, for patients with unresectable disease. The drug already is approved by the U.S. Food and Drug Administration for the treatment of Hodgkin lymphoma.
Phase I study of atezolizumab, an immunotherapy drug, used in combination with chemotherapy and surgical resection. Atezolizumab will be used before and after surgery, first to reduce tumor size and then to kill any cancer cells that remain.
Phase II study of Alisertib, a novel drug shown to inhibit cancer cell division, for pre-treated patients with unresectable disease. The trial is designed to assess the four-month disease control rate and measure progression-free survival.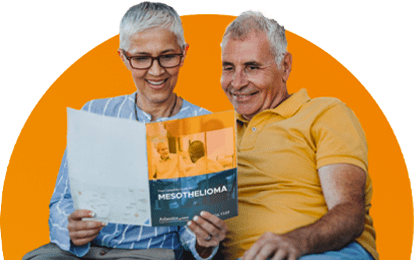 Get a Free Mesothelioma Guide
Learn about your diagnosis, top doctors and how to pay for treatment.
Raising Awareness Part of the Job
One of Tsao's most important contributions as director of the Mesothelioma Program at MD Anderson has been raising awareness to clinical trial efforts, which are essential to moving closer to more effective treatments and eventually finding a cure for the disease.
She spends considerable time working to fund research efforts, which is difficult with a rare cancer such as mesothelioma. Funding can come from philanthropic grants, pharmaceutical companies and federal grants.
"We've seen remarkable promise in immunotherapies in solid tumors, so it is up to us in academia to lead the way and develop well-designed trials to advance the field," she told the American Society of Clinical Oncology Post.
Publications of Dr. Anne Tsao
Tsao, A. et al. (2017). A Randomized Phase II Trial of Adjuvant Galinpepimut-S, WT-1 Analog Peptide Vaccine, after Multimodality Therapy for Patients with Malignant Pleural Mesothelioma. Clinical Cancer Research.
Garland, L. Flores, R. & Tsao, A. (2010). Individualizing mesothelioma treatment: small steps into a brighter future. Clinical Lung Cancer.
Tsao, A. et al. (2009). Malignant Pleural Mesothelioma. Journal of Clinical Oncology.