Henry Ford Cancer Institute in Detroit focuses on a multidisciplinary approach to treatment. It is the only cancer center in the state of Michigan to receive the prestigious Outstanding Achievement Award by the Commission on Cancer.
Get in Touch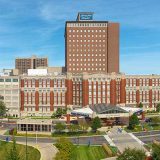 2799 W. Grand Blvd., Detroit, MI 48202
Henry Ford Offers Excellence in Care
The Henry Ford Cancer Institute boasts an elite program that combines multidisciplinary expertise with experience, training and research for a wide range of malignancies, including mesothelioma.
Teamwork across all disciplines is what enables the staff to consistently deliver exceptional care.
Henry Ford has 17 multidisciplinary tumor boards serving patients. It is the only cancer center in the state of Michigan to receive the prestigious Outstanding Achievement Award for 2019 by the Commission on Cancer.
The institute treats more than 9,500 new cancer patients every year, taking them from diagnosis to survivorship and assisting them at every step in between.
Henry Ford has been recognized for excellence in six major categories. They include:
Chemotherapy and medical oncology
Cancer surgery
Radiation therapy
Cancer support services
Precision medicine
The staff is spread across five hospitals and several outpatient locations throughout south central and southeast Michigan. Henry Ford Hospital in Detroit is the flagship. It is nationally recognized for its innovative treatment of several cancers, including thoracic and lung cancers.
On that hospital campus today is the Brigitte Harris Cancer Pavilion, which opened in the summer of 2020. It now serves as a world-class, state-of-the-art facility and is a hub for the five area hospitals.
As a destination cancer center, Henry Ford has treated patients from all 50 states over the last decade.
Treating Mesothelioma at Henry Ford Cancer Institute
Pleural and peritoneal mesothelioma — both rare cancers — are treated effectively at Henry Ford with a personalized, multidisciplinary approach.
Henry Ford is one of a handful of specialty centers in the country offering the combination of cytoreductive surgery and hyperthermic intraperitoneal chemotherapy, also known as HIPEC, for peritoneal mesothelioma and several other abdominal cancers.
This combination treatment has dramatically increased survival for peritoneal patients, many of whom are now living five to 10 years and beyond their original diagnosis.
The thoracic and lung cancer team uses a multidisciplinary approach when it comes to treating pleural mesothelioma, which may include chemotherapy, radiation, surgery and a novel targeted therapy that stops the growth of blood vessels feeding tumors.
Henry Ford's pleural mesothelioma team includes thoracic surgeon Dr. Raed Alnajjar, thoracic oncologist Dr. Shirish Gadgeel and radiation oncologist Dr. Munther Ajlouni.
Henry Ford Cancer Institute Practices Precision Medicine
Henry Ford Cancer Institute's Precision Medicine Program is the most comprehensive in Michigan.
The program is designed to better personalize treatment by using genomic testing of tumors and the expertise of its molecular tumor board for every patient it serves.
Their plan involves individualizing each patient's cancer profile based on inherited genetic traits, past environmental influences and lifestyle differences.
Precision medicine allows doctors to better identify treatments and novel drugs that will be the most effective for each patient, based upon the genetic traits that may influence the individual cancer.
Mesothelioma Clinical Trials at Henry Ford Cancer Institute
A phase II clinical trial studying the effectiveness of an immunotherapy combination involving nivolumab (Opdivo) and ipilimumab (Yervoy) for rare tumors, including mesothelioma.
A phase II clinical trial for pleural mesothelioma involving the use of the drug ADI-PEG20, an enzyme designed to restrict the amino acid arginine, which helps fuel tumor growth.
A phase I clinical trial studying the use of atezolizumab, an immunotherapy drug, in combination with surgery and chemotherapy, either with or without radiation treatment. Atezolizumab can be used both before and after surgery.