NCI-Designated Cancer Center
Cancer center recognized by the National Cancer Institute as one that meets rigorous standards for multidisciplinary, innovative research focused on developing new and improved approaches to preventing, diagnosing and treating cancer.
Simon Cancer Center at Indiana University
The Indiana University Melvin and Bren Simon Cancer Center in Indianapolis is the state's top treatment center for mesothelioma patients. Dr. Nasser H. Hanna of the Thoracic Oncology Program and the team at Simon Cancer Center focus on comprehensive care and innovations through research.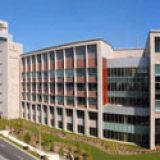 535 Barnhill Dr Indianapolis, IN 46202
Innovative Treatment at Indiana University Melvin and Bren Simon Cancer Center
Located in the heart of Indianapolis, the Indiana University (IU) Melvin and Bren Simon Cancer Center is the state's only National Cancer Institute-designated cancer center providing patient care. Also offering exemplary cancer research and education, the IU Melvin and Bren Simon Cancer Center is primarily run by faculty of the Indiana University School of Medicine. The center is determined to advance the understanding, prevention and treatment of cancer with its patient-centric approach.
Caring for not only the physical needs of patients, but also emotional, psychological and spiritual needs as well, the IU Melvin and Bren Simon Cancer Center's specialized medical professionals have offered innovative treatment options since it was established in 1992. The center's physicians work collaboratively with scientists, nurses, allied health professionals and behavioral scientists to provide unrivaled care to nearly 40,000 patients per year.
Multidisciplinary Care at Indiana University's Simon Cancer Center
Disease-specific clinical care programs at the IU Melvin and Bren Simon Cancer Center allow patients to see in one visit a variety of cancer specialists who work together to provide comprehensive care. The Thoracic Oncology Program, for example, is composed of a multidisciplinary team of thoracic surgeons, radiation and medical oncologists, pulmonologists, dietitians, psychologists and nurses that all collaborate to develop an individualized treatment plan for each patient.
Part of this team is Francis D. Sheski, M.D., a thoracic oncologist and interventional pulmonologist who researches and perfects advanced, minimally invasive cancer treatments. It is Sheski's hope that someday lung cancer, mesothelioma and other chest cancers will be eradicated with lasers and miniature tools, replacing the obtrusive nature of traditional surgery altogether.
Nasser H. Hanna, M.D., is another key member of the center's Thoracic Oncology Program. An expert in lung cancer, Hanna also serves the center's Experimental and Developmental Therapeutics Program, which is involved in countless cancer research projects and drug studies that hope to improve treatment options and patient care overall. He is currently testing new drug combinations and dosages to discover more effective treatments that minimize undesirable side effects.
Treating Mesothelioma at the Melvin and Bren Simon Cancer Center
The Indiana University Melvin and Bren Simon Cancer Center offers many treatment options for a wide variety of cancers. Individualized treatment plans are developed for each patient depending on the type of cancer, its location, how much it has spread and the overall health of the patient.
For cases of mesothelioma and cancers of the lung, treatment typically includes some combination of the following:
Surgery – An operation to remove the cancer and sometimes the surrounding tissue and lymph nodes.
Chemotherapy – The use of oral, injected or intravenous drugs to kill the cancer.
Radiation Therapy – The use of high energy rays to kill cancer and relieve pain.
The IU Simon Cancer Center also offers patients complementary support services through a program called CompleteLife. Based upon the idea that daily life doesn't slow down for cancer, CompleteLife helps patients maintain their quality of life during and after treatment. The program offers art and music therapy, support groups, spiritual guidance and an array of activities for enrichment and self-care.
Simon Cancer Center's Pioneering Research
Physicians and scientists at the IU Simon Cancer Center further enhance patient care with world-renowned translational cancer research. Trusting the cancer center to pioneer new standards for patient care in generations to come, organizations like the National Cancer Institute and the National Institutes of Health provided the IU Simon Cancer Center with $32.5 million in funding for fiscal year 2006.
Contributions like this led to breakthroughs, including innovations in cord blood transplantation, improvements in radiation therapy techniques and the development of drugs that stimulate blood cell production. A consistent ranking among the top cancer treatment programs in the country by the U.S. News & World Report's"America's Best Hospitals Guide" is a testament to the IU Simon Cancer Center's devotion to research excellence.
The research process begins when clinical problems are recognized and investigated in the laboratory. The resulting discoveries lead to new ideas and solutions for treating, detecting and preventing every type of cancer in both children and adults. More than 200 basic, clinical and cancer control investigators contribute to four research programs with a fifth currently in development.
On the forefront of discovery in cancer research, the Indiana University Simon Cancer Center's interdisciplinary research team educates the researchers and physicians of tomorrow while improving patient care and the approach to cancer treatment today.
Mesothelioma Clinical Trials at Indiana University Melvin and Bren Simon Cancer Center
A phase II clinical trial studying safety and efficacy of the immunotherapy combination of nivolumab (Opdivo) and ipilimumab (Yervoy) for use with rare tumors, including mesothelioma cancer.
A phase II clinical trial to evaluate the use of rebastinib, a novel protein inhibitor, in combination with chemotherapy drug carboplatin, for patients with advanced solid tumors, such as mesothelioma.