NCI-Designated Cancer Center
Cancer center recognized by the National Cancer Institute as one that meets rigorous standards for multidisciplinary, innovative research focused on developing new and improved approaches to preventing, diagnosing and treating cancer.
Barbara Ann Karmanos Cancer Institute
Barbara Ann Karmanos Cancer Institute is a renowned hospital in Detroit, Michigan, specializing in lung cancer and thoracic treatments. Dr. Hirva Mamdani is one of its mesothelioma specialists. Karmanos Cancer Institute also provides access to ongoing mesothelioma clinical trials.
Get in Touch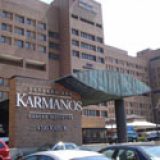 4100 John R St, Detroit, MI 48201
Barbara Ann Karmanos Cancer Institute Embraces Excellence in Care
Detroit, Michigan, is a major medical destination, thanks to the Barbara Ann Karmanos Cancer Institute at Wayne State University School of Medicine. Not only is this Southeast Michigan's only hospital dedicated solely to cancer, but it's regarded as the preferred statewide hospital for cancer care.
Formally established in 1943, more than 6,000 new patients are seen in the hospital's multiple facilities annually, including a free-standing inpatient hospital with 120 beds. The original recipient of the NCI's national chemotherapy program, this was the site where Azidothymidine (AZT) was discovered. Originally designed as an anticancer drug, AZT was later approved by the U.S. Food and Drug Administration (FDA) as an AIDS treatment.
Among all of the cancers treated by this institution, lung cancer, the deadliest type, takes on a special prominence. This and related diseases, including mesothelioma, thymus, glandular and esophageal cancers, are ably diagnosed and treated by the institute's multidisciplinary thoracic oncology team.
Embracing a collaborative, multidisciplinary approach, these top thoracic doctors, surgeons, nurses and researchers evaluate patient cases and develop therapy plans for about 330 patients annually. This department's projects include a patient database containing critical information and biopsy materials, and a clinical trial exploring gene mutations as therapeutic lung cancer targets.
Research Leads to Innovation at Karmanos Cancer Institute
As you'd expect, basic, clinical and translational (transferring laboratory findings directly to the patient) research is a major focus. Through its partnership with Wayne State University, the center's 100 physician-scientists and 300 researchers effectively work toward the prevention, early detection, treatment and eventual eradication of cancer. Research efforts are divided into 15 multidisciplinary medical teams, comprised of five research programs and 10 core facilities.
At any given time, more than 700 cancer-specific scientific investigation programs and clinical trials, including NCI-sponsored research, are being conducted. A particular research accomplishment was the hospital's participation in the NCI's national Surveillance, Epidemiology and End Results (SEER) program, a source for national cancer statistics. And in regard to lung cancer, the hospital is well-regarded for its groundbreaking Lung Cancer Genetic Study, which seeks to identify the specific genes responsible for the disease.
Mesothelioma Clinical Trials at Karmanos Cancer Institute
A phase II clinical trial to evaluate the response rate when using the immunotherapy combination of nivolumab (Opdivo) and ramucirumab for patients with previously treated mesothelioma cancer.