Center of Excellence
Treatment center that utilizes a tumor board consisting of surgeons, radiation oncologists, pathologists, dietitians and other health care professionals who evaluate individual mesothelioma patients.
Loyola University Medical Center
The Loyola University Medical Center, just outside of Chicago, has emerged recently as one of the finest mesothelioma specialty centers in America, an accomplishment orchestrated by renowned thoracic surgeon Dr. Wickii Vigneswaran.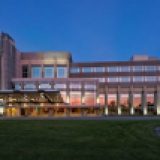 2160 S. 1st Ave., Maywood, IL 60153
Mesothelioma Specialists at Loyola University Medical Center
Mesothelioma patients in the Midwest can now turn to Loyola University Medical Center for personalized, multidisciplinary care that is second to none.
The return to Loyola of renowned thoracic surgeon and specialist Dr. Wickii Vigneswaran has raised the commitment to treating mesothelioma, sparking the recruitment of a medical team with expertise in the disease.
Loyola has established a unique mesothelioma tumor board — which consists of surgeons, medical oncologists, radiologist and pathologists — that meets biweekly for the sole purpose of discussing each mesothelioma patient under its care.
That collaborative effort, which is improving quality of life and survival time for patients, has raised the profile of Loyola among the mesothelioma community nationwide.
The Loyola Medical Center has gone from only a few cases of mesothelioma each year to expecting between 30 and 40 annually by 2018.
"We have the expertise and the interest now to make this one of the finest treatment centers there is for mesothelioma," Vigneswaran said. "When you have that kind of commitment, you can do great things."
In addition to Vigneswaran, thoracic surgeon Dr. Syed Osman, medical oncologist Dr. Muaiad Kittaneh, radiologist Dr. John Hibbeln, and pathologists Jeanine Walenga and Walter Jeske also serve on the tumor board.
Loyola University Medical Center Admired for Its Care
Founded in 1969, the Loyola Medical Center has grown into an integral part of the Loyola Health System, a sprawling medical network that now includes two campuses and more than 30 primary and specialty care centers throughout Cook, DuPage and Will counties.
The private medical center holds true to its Catholic Jesuit tradition of treating the mind, body and spirit of each patient.
The Loyola University Medical Center is the hub of Loyola's 61-acre main campus in Maywood, Illinois. The campus also features the Cardinal Bernadin Cancer Center, the Stritch School of Medicine and the Loyola Outpatient Center.
In 2008, Loyola acquired the 36-acre Gottlieb campus in Melrose Park, Illinois, which houses the Marjorie G. Weinberg Cancer Center and a 250-bed hospital.
In its 40-plus years of service, Loyola University Medical Center has earned much praise for its exceptional quality of care. U.S. News & World Report has ranked it as one of the top 20 hospitals in the nation for cardiology and heart surgery.
The facility is well known for its excellence in treating cancer, cardiovascular disease, neurological disorders and childhood illnesses. Castle Connelly Medical, a research company that publishes consumer health care guides, has included Loyola physicians in its "America's Top Doctors" publication.
Talent and Technology Merge at Loyola University Medical Center
Perhaps one of Loyola's main draws is its remarkable pairing of talent and technology, especially now that Vigneswaran is director of thoracic surgery. Vigneswaran is a pioneer in the fields of minimally invasive, robot- and video-assisted surgery.
Doctors at Loyola's thoracic and lung oncology program are equipped with the latest tools for fighting mesothelioma and asbestos-related lung cancer, including 3-D video-assisted thoracoscopic surgery (VATS).
Loyola University Medical Center Sparks Innovative Research
Loyola also has earned praise for its groundbreaking research. The center is a nationally recognized leader in health care and key research that can turn clinical studies results into better cancer treatments.
Dr. Kathy Albain, a professor and director of medical oncology at Cardinal Bernadin Cancer Center, has compared several promising drug combinations for fighting mesothelioma. She contributed to a 2012 study that tested the effectiveness of adding bevacizumab to gemcitabine/cisplatin therapy, a tried and true combination for managing several types of cancer.
Albain also researches gene therapy and targeted therapy — two innovative techniques that may change the face of cancer treatment in coming years.
As Loyola researchers learn more about how asbestos and other risk factors cause mesothelioma, they will also learn better ways to treat the disease and extend survival.
Mesothelioma Clinical Trials at Loyola University Medical Center
A phase II clinical trial measuring the effectiveness of the immunotherapy combination of nivolumab (Opdivo) and ipilimumab (Yervoy) with rare tumors such as mesothelioma cancer.