Center of Excellence
Treatment center that utilizes a tumor board consisting of surgeons, radiation oncologists, pathologists, dietitians and other health care professionals who evaluate individual mesothelioma patients.
The Mount Sinai Hospital in New York City includes a multidisciplinary team of mesothelioma specialists led by renowned thoracic surgeon Dr. Raja Flores, who has earned a stellar reputation for working with first responders from the 9/11 World Trade Center (WTC) attack.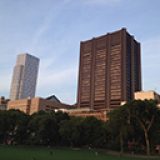 1 Gustave L. Levy Pl New York, NY 10029
Treatment Excellence at Mount Sinai Hospital
Mount Sinai Hospital, which is part of a larger, citywide Mount Sinai Health System, is home to a multidisciplinary team of specialists dedicated to the treatment of mesothelioma and other asbestos-related diseases.
Mount Sinai also is home to the largest WTC Health Program Clinical Center of Excellence. The program, established in 2010, provides long-term medical assistance to those affected by the 9/11 terrorist attack in New York City.
Researchers at Mount Sinai have documented many long-range physical and mental health problems experienced by 9/11 responders and volunteers. Asbestos-related diseases such as mesothelioma stem from the toxic cloud that hovered over parts of the city for weeks.
The New York City Police Department recently honored Dr. Raja Flores for his service to first responders, including policemen and firemen involved in 9/11 rescue and cleanup efforts.
In addition to Flores, the Mount Sinai team includes thoracic surgeon Dr. Andrea Wolf. Both trained under Dr. David Sugarbaker, a pleural mesothelioma treatment pioneer.
Mount Sinai Health System includes a level of expertise found only at major academic medical centers in the U.S., offering cutting-edge medical, surgical and radiation oncology services.
The annual U.S. News & World Report Best Hospitals survey consistently ranks Mount Sinai among the top 20 cancer-care hospitals in the nation, receiving high marks across several specialties.
Mount Sinai is often recognized for its unrivaled combination of collaborative clinical leadership, translational research and education — leading to groundbreaking health care.
New York Magazine also named over 100 Mount Sinai physicians in its "Best Doctors" list. It is one of the nation's oldest and most established hospitals, often touting its pledge to treat the "whole person" and not just the disease.
Personalized medical care is the theme at Mount Sinai.
Mount Sinai's History of Leadership in Asbestos-Related Diseases
Mount Sinai maintains a staff of outstanding surgeons and doctors who specialize in mesothelioma and lung cancer.
The hospital has a long and distinguished history. It was founded in 1852 by philanthropist Sampson Simson and opened to the public in 1855.
Originally built to serve the area's growing Jewish population, the hospital changed its name to The Mount Sinai Hospital in 1866, expanding its service to the general community.
In 1904, the hospital moved to its current location on Manhattan's Upper East Side.
Dr. Irving J. Selikoff — one of Mount Sinai's foremost experts on diseases caused by asbestos exposure — published landmark studies in the 1960s and 1970s on workplace diseases such as lung cancer, asbestosis and mesothelioma.
Selikoff's work eventually made him the country's leading authority on asbestos-related diseases.
His studies led to new Occupational Safety and Health Administration (OSHA) guidelines regulating asbestos. He was also the first doctor to connect asbestos and cigarettes to lung cancer.
Selikoff was director of the Environmental and Occupational Health Division at Mount Sinai for many years. After his death in 1992, the division's name was changed to the "Irving J. Selikoff Center for Occupational and Environmental Medicine."
The center today continues to study occupational diseases caused by asbestos and other toxic substances.
Because Mount Sinai is also a teaching hospital, it strives to be at the forefront of new research in medicine, including cancer studies.
Through the Tisch Cancer Institute, Mount Sinai is able to provide patients access to clinical trials for breakthrough cancer treatments.
Patients Benefit from Multidisciplinary Approach at Mount Sinai
Flores, Mount Sinai's chief of thoracic surgery, leads a team of health care professionals dedicated to the care of mesothelioma patients.
The Mount Sinai team includes pathologists, radiologists, pulmonologists and thoracic surgeons who provide the best and most advanced care focused on mesothelioma.
Mount Sinai advocates personalized treatment plans based on a multimodal approach that includes combinations of chemotherapy, radiation therapy and surgery.
Flores has treated mesothelioma for more than 20 years. He is an advocate of surgical techniques that spare as much of the lung as possible and preserve the patient's quality of life. Flores and his team also conduct and participate in studies involving molecular research and clinical trials.
Mount Sinai ensures mesothelioma patients are able to benefit from the expertise of multiple specialists in one central location.
Mesothelioma Clinical Trials at Mount Sinai
A phase II study involving immunotherapy and the combination of Opdivo (nivolumab) and Yervoy (ipilimumab) for a number of rare cancers, including pleural mesothelioma.