Pleural Specialist
A medical doctor who treats pleural mesothelioma, an asbestos-related cancer that develops in the pleura, which is the thin lining that covers the lungs and chest wall.
Dr. Raja Michael Flores
Thoracic Surgeon
Dr. Raja Flores is chairman of the Department of Thoracic Surgery for the Mount Sinai Medical Center in New York City. He is a world-renowned specialist in the treatment of malignant pleural mesothelioma.
Get to Know Dr. Raja Flores
Dr. Raja Flores has been heralded for his acute surgical skill and his commitment to the patients he serves, providing the technical and emotional support necessary to treat mesothelioma.
Flores also is a professor of surgery at the Icahn School of Medicine, helping teach and guide the next generation of surgeons.
He has been lauded for his pioneering efforts in advancing mesothelioma treatment, credited with extending survival and improving quality of life for his patients.
He performs the aggressive extrapleural pneumonectomy and the more detailed pleurectomony and decortication surgery for pleural mesothelioma.
Flores has been credited with advancing less-invasive procedures also, helping establish the VATS lobectomy as the gold standard for certain types of lung cancer. He has vast experience in surgically treating esophageal cancer.
He trained under legendary mesothelioma treatment pioneer Dr. David Sugarbaker at Brigham and Women's Hospital in Boston.
Flores has worked closely with hundreds of first responders who have been stricken with asbestos-related diseases in the aftermath of the 9/11 terrorist attack at the World Trade Center in 2001.
Contact Dr. Raja Michael Flores
Specialties of Dr. Raja Flores
Pleural mesothelioma
Pleurectomy and decortication surgery
VATS lobectomy
Thoracotomy
Mediastinoscopy
Lung cancer
Esophageal cancer
Nonmalignant thoracic diseases
Clinical research
Dr. Raja Flores' Experience and Medical Education
Memorial Sloan Kettering Cancer Center
Brigham and Women's Hospital (Residency)
Columbia-Presbyterian Medical Center (Residency)
Columbia University (M.S.)
Albert Einstein College of Medicine (M.D.)
New York University (B.A.)
Awards and Other Recognitions
Distinguished Alumni Service, New York University
Society of Honorary Police Surgeons, NYPD
Principle Investigator, Libby Epidemiology Research Program
Steven and Ann Ames Professorship in Thoracic Surgery, Mount Sinai Medical Center
Program Director, Mount Sinai Mesothelioma Program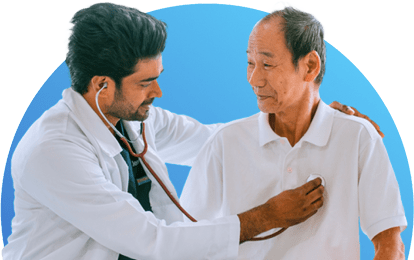 Find a Mesothelioma Cancer Center
Access top mesothelioma cancer centers that have experience treating this rare disease.
Treating Mesothelioma Patients in New York
Flores believes his upbringing — his background — is one reason he relates so well to the patients he treats with mesothelioma, mostly men exposed to asbestos in blue-collar occupations.
Nothing came easy for him growing up in a working-class neighborhood near the meat-packing district of Manhattan, not far from where he practices medicine today.
"Many of them are blue-collar guys, insulators, asbestos workers, pipe fitters, shipyard workers," he said. "I can identify with them, and they can see that I know how this disease is hitting them."
The passion Flores has for the patients he treats is often what sets him apart, willing to do whatever it takes for his patients.
"At the end of the day, patients just want to feel like you did everything you possibly could, that you didn't leave any stone unturned, in trying to help them," he said. "They want to know you give it everything you have. And I do. This is not a job for me. It's a calling."
Publications of Dr. Raja Flores
Gillezeau, C., Flores, R. et al. (2019, June 5). Biomarkers for malignant pleural mesothelioma: a meta-analysis. Carcinogenesis.
Van Gerwin, M., Flores, R., Taioli, E. (2019). An overview of existing mesothelioma registries worldwide, and the need for a US Registry. American Journal of Industrial Medicine.
Miller, A., Flores, R. et al. (2018, February). Libby Amphibole Disease. Journal of Occupational and Environmental Medicine.
Taioli, E. & Flores, R. (2017, March). Appropriateness of Surgical Approach in Black Patients with Lung Cancer – 15 Years Later, Little Has Changed. Journal of Thoracic Oncology.