Pleural Specialist
A medical doctor who treats pleural mesothelioma, an asbestos-related cancer that develops in the pleura, which is the thin lining that covers the lungs and chest wall.
Dr. Kenneth Rosenzweig
Radiation Oncologist
Table Of Contents
Dr. Kenneth Rosenzweig is a radiation oncologist at Mount Sinai Medical Center. He specializes in the treatment of thoracic malignancies, including lung cancer and pleural mesothelioma.
Get to Know Dr. Kenneth Rosenzweig
Dr. Kenneth Rosenzweig is the chairman of Mount Sinai Hospital's Department of Radiation Oncology. He works closely with thoracic surgeon Dr. Raja Flores and epidemiologist Dr. Emanuela Taioli in providing specialized care for each patient they see.
Together, they have pioneered treatment advances that have extended survival and improved quality of life for patients with pleural mesothelioma.
For many years, Rosenzweig has worked on the implementation and evaluation of the latest techniques, including stereotactic body radiation and intensity modulated radiation therapy. He has been a leader in the use of targeted radiation therapy in combination with chemotherapy after lung-sparing pleurectomy and decortication surgery.
Under his leadership, Mount Sinai became one of the first specialty centers to utilize the intensity modulated pleural radiation therapy procedure, known as IMPRINT, as part of a multidisciplinary approach to treating mesothelioma.
"Even if radiation isn't the ultimate cure, it's still a good thing if we can get patients a significant amount of quality time with minimal side effects," Rosenzweig said. "Things are getting better."
Rosenzweig has treated mesothelioma for more than 20 years. Before coming to Mount Sinai, he spent 13 years at nearby Memorial Sloan Kettering Cancer Center in New York City. He graduated from Yale School of Medicine and did his residency and internship at Harvard Medical School.
Contact Dr. Kenneth Rosenzweig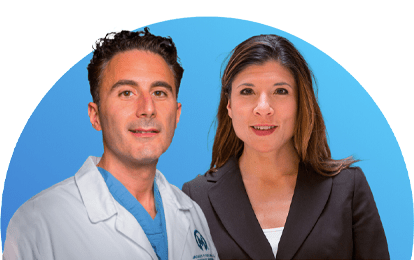 Find a Mesothelioma Specialist
Get specialized treatment from experienced mesothelioma doctors.
Specialties of Dr. Kenneth Rosenzweig
Pleural mesothelioma
Research
Dr. Kenneth Rosenzweig's Experience and Medical Education
Yale School of Medicine (M.D.)
Harvard Medical School (Residency and internship)
Awards and Certifications
Board certified in radiation oncology
ARRO Teacher of the Year, Memorial Sloan Kettering
Basic Science Research Award, American Society for Therapeutic Radiation and Oncology
Publications of Dr. Kenneth Rosenzweig
Wallner, P.E. et al. (2020, August 26). Potential Significant Changes in Nuclear Regulatory Commission Policies Regarding Training and Experience Requirements for the Use of Radiopharmaceuticals. Journal of the American College of Radiology.
Wallner, P.E. et al. (2019, May 16). Training and Education Requirements for Authorized Users of Therapeutic Radiopharmaceuticals: Changes Under Consideration for 10CFR35.390 and Their Potential Impact. Journal of the American College of Radiology.
Rosenzweig, K.E. & Gomez, J.E. (2017, January). Concurrent Chemotherapy and Radiation Therapy for Inoperable Locally Advanced Non-Small Cell Lung Cancer. Journal of Clinical Oncology.