UCLA Health is home to its Comprehensive Mesothelioma Program,which includes more than two dozen physicians, specialists and scientists devoted to treating mesothelioma. The team uses a combination of surgery and cutting-edge therapies to improve patients' quality of life and survival rate.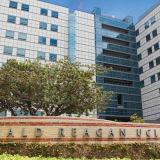 757 Westwood Plaza Los Angeles, California 90095
Mesothelioma Care at UCLA Health
UCLA Health launched its Comprehensive Mesothelioma Program in 1997. A team of physicians, specialists, and nurse practitioners specialize in pleurectomy and decortication surgeries to remove all visible signs of cancer from patients. Following the procedures, radiation therapy is used to eliminate any remaining cancer cells.
Since mesothelioma can never be entirely removed from the body, the team treats the disease as they would any chronic condition. Several therapies are used after surgery to slow any potential mesothelioma growth. UCLA Health is known for developing immunotherapy and cryoablation therapies which focus on improving the patient's overall health, without the use of potentially harmful toxicities.
The team also has experience treating sarcomatoid mesothelioma by using a combination of chemotherapy, surgery and radiation. Every patient is treated by a multidisciplinary team and is taken care of by a nurse practitioner who coordinates care and can answer questions. Physicians at UCLA Health also work together with scientists at UCLA, West Los Angeles VA Medical Center, and the Pacific Meso Center at the Pacific Heart, Lung & Blood Institute to research new ways to treat mesothelioma.
History of UCLA Health
UCLA Health was founded in 1955. The hospital was renamed the Ronald Reagan UCLA Medical Center in 2008. That same year, the hospital opened a new ten story building in West Los Angeles on the UCLA campus. Every floor of the building is devoted to a specific specialty, and each floor includes a dedicated pharmacy and resident doctor sleep rooms.
UCLA Health consists of four medical centers: The Ronald Reagan UCLA Medical Center, UCLA Children's Hospital, UCLA Resnick Neuropsychiatric Hospital, and UCLA Santa Monica Medical Center. UCLA Health has more than 260 clinics located across southern California.
Awards & Recognitions
U.S. News & World Report has ranked UCLA Health as one of the best hospitals in the country for 34 consecutive years.
2023, Outstanding Patient Experience Award from Healthgrades
2022, America's Physician Groups Standards of Excellence Survey
2021, Excellence in Healthcare Award from Integrated Healthcare Association for the third consecutive year
2021, Outstanding Patient Experience Award from Healthgrades