NCI-Designated Cancer Center
Cancer center recognized by the National Cancer Institute as one that meets rigorous standards for multidisciplinary, innovative research focused on developing new and improved approaches to preventing, diagnosing and treating cancer.
University of Colorado Cancer Center
The University of Colorado Cancer Center in Aurora is a top hospital for mesothelioma treatment and an NCI-designated Comprehensive Cancer Center. Thoracic surgeon Dr. Michael Weyant and a team of experts focus on a multidisciplinary approach to treatment and innovative mesothelioma clinical trials.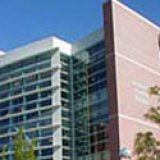 1665 Aurora Ct, Aurora, CO 80045
Excellence in Care at University of Colorado Cancer Center
Why do those in search of quality cancer treatment head for the University of Colorado Cancer Center (UCCC) at Denver & Health Sciences Center in Aurora? Well, it may be this institution's reputation as the Rocky Mountain region's leading facility for cancer research, diagnosis and treatment, especially for lung, head and neck cancers. UCCC prides itself on providing top-tier care and treatment for all types of cancer for adults, children, and even pets.
Established in 1985 as a statewide consortium cancer center, the hospital actually opened back in 1883. UCCC is designated as a Comprehensive Cancer Center by the National Cancer Institute (NCI), meaning it maintains the highest standards of excellence in patient care, education, basic science, clinical and translational research and cancer prevention.
All cancer-based research and treatments are housed on the University of Colorado's Anschutz Medical Campus (AMC) in Aurora. A true "matrix" cancer center, UCCC offers academic and medical benefits through its partnerships with the University of Colorado's Denver and Boulder campuses, as well as National Jewish Health and Colorado State University.
The group's achievements include:
Predictive biomarkers to guide therapeutic strategies
Early detection and prevention methods
Studies of lung cancer's genetic roots
Treating Mesothelioma at Colorado Cancer Center
The hospital is home to the Lung, Head and Neck Cancer(LHN) Program, a team of 31 full and 22 associate members focusing on respiratory and thoracic cancers, including non-small cell and small-cell lung cancers, malignant mesothelioma and chest sarcomas. While the center treats multiple cancers, lung cancer study and research take prominent roles, as lung cancer is the leading cause of cancer deaths.
The LHN Program embraces a multidisciplinary, collaborative approach for all physicians, surgeons, investigators, nurses, oncologists, pulmonologists, pathologists and radiologists. The program is headed by Xiao-Jing Wang, M.D., director of the Head & Neck Cancer research program at UCD, and an authority in head and neck cancers (HNC); and York Miller, M.D., a professor of medicine and lung cancer expert.
University of Colorado Cancer Center Turns Research into Clinical Care
All UCCC members regularly participate in basic, translational, clinical, population and behavioral research. Patients are encouraged to participate, as well. The LHN Program has benefited from the establishment in 1999 of the University of Colorado Cancer Center's Lung Cancer SPORE, an NCI-funded program. This institution was also selected as the lead site for the national Lung Cancer Mutation Consortium, a collaboration of 14 nationwide lung cancer programs designed to match up cancer-related molecular abnormalities with specific experimental treatments.
The LHN Program has emerged as a leading destination for surgery, radiation and chemotherapy. But as these treatment options may not be effective for lung cancer, the group strives to identify and utilize experimental therapies. Molecular profiling, which promotes quicker, more effective treatments, is having great success – especially the ALK Inhibitor, a drug blocking the activity of an abnormal gene often found in lung cancer patients. Developed at UCCC, it may actually shrink tumors without the need for radiation or chemotherapy.
In total, the hospital employs more than 435 cancer experts from many specialties. This community of faculty and staff members utilizes a multidisciplinary approach to patient care, easing the cancer burden through cancer care, research, education, and prevention and control.
Mesothelioma Clinical Trials at University of Colorado Cancer Center
A phase II randomized clinical trial studying the side effects and efficacy of the immunotherapy drug pembrolizumab (Keytruda) in combination with and without anetumab ravtansine. Anetumab ravtansine is a novel antibody that interferes with tumor cell growth.
A phase II clinical trial using the immunotherapy combination of nivolumab (Opdivo) and ipilimumab (Yervoy) on patients with rare tumors, such as mesothelioma cancer.