UPMC Altoona Hillman Cancer Center
Table Of Contents
UPMC Hillman Cancer Center in Pittsburgh, Pennsylvania, is a top hospital with a Mesothelioma Specialty Care program that includes expert oncologists Dr. James Ohr and Dr. Antoinette Wozniak. UPMC offers innovative treatments through research and ongoing clinical trials.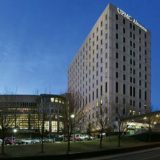 620 Howard Ave, Altoona, PA 16601
About UPMC Altoona Hillman Cancer Center
UPMC Altoona and its Hillman Cancer Center opened an expanded medical oncology facility in 2017 and added mesothelioma specialist and thoracic surgeon Dr. Rodney Landreneau to its staff.
The addition of Landreneau, with more than 25 years of experience, has allowed UPMC Altoona to begin handling complex cases of pleural mesothelioma.
It now offers a multidisciplinary treatment approach that includes aggressive surgery, chemotherapy and radiation. Those patients previously were sent to Pittsburgh, Baltimore, Cleveland or New York.
"This was an underserved area when it came to thoracic surgery problems," Landreneau said. "We're in the right place now to make a difference."
The Altoona regional facility is approximately 95 miles from the UPMC headquarters in Pittsburgh. The Altoona area was once known for having the largest industrial railroad complex in the world, a major source of asbestos-related lung diseases that have continued to plague the area.
Expanded Services Available
The new 16,000-square-foot facility, which is almost double in size, includes 28 medical oncology treatment bays. It is located alongside the UPMC Altoona Surgery Center.
"We want to ensure that we are able to provide the same high-quality care that patients expect," said Stephanie Dutton, vice president and chief operating officer of the UPMC Hillman Cancer Center. "This expanded location in Altoona will achieve those expectations and more."
The Hillman Cancer Center, with its flagship facility in Pittsburgh, has earned a national reputation for excellence with innovative, quality care and a vast range of services.
Patients are assured of receiving the latest and most effective advances in diagnostics and treatment.
The latest developments in cancer prevention and detection also are being utilized throughout the network.

In 2018, the HIllman Cancer Center added Dr. Rodney Landreneau, a pioneer in minimally invasive lung cancer surgery and the surgical management of mesothelioma.
A Strong Regional Network
Resources and research under the Hillman Cancer Center umbrella are spread throughout the 35 satellite centers across Pennsylvania, Ohio and West Virginia.
In Altoona, it is part of a not-for-profit, regional health care system — UPMC Altoona — that serves more than 20 counties throughout Central Pennsylvania. An acute-care teaching hospital anchors the complex.
Signature services include:
Cancer care
Bariatrics
Breast health
Maternity care
Heart and vascular care
Geriatric bone care
Stroke care
Emergency medicine and trauma care
Surgical services and robotics
With more than 3,000 employees, the UPMC Altoona Hospital complex is the largest employer in Blair County.