NCI-Designated Cancer Center
Cancer center recognized by the National Cancer Institute as one that meets rigorous standards for multidisciplinary, innovative research focused on developing new and improved approaches to preventing, diagnosing and treating cancer.
UPMC Hillman Cancer Center in Pittsburgh, Pennsylvania, is a top hospital with a Mesothelioma Specialty Care program that includes expert oncologists Dr. James Ohr and Dr. Antoinette Wozniak. UPMC offers innovative treatments through research and ongoing clinical trials.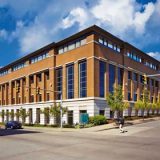 5115 Centre Ave Pittsburgh, PA 15224
Specialized Mesothelioma Care at UPMC Cancer Center
The UPMC Cancer Center network has been recognized as a national leader for many years, earning a reputation for excellence through a vast range of services and a quality of care that is unmatched in Western Pennsylvania.
The Mesothelioma Specialty Care program was added in 2011, joining the growing list of common and rare cancers covered under the UPMC umbrella. This and other specialized programs at UPMC give each patient a comprehensive, individualized care package with a multidisciplinary approach.
Cancer patients of all kinds are in good hands here, reaping the collective expertise that comes from several hundred health care professionals and research scientists, 200 affiliated oncologists and 35 satellite centers. It is one of the largest and most extensive cancer-care networks in the country.
With the Hillman Cancer Center as the flagship facility and the home of the University of Pittsburgh Cancer Institute, patients are assured of getting the most current and effective advances in prevention, detection, diagnosis and treatment. And with so many medical and academic resources available, the latest and greatest developments are never far away.
This work has earned UPMC the elite Comprehensive Cancer Center designation from the National Cancer Institute. Only the nation's best cancer centers with scientific leadership, vast resources and extensive clinical research receive this designation. The model has been so effective that UPMC Cancer Center has expanded internationally, branching out into Dublin and Waterford, Ireland.
UPMC is a nonprofit health care provider. As a nonprofit, all the money it makes is reinvested back into the health care services it provides, including the Mesothelioma Specialty Care program.
UPMC Hillman Mesothelioma Specialists
The Mesothelioma Specialty Care program employs a multimodality treatment approach, incorporating combinations of surgery, chemotherapy and radiation therapy. These therapies also include a form of heated chemotherapy that is used in conjunction with a pleurectomy (removal of the chest lining).
Among the team's experts are surgical oncologists who specialize in treating different types of mesothelioma, including James F. Pingpank, M.D., a peritoneal specialists who treats the cancer with surgery and chemotherapy.
The surgeons treating pleural mesothelioma within the specialty center include Neil Christie, M.D., who specializes in minimally invasive thoracic surgery; and Matthew Schuchert, M.D., who specializes in radiofrequency ablation, CyberKnife and all facets of thoracic surgical oncology.
In treating pleural mesothelioma, Christie and Schuchert are joined by James Luketich, M.D., chairman of the Cardiothoracic Surgery department.
Treating Pleural & Peritoneal Mesothelioma at UPMC Cancer Center
The Mesothelioma Specialty Care program treats the two most common types of mesothelioma, pleural and peritoneal, which affect the linings of the lung and abdomen, respectively.
Accurate diagnostic measures set the foundation for treatment at UPMC. A variety of cutting-edge imaging scans and biopsy tests are used to determine the cancer's stage and cell type, which help guide treatment decisions.
Comprehensive treatment planning and surgical services form the cornerstone of care at UPMC. A team of doctors specializing in surgery, chemotherapy, radiation therapy, oncology, pain management and palliative care work together to devise a customized treatment and health care plan for each patient.
New patients are guided by a UPMC coordinator, who will schedule appointments and serve as liaison for the patient and treatment team.
UPMC's Acclaimed Lung Cancer Program
The Lung and Esophageal Cancer Treatment Program, which has received much acclaim, is comprised of internationally renowned thoracic surgeons, medical oncologists, radiation oncologists, pulmonologists and pathologists.
The success of the program is due to the hard work and experience of its doctors and researchers like Schuchert, assistant professor of surgery for the Department of Cardiothoracic Surgery and an authority in thoracic surgical oncology and research. This team utilizes an interdisciplinary and coordinated approach, whether treating mesothelioma or non-small and small-cell lung cancers.
State-of-the-Art Research & Cancer Care at UPMC Hillman
Within the UPMC Cancer Center community, research is a constant, and clinical trials are an essential part of improved diagnosis and treatment. The center has won numerous awards, including the prestigious Specialized Program of Research Excellence (SPORE) grant, which focuses on head, neck, lung and skin cancers.
These facilities focus on four target research areas of molecular and medical oncology, including:
The biological basis of cancer development and progression
Identification of new biomarkers for improved cancer detection and diagnosis
Development of novel therapeutics for successful and comprehensive cancer treatment
Establishment and implementation of effective cancer prevention measures
In 2006, the National Mesothelioma Virtual Bank was added under the cancer center umbrella, making it easier for researchers everywhere to aid in the fight against the cancer caused by asbestos exposure.
Data and specimens from more than 1,200 cases at four different medical centers are available for review, hoping to spark new ideas from many different angles. The plans for expanding the bank already have begun.
UPMC Mesothelioma Clinical Trials
A multicenter phase II clinical trial studying the effectiveness of the Opdivo (nivolumab) and Yervoy (ipilimumab) immunotherapy combination with various rare cancers. Opdivo is given on days 1, 15 and 29, while Yervoy is given only on the first day.
A phase I study of atezolizumab, an immunotherapy drug, in combination with chemotherapy, aggressive surgery and with or without radiation therapy. The experimental drug will be given both before and after surgery.
This randomized phase I/II clinical trial will be measuring the safest dosage levels of anetumab ravtansine when used in combination with Keytruda (pembrolizumab) for unresectable pleural mesothelioma.
Currently, UPMC is participating in one mesothelioma clinical trial involving chemotherapy with pemetrexed, also known as Alimta. The trial is evaluating the potential benefit of administering pemetrexed every 21 days after first-line chemotherapy as a means to control or prevent tumor growth and spreading. The study began in April 2010 and is estimated to wrap up in 2020.
Proud History of Excellence at UPMC
Founded in 1985, the University of Pittsburgh Cancer Institute was the youngest cancer center ever to receive the NCI's elite award, proving its excellence in patient care, education, basic science, clinical research and cancer prevention.
Today, UPMC offers one of the largest integrated community networks of cancer physicians and health care specialists in the nation. The facilities' recruiting success has resulted in increased government funding. In 2010, the UPCI received nearly $170 million. Ranked among the country's top-tier cancer institutes, the UPMC is continually recognized by U.S. News & World Report as having one of the nation's best cancer programs.