Virginia Cancer Specialists
Table Of Contents
Thanks to Virginia Cancer Specialists, pleural mesothelioma patients in Northern Virginia can access highly specialized treatment close to home.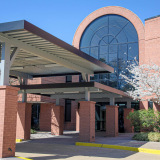 8613 Lee Highway, Fairfax, VA 22031
Virginia Cancer Specialists Known for Innovation
The community-based Virginia Cancer Specialists in Fairfax has a multidisciplinary treatment program to provide personalized care in handling a wide variety of malignancies, including mesothelioma treatment.
Its affiliation with US Oncology Network combines its longstanding patient-centric, family friendly approach with the latest technology and most up-to-date treatment advancements.
For more than 40 years, Virginia Cancer Specialists has provided world-class care close to home. Its facilities now rival those at much larger academic centers.
In 2017, the cancer center opened a state-of-the-art research facility dedicated to phase I clinical trials, giving its patients access to novel treatment technologies.
"Research is a vital part of our mission to provide patients access to advanced cancer treatments in the community where they live and work," said Dr. Alex Spira, medical oncologist and director of the Research Institute and Phase I Trial Program at Virginia Cancer Specialists. "This clinic … enables us to lead the way in research focusing on promising new advancements, such as immunotherapy."
Spira, who has been a leader in immunotherapy for thoracic malignancies, has been lauded for his work by pleural mesothelioma patients.
"Our passion in caring for these patients often comes from the fact that these cancers are incredibly aggressive. The patients are sick," he said. "We can offer them hope, and treatment they can't find anywhere else."

In 2021, Virginia Cancer Specialists partnered with NEXT Oncology to expand the clinic's Phase I and developmental therapeutics cancer research program and bring the latest in new agents and anticancer treatments to its research institute.
Multidisciplinary Team of Experts at Virginia Cancer Specialists
Spira also serves as an assistant professor of oncology at Johns Hopkins School of Medicine. He talks often about targeted therapies and a personalized approach to treatment.
He works closely with thoracic surgeon Dr. Sandeep Khandhar, who joined the Virginia Cancer Specialists team in 2019.
"His surgical expertise is a great addition to our lung cancer team," Spira said. "The complexity of lung diseases requires a multidisciplinary team approach."
Spira and Khandhar are two of more than 50 highly skilled physicians on the Virginia Cancer Specialists team, of which North Virginia Magazine named 31 to its 2019 Top Doctors list. The team is spread across nine locations throughout the northern part of the state.
The cancer experts include medical, radiology, surgical and hematology oncologists, along with oncology nurse navigators, laboratory technicians, oncology infusion nurses and genetic counselors. They work together to provide the best possible experience for patients and families.
Mesothelioma Clinical Trials at Virginia Cancer Specialists
A phase II clinical trial studying the immunotherapy combination of nivolumab (Opdivo) and ipilimumab (Yervoy) for patients with rare tumors, such as mesothelioma.