NCI-Designated Cancer Center
Cancer center recognized by the National Cancer Institute as one that meets rigorous standards for multidisciplinary, innovative research focused on developing new and improved approaches to preventing, diagnosing and treating cancer.
Yale New Haven Health Smilow Cancer Hospital
Yale New Haven Health Smilow Cancer Hospital in New Haven, Connecticut, is an NCI-designated Comprehensive Cancer Center that offers clinical research trials. The facility centers on multimodal mesothelioma treatment with an expert team that includes thoracic surgeon Dr. Frank Detterbeck.
Get in Touch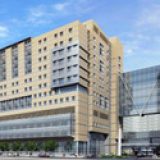 20 York St New Haven, CT 06510
Yale Cancer Center Has Vast Resources
The Yale Cancer Center, like the university that shares the name, proudly carries its Ivy League reputation for excellence, working daily to maintain that elite status.
The Yale Cancer Center is the only facility in the Southern New England states, one of only 41 nationally, that is designated as a Comprehensive Cancer Center by the National Cancer Institute.
By combining its innovative treatment, quality care and cutting-edge, scientific research, the Yale Cancer Center has remained at the forefront in the fight to reduce cancer mortality and raise the levels of prevention. One of the goals at Yale is developing effective therapies through better understanding of the fundamental mechanism of the disease.
The cancer center combines the vast resources of the Yale University School of Medicine and the Smilow Cancer Hospital at Yale/New Haven, a collaboration of nationally and internationally renowned experts. With such vast resources, the center attracts an estimated $140 million annually for research funding.
Treating Mesothelioma at Yale Cancer Center With a Team Approach
The multidisciplinary approach at Yale has produced teams of cancer specialists who provide the most up-to-date help in detection, prevention, diagnosis and treatment of most types of cancer. It has developed 12 different clinical programs for specific cancers, including mesothelioma, making it easier for patients to get the best possible care.
The medical team of thoracic surgeons, oncologists and pathologists with an expertise in malignant mesothelioma include Frank Detterbeck, M.D., chief of Thoracic Surgery and a well-known lung cancer expert. Detterbeck also is part of a team of Yale surgeons who emphasize minimally invasive procedures to solve malignancy issues. Joining him with a strong interest in mesothelioma are Scott Gettinger, M.D., a thoracic oncologist, and Jack Elias, M.D., chairman of the department of internal medicine.
Yale Cancer Center Is Pioneering Advancements
The Yale Cancer Center was established in 1974, but there is an even longer, equally impressive history to the Yale Medical School. Its faculty has been credited with laying the groundwork for delivering the first cancer-fighting chemotherapy treatment more than 60 years ago. The Yale Medical School also was home to the first university based Medical Oncology Section.
The center also has responded to the growing number of cancer survivors, providing more and better programs designed to assist those who have been through the fight. The Yale program is a major part of the Connecticut Challenge Survivorship Clinic, which provides resources and services that can be vital to those who have survived cancer. A team of clinicians and scientists, along with nutritionists, exercise therapists and social workers, empower survivors to help maintain their health and quality of life.
Each patient receives an individualized support program tailored to their cancer type and treatment history. They have access to varied periphery topics like genetic counseling, mental health, sexual health and neurocognitive assessment.
To better educate the public, the cancer center has a weekly radio show aimed at residents throughout the state, focused on cancer prevention, screening, treatment and detection. The show usually features a different cancer specialist who shares the most recent advances in therapy, and answers questions that come by email or phone.
Mesothelioma Clinical Trials at Yale Cancer Center
A phase I clinical trial to evaluate the safety and efficacy of ABBV-368 alone, or in combination with ABBV-181, for patients with metastatic solid tumors such as mesothelioma.
A phase II clinical trial to study the potential effectiveness of the immunotherapy combination of nivolumab (Opdivo) and ipilimumab (Yervoy) for patients with rare tumors, including mesothelioma.