Asbestos-Related Lung Cancer Prognosis
Fact Checked
Our fact-checking process begins with a thorough review of all sources to ensure they are high quality. Then we cross-check the facts with original medical or scientific reports published by those sources, or we validate the facts with reputable news organizations, medical and scientific experts and other health experts. Each page includes all sources for full transparency.
Medically Reviewed
A medical doctor who specializes in mesothelioma or cancer treatment reviewed the content on this page to ensure it meets current medical standards and accuracy.
This Page was Medically Reviewed By
Average asbestos-related lung cancer life expectancy is 16.2 months. An asbestos-related lung cancer prognosis is best determined by a lung cancer specialist. You may be able to improve your prognosis through treatments such as surgery, chemotherapy and immunotherapy.
Page Topics
How Long Can You Live with Asbestos-Related Lung Cancer?
Patients with asbestos-related lung cancer face a similar prognosis as other lung cancer patients.
In a 2009 Japanese study, the average prognosis for asbestos-related lung cancer was 16.2 months, while the average prognosis for non-asbestos related lung cancer was 17.2 months. Of the patients with asbestos-related lung cancer, 25% achieved a five-year survival rate with treatment. Exposure to asbestos was not found to substantially increase or reduce a lung cancer patient's prognosis.
As with other asbestos-related diseases, such as mesothelioma, early diagnosis helps patients qualify for more effective treatment options that improve survival.
Asbestos-related diseases develop slowly and are often diagnosed in their later stages, preventing many patients from eligibility for surgery and other effective lung cancer treatment options.
Patients who have been heavily exposed to asbestos — especially those with a history of smoking cigarettes — should consider yearly lung cancer screenings to catch tumors before they become inoperable.
Lung cancer screening involves a low-dose CT scan, which can show tumors growing at early stages. Research published in 2017 shows workers with a history of asbestos exposure may also benefit from regular spirometry tests, which can identify workers with weakened lung function who may be at risk of developing lung cancer.
What Affects a Lung Cancer Prognosis?
The most common prognostic factors for asbestos-related lung cancer include:
The type and stage of the cancer
Patient's age and overall health
Pulmonary function, including smoking history
However, your prognosis is not a fixed number. You may be able to improve your life expectancy through treatment, which mesothelioma and lung cancer patients share in common.
Tumor-removing surgery, chemotherapy, radiation therapy and immunotherapy all can play a role in someone living longer with asbestos-related cancer.
Some prognostic factors are positive, meaning they will tend to increase the length of your life, while others negatively impact your prognosis. Patients can have a combination of poor and positive prognostic factors.
Prognostic Factors: Positive vs. Poor
| Positive Prognostic Factors | Poor Prognostic Factors |
| --- | --- |
| Under age 65 | Age 65 or older |
| Female | Male |
| Nonsmoker | Smoker |
| High hemoglobin levels | Stage 3 or stage 4 cancer |
| Normal lactate dehydrogenase levels | Cancerous spread to other organs |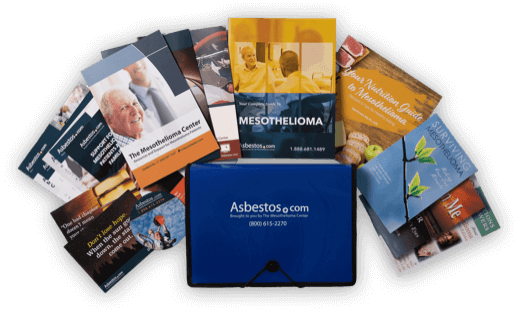 Free Mesothelioma Guide
Learn more about asbestos cancer in our comprehensive mesothelioma guide. Over 200+ pages covering treatment options, support, and more.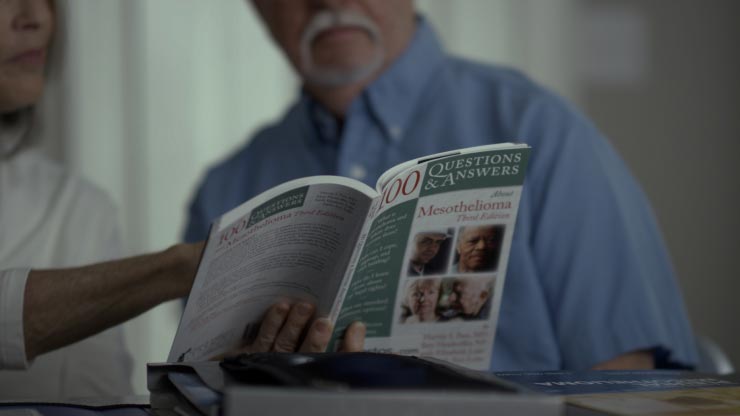 Lung Cancer Stage Affects Survival Rates
The cancer's stage is one of the primary factors when determining a patient's prognosis.
Overall, lung cancer patients who are diagnosed at an early stage tend to have a better prognosis and longer survival rate.
Five-Year Survival Rates for Lung Cancer
Local spread, which represents stage 1 and 2, has a five-year survival rate of 61%.
Regional spread, which represents stage 3, has a five-year survival rate of 35%.
Distant spread, which represents stage 4, has a five-year survival rate of 6%. Source: American Cancer Society, January 2020
Survival Rates by Type of Lung Cancer
The two main types of lung cancer, small cell and non-small cell, are associated with different survival rates. Notably, small cell survival is significantly shorter than non-small cell.
Small cell lung cancer is a more aggressive type of lung cancer and it has a poorer prognosis:
Localized spread has a five-year survival rate of 27%
Regional spread has a five-year survival rate of 16%
Distant spread has a five-year survival rate of 3%
Even non-small cell has cell subtypes with different prognoses. For example, adenocarcinoma is a type of non-small cell, and it tends to have a slightly better prognosis than other forms.
A 2011 study reported that adenocarcinoma patients lived a median of 8.4 months while all other non-small cell lung cancer patients lived a median of 8.1 months. While the difference is small, researchers have found similar results in other studies and believe the lung cancer statistics are significant.
Asbestos Exposure and Lung Cancer Prognosis
Asbestos exposure is not a significant prognostic factor for lung cancer patients.
Patients with asbestos-related lung cancer have similar prognoses as patients with lung cancer caused by another carcinogen such as cigarette smoke.
While prognostic factors and survival statistics are identified through studies and scientific analysis, they can't account for personal factors. Some patients outlive their prognosis without any significant explanation, while others live longer thanks to aggressive treatment or participation in clinical trials that gave them access to groundbreaking therapies such as immunotherapy.
---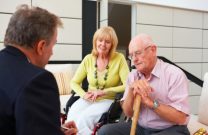 Get the Compensation You Deserve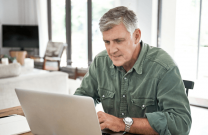 Mesothelioma Case Value Webinar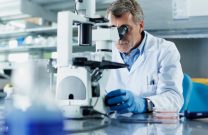 Immunotherapy & Mesothelioma Clinical Trials
---
Tell us what you think
Did this article help you?
How did this article help you?
What about this article isn't helpful for you?
Did this article help you?
Thank you for your feedback. Would you like to speak with a Patient Advocate?
---