The second reason is the public's relative ignorance of the illness. When there is less awareness of a particular disease, less publicity about its effects and/or the absence of a large, vocal constituency or a well-known public figure supporting more research, there is less pressure on Congress to fund it accordingly.
Lastly, in the annals of cancer research, mesothelioma is a relative newcomer. Because a latency period that can span 20 to 50 years, and the difficulty in diagnosing the disease, it is only now being recognized as a lethal and widespread scourge.
But with the medical community and grass-roots patient advocacy groups uniting to demand more action and funding to help those afflicted with this terminal cancer, doctors and scientists are securing additional grants (albeit small) so that new breakthroughs in drugs and other treatment methods make their way to a group of cancer sufferers with few options for living beyond the standard four to 18 months.
Federal Funding for Mesothelioma Compared to Other Cancers
In 2010, the NCI's total budget was $6.4 billion. Funds are given to various research institutions based on the incidences and death rates of the most common types of cancer, in addition to other, non-measurable factors. Breast cancer, for instance, receives more federal funding than any other cancer, capping in at $631.2 million. It claims three times the funding of lung cancer research even though its death rate is one fourth the amount. This is due, in large part, to greater public awareness of the ailment, more intensive lobbying, and its relatively greater emotional mystique. In comparison, federal funding for research on mesothelioma was only $6 million, or 0.1 percent, of NCI's annual budget from 2004-2007.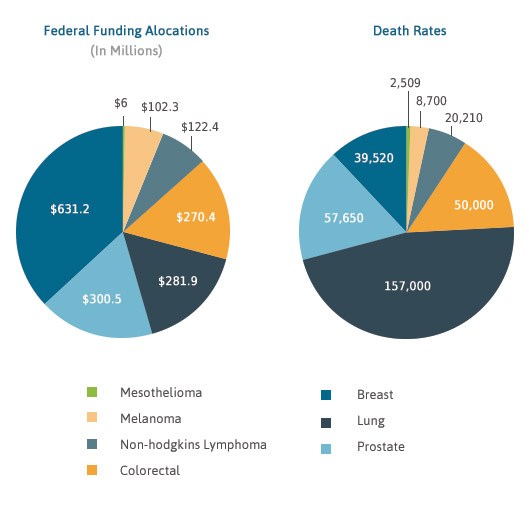 National Cancer Institute
The National Cancer Institute is a federal agency that was created in 1937 to be the nation's principal organization for researching cancer. It is one of 27 Institutes and Centers that form the National Institutes of Health (NIH), which is part of the federal Department of Health and Human Services. It receives its funding from the U.S. Congress and its mandate, as stipulated in the National Cancer Act of 1971, is to investigate the causes, prevention, detection, diagnosis and treatments of cancer through research projects and clinical trials.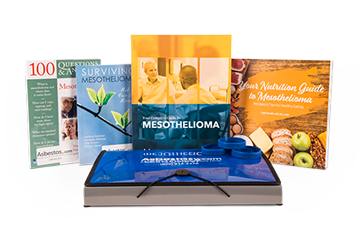 Free Mesothelioma Guide
Information about mesothelioma, books, wristbands & more for patients and caregivers.
Get Yours Today
Funding by the Department of Defense
In 2006, activists for mesothelioma research engineered an end run around the NCI, by appealing to the Senate's Defense Appropriations Subcommittee, which recommends funding for the Department of Defense (DoD). By making the case that asbestos exposure of U.S. Navy personnel in shipyards and vessels had contributed to almost one third of all mesothelioma cases, and by stressing the relevance of mesothelioma research to service members, their families, veterans and their dependents, they convinced the subcommittee that the DoD should help in the search for a cure.
In 2008 the Congressionally Directed Medical Research Programs of the DoD established the Peer Reviewed Cancer Research Program (PRCRP) and awarded its first mesothelioma research grant of $1.36 million to Courtney Broaddus, M.D., for her work on macrophage-induced inflammation in mesothelioma. Four more DoD grants were awarded in 2009, two of which went to top mesothelioma specialists, thoracic surgeon Harvey Pass, M.D., and thoracic oncologist Lee Krug M.D. An additional $3 million was awarded in 2010. A dedicated funding stream of $5 million was requested for mesothelioma research through the Congressionally Directed Medical Research Programs for the 2012 fiscal year.
FDA-Sanctioned Clinical Trials
Another way in which the Federal government influences mesothelioma research is through the Food and Drug Administration's (FDA) sanction of clinical trials. Clinical trials are human studies of new drugs and treatments to determine whether they will ultimately be approved by the FDA. The FDA, itself, does not fund or conduct clinical trials. Its role is to promote and enforce strict protocols to ensure that people who agree to be in studies are treated as safely as possible.
Clinical Trials Conducted Since 2011
Several new oral medications against advanced pleural mesothelioma where traditional chemotherapy has failed
An under-the-tongue spray medication for mesothelioma pain
The addition of a third chemotherapy drug, SS1P, to the standard two-drug mixture
The effectiveness of video-assisted surgery for mesothelioma tumors
The effectiveness of administering a heated chemotherapy drug in the operating room, immediately following mesothelioma surgery
A new drug, AZD2171, which may stop the growth of tumors in mesothelioma patients who are not candidates for surgery
The effectiveness of combining chemotherapy with Intensity Modulated Radiation Therapy in mesothelioma
A new mesothelioma treatment drug called Veglin
The National Mesothelioma Virtual Bank
The National Mesothelioma Virtual Bank (NMVB) is a virtual biospecimen registry designed to support and facilitate basic scientific and clinical research with the goal of expediting the discovery of preventive measures, novel therapeutic interventions and ultimately cures for mesothelioma. It is funded by the National Institute for Occupational Safety and Health (NIOSH), the federal agency responsible for conducting research and making recommendations for the prevention of work-related injury and illness. NIOSH is part of the Centers for Disease Control and Prevention (CDC) within the U.S. Department of Health and Human Services.
Last Modified December 19, 2018
6 Cited Article Sources
How did this article help you?
What about this article isn't helpful for you?
Did this article help you?
Thank you for your feedback.
Would you like to speak with a Patient Advocate?