Robert Cameron Touts Pleurectomy and Decortication at Upcoming Symposium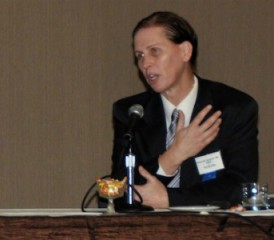 For almost two decades now, Robert Cameron, M.D., has touted the pleurectomy/decortication surgical procedure for patients with pleural mesothelioma.
He even created his own forum to promote it.
Cameron, chief of thoracic surgery at the West Los Angeles VA Medical Center, will lead his 2nd annual International Symposium on Lung-Sparing Therapies For Malignant Mesothelioma in May, hoping to continue raising awareness.
Cameron, who also is the director of the UCLA Mesothelioma Research Program, has been outspoken in the past in regard to the lung-removing, extrapleural pneumonectomy (EPP) procedure that some of his peers around the country perform.
He is firm in his belief that his complex P/D procedure, which leaves both lungs intact, is better for mesothelioma patients.
"Clearly, it is best for the patient to treat mesothelioma as a chronic illness while preserving the function of both lungs," Cameron said in the press release announcing the symposium. "This symposium brings the best scientific  and medical minds together to advance the treatment."
Cameron Feels Obligation to Mesothelioma Patients
The symposium, set for May 12 in Santa Monica, California, will bring together experts from Houston, San Francisco, New York and South Africa . It is designed primarily for physicians, but he has opened it up to physicians in training, nurses, mesothelioma patients, their families and anyone who is interested in learning more. Tickets can be purchased from the school in advance.
As part of the 2011 Symposium, the panel reviewed the results of an extensive trial in the United Kingdom Mesothelioma and Radical Surgery that shared Cameron's belief in the lung-sparing surgery.
Cameron was the driving force behind the recently opened, state-of-the-art Pacific Meso Center in Los Angeles, which is the first research lab dedicated solely to the development of novel treatments for malignant pleural mesothelioma.
It is independent of the limitations sometimes imposed by private medical or academic institutions. The cancer is relatively rare, diagnosed in an estimated 3,000 American each year, and caused exclusively by an exposure to asbestos.
"I really feel an obligation to my [mesothelioma] patients because there are so few [doctors] out there treating it correctly," he told Asbestos.com in an 2011 interview. "Mesothelioma is a cancer that so few know how to help. The patients are desperate and susceptible to people who don't know what they are doing."
PMC Establishing an International Tissue Bank
The Pacific Meso Center (PMC) is part of the Pacific Heart, Lung & Blood Institute that was established in 2002.
Initial projects at the PMC include:
Establishing an international tissue bank.
Initation of a stromal cell modification project.
Identification of a predictive model for drug prevention of mesothelioma.
Some of the early findings will be discussed at the 2012 Symposium.
"I have never seen such enthusiasm and genuine hope that this lab embodies  and holds for all mesothelioma victims," Cameron said.
2 Cited Article Sources