Ed Lauter's Widow Files Asbestos Lawsuit Against CBS, GE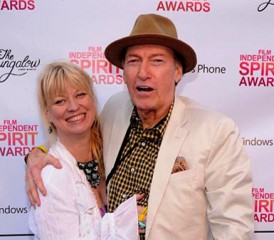 The widow of Ed Lauter, the actor who passed away from mesothelioma last October, is suing CBS Corp., General Electric (GE) and Ford Motor Co. for allegedly exposing him to asbestos, which she claims caused his cancer and subsequent death.
Other companies are cited in the lawsuit, according to TMZ.com, which first reported the suit. TMZ has not released the names of the other companies. Little information about the complaint has been released.
The actor's widow, Mia Lauter, is suing CBS and GE for the exposure he incurred during the two decades he worked in television. General Electric's inclusion in the lawsuit might be because it formerly owned the National Broadcasting Company (NBC).
The suit names Ford reportedly because the actor was exposed to asbestos through some of their auto parts, including brakes, clutch facings and compressors, reports show.
Lauter was diagnosed with pleural mesothelioma in May 2013. He passed away at the age of 74 on October 13, 2013. He starred in dozens of television shows, including "Charlie's Angels," "Murder, She Wrote," "Magnum, P.I.," "The X-Files," "ER," "Star Trek: The Next Generation" and "The Office."
Lauter also held roles in numerous movies, such as "The Longest Yard," "Leaving Las Vegas," "Seabiscuit" and the Oscar-winning "The Artist."
The Lauter family isn't the first to file an asbestos lawsuit against a TV network. Though not common, TV networks are occasionally sued for exposing employees to asbestos.
Asbestos Exposure in TV Network Facilities
Football Hall of Famer Merlin Olsen filed a lawsuit against Twentieth Century Fox and NBC over asbestos exposure he said he incurred during the time he worked in television.
Following his football career, Olsen became an actor and broadcaster. During his time as a broadcaster, he worked for NBC and Fox. Before the Olsen family settled out of court, NBC was dropped as a defendant, along with several other companies.
CBS and GE are defendants in mesothelioma lawsuits because they made or used asbestos products in their facilities. Because of a previous merger, CBS Corp. is responsible for asbestos-related suits filed against Westinghouse Electric Company. Westinghouse made asbestos-containing light bulbs, welding rods and turbines.
The turbines made by Westinghouse were installed on many Navy vessels built during and after World War II. Approximately 26 percent of mesothelioma lawsuits are brought by — or on behalf of — veterans.
In 2008, CBS was sued by Public Justice, a public interest nonprofit, for licensing an asbestos-contaminated toy. The CSI: Crime Scene Investigation Fingerprint Examination Kit was modeled after CBS's crime show "CSI." The powder included in the toy for fingerprinting contained as much as 7.2 percent tremolite asbestos. Tremolite is considered one of the most toxic forms of asbestos.
Twenty months after the toy was found to contain asbestos, CBS agreed to a settlement that implemented a nationwide recall of the product and a refund for purchasers.
Lauter's Career and Asbestos Exposure
How Lauter was exposed to asbestos remains unclear. The details of the complaint have not been released by TMZ.
Lauter began his career as a stand-up comedian in the 1960s doing impersonations of celebrities. He made his television debut in the 1970s, landing a role on the show "Mannix."
The use of asbestos was widespread until the 1980s. Lauter worked during the decades when asbestos use was highest. Asbestos was found in thousands of materials used in domestic, commercial and industrial settings. Asbestos products were commonly installed in homes, public buildings and workplaces.
Auto parts are notorious for containing dangerous levels of asbestos. The material was used for its heat resistance in hood liners, brakes, clutches and compressors. Auto repair workers are more likely to develop mesothelioma than the public because they work with asbestos-contaminated products.
Asbestos is still found in breaks and clutches used today in the United States. Only a handful of asbestos products remained banned when, in 1991, the Fifth Circuit Court of Appeals reversed the U.S. Environmental Protection Agency's measure to ban all asbestos-containing materials.
6 Cited Article Sources