Textile Mill Workers
Fact Checked
Our fact-checking process begins with a thorough review of all sources to ensure they are high quality. Then we cross-check the facts with original medical or scientific reports published by those sources, or we validate the facts with reputable news organizations, medical and scientific experts and other health experts. Each page includes all sources for full transparency.
Scientifically Reviewed
An occupational scientist or another expert who specializes in occupational hazards reviewed the content on this page to ensure it meets current scientific standards and accuracy.
This Page was Scientifically Reviewed By
A textile mill is a manufacturing facility where textiles, or types of cloth, are produced or processed into finished products, such as clothing. At a mill, raw natural fibers, such as cotton and wool, and synthetic fibers, such as nylon and polyester, are combined, carded and drawn out into long strands before they are spun into yarn, and wound onto special reels called bobbins. Depending on the type of material or product, the yarn is then ready for pressing, weaving, crocheting or knitting.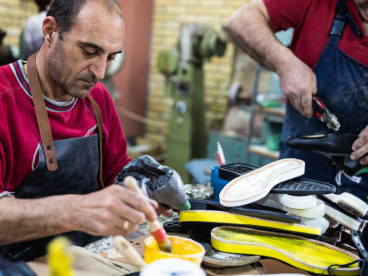 Page Topics
Written By: Matt Mauney,
Last modified: February 19, 2021
Quick Facts
The final steps in textiles production are dyeing and finishing, where fabrics and other textiles are colored, have designs printed on them, and are treated to keep them from shrinking, fading, wrinkling, and/or soiling easily.
Historically, textile mills were highly labor intensive, but in modern textile mills, specialized machinery perform most of the work.
The Industrial Revolution is largely responsible for the growth of textile mills, especially when it came to the processing of cotton, one of the most important natural fibers in the world. Although the importance of textiles is still apparent, specialized machinery has long since replaced many workers today. Textiles are currently produced and processed in approximately 18,800 locations across the nation.
Many of the goods that were produced and processed in textile mills from the 1940s to the 1970s were made with asbestos fibers, which put many textile workers at risk of asbestos exposure. However, those currently working in textile mills could still be at risk if exposed to older machinery, appliances or equipment.
In 2015, a Polish study analyzed rates of asbestosis among workers at five types of asbestos-product factories that operated from the 1940s to the 1990s. The highest rate of asbestosis occurred among asbestos textile workers, at 69.59 cases per 1,000 workers.
| Textile Mill Specialty | Job Responsibilities |
| --- | --- |
| Textile winding, twisting, and drawing out machine setters, operators, and tenders | Set up, operate or tend machines that wind or twist textiles, or draw out and combine sliver, such as wool, hemp or synthetic fibers |
| Textile knitting and weaving machine setters, operators and tenders | Set up, operate or tend machines that knit, loop, weave or draw in textiles |
| Textile bleaching and dyeing machine operators and tenders | Operate or tend machines to bleach, shrink, wash, dye or finish textiles or synthetic or glass fibers |
| Inspectors, testers, sorters, samplers and weighers | Inspect, test, sort, sample or weigh nonagricultural raw materials or processed, machined, fabricated or assembled parts or products for defects, wear and deviations from specifications |
| First-line supervisors/managers of production and operating workers | Directly supervise and coordinate the activities of production and operating workers, such as inspectors, precision workers, machine setters and operators, assemblers, fabricators, and plant and system operators |
Textile Mill Products and Locations
Textile mill workers were exposed to different types of asbestos products such as:
Textile Products

Textile mill workers were mainly exposed to asbestos through the raw material that was combined, carded, spun into yarn and then pressed, woven, crocheted or knitted into the products that were produced and processed, especially at mills where fire-resistant products were made, such as fire curtains, roofing felts, welding blankets, fireproof safety clothing, oven mitts and pot holders.

Thermal Insulation

Thermal Insulation: Fabric-weaving machinery, drying machines and boilers were insulated with asbestos, further exposing workers.
Occupational Exposure for Textile Mill Workers
Textile mill workers' exposure to asbestos is largely the result of direct handling of asbestos that was used to produce textiles. Exposure to airborne asbestos fibers and asbestos-containing insulation around machinery was a concern for all workers in the mill, whether they handled asbestos directly or not. Before strict regulations on the use of asbestos were implemented, the process of converting asbestos into usable fabric was one that involved many different workers and locations throughout the mill.
The asbestos was then delivered to storage, and when workers moved the asbestos from storage, they mixed it with cotton. It was then piled, which meant cotton and asbestos were put in alternating layers on the floor and then fed to a picker machine.
This was followed by carding, the arranging of cotton and asbestos fibers in parallel rows. The asbestos cards were then spun into yarn and wound around spools. This process created an environment in which heavy asbestos exposure was possible. Once carded, the material was spun into yarn and weaved, crocheted or knitted into completely or partially finished products.
It was common for fibers to become disturbed throughout this manufacturing process. This especially happened during the weaving process, where threads are prone to rub together and produce dust and lint, which disperse asbestos fibers and dust into the air. Once these fibers are inhaled, many are expelled, but some can become lodged in organ tissues and remain there throughout life. The accumulation of fibers can cause inflammation and scarring that may lead to the development of mesothelioma cancer and other asbestos-related illnesses.
Textile mill workers were also exposed to asbestos that was used for insulation purposes, such as asbestos cement used to insulate panels of drying machines. Not only did the drying machines themselves contain asbestos insulation, but lint and dust created by the drying machines did as well if asbestos materials were being used. Weaving machinery and boilers also contained asbestos insulation. Because most machinery used to create textile products was insulated with asbestos, all textile workers who had a hand in the manufacturing of textile products were at risk of exposure.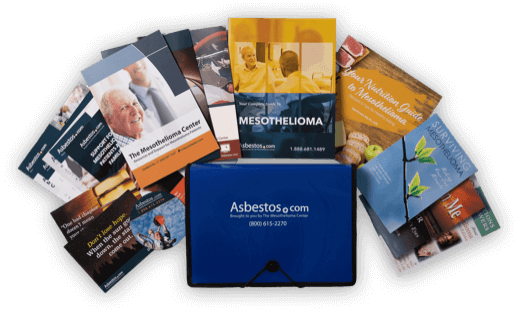 Learn About Your Legal Rights in Your Mesothelioma Guide
Also learn how to choose an attorney and how to qualify for compensation. Your free guide will be shipped overnight.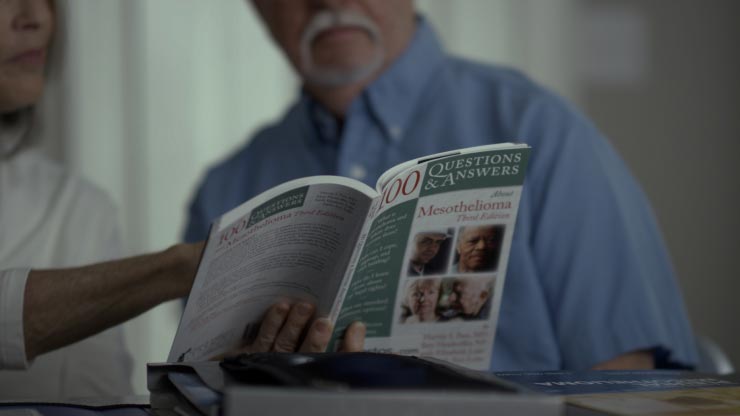 Scientific Studies Involving Textile Mill Workers
A study published in the March 2009 Occupational and Environmental Medicine titled, "Lung Cancer Mortality and Fiber Exposures among North Carolina Asbestos Textile Workers," suggests textile workers were exposed to chrysotile asbestos in at least four plants in North Carolina, and that the risk of lung cancer and asbestosis increased with cumulative exposure.
In a 1998 study, previous records of workers from an asbestos textile, friction and packing plant in the 1970s were analyzed to determine the causes of death. The study included 2,722 men and 554 women and the results concluded that 49 men and 14 women passed away from lung cancer. It was also found that asbestosis and other lung diseases caused 76 deaths in men and 14 deaths in women. Mesothelioma deaths totaled 14 men and four women. With several causes of death related to asbestos exposure, this study emphasized textile mill workers' risk of developing asbestos-related disease.
In an old study published in 1930, Edward Merewether and Charles Price of the Merewether and Price firm in London reported a survey of 363 textile workers who were exposed to asbestos, and 26 percent of those were diagnosed with asbestosis. Another 21 percent showed signs of the disease. It was also found that four out of five still working in the industry after 20 years had confirmed asbestosis. The prevalence of pulmonary fibrosis was so high that almost all men reaching retiring age after a working life in asbestos textiles or the manufacture of asbestos insulating materials were expected to be diseased.
In another old study published in 1924, Dr. W.E. Cooke, an English physician who gave asbestosis its name, reported the first case involving asbestosis, where the results of an autopsy confirmed asbestosis in a 33-year-old woman who had worked in an asbestos textile factory for 13 years. His finding was published in the British Medical Journal and led to years of intensive study of asbestosis in Britain, during which hundreds of asbestos-textile workers were examined. Doctors and scientists found that a quarter of the workers developed asbestos-related diseases.
Mesothelioma Lawsuits Involving Textile Mill Workers
In Greenleaf v. Garlock et al., Charles Greenleaf filed a lawsuit against numerous manufacturing companies, including Johns Manville, Uniroyal and Garlock, which are known for producing products made from asbestos textiles. Greenleaf worked as a ship fitter and alleged that he developed mesothelioma, a rare cancer that is caused almost exclusively by exposure to asbestos, from several materials including asbestos cloth and rope used in ships while working for several companies during the course of his career. The jury ruled in favor of Charles Greenleaf and awarded $250,000 to his estate and $1.6 million for loss of consortium to his wife, Naomi Greenleaf.
In another case, a shipyard storeroom worker named George Skleres filed suit against Raymark Industries, the manufacturer of Raybestos brand asbestos cloth. Mr. Skleres worked as a storeroom man from 1964 to 1982 for the company and he routinely cut pieces of asbestos cloth for orders. When the cloth was cut, he inhaled the dust. Years later, Skleres developed mesothelioma and he believes Raymark Industries is to blame. The verdict of his case is currently unknown.
In a July 2009 case, three plaintiffs filed civil suits in Delaware against E.I. Du Pont De Nemours and Company, Inc., located in Argentina. All separate plaintiffs complained that while working at the Argentina textile mill from 1961 to 2002, they were exposed to high levels of asbestos and inhaled the asbestos fibers on a daily basis. The plaintiffs believe they developed asbestos-related diseases as a result of DuPont's negligence in maintaining a dangerous work environment.
DuPont filed a motion to dismiss the charges, claiming the plaintiffs improperly sued DuPont instead of DuPont Argentina, where the plaintiffs resided. The lower courts ruled that these cases should be litigated in Argentina because that was where the plaintiffs lived and where they were injured.
Manufacturers Who Made Products Used by Textile Mill Workers
Hogansville Stark Mills, Duke Power, J.P. Stevens, Southern Asbestos Company, Thermoid Corp., Laclede Christy Works, Southern Textile Corp., and Regal Textile manufactured asbestos products.
Du Pont De Nemours and Company, Inc., Raymark Industries, Johns Manville, Uniroyal, Garlock, Coats & Clark Textile Mill, Coats & Clark Thread Company, H.K. Porter Co. and Avondale Mills Textile Mill have been involved in asbestos litigation for exposing workers.
---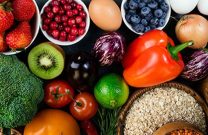 Get Free Recipes for Mesothelioma Patients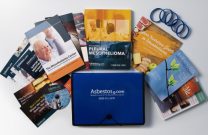 Read the Top Mesothelioma Guide for Free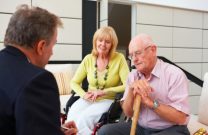 Get the Compensation You Deserve
---
Tell us what you think
Did this article help you?
How did this article help you?
What about this article isn't helpful for you?
Did this article help you?
Thank you for your feedback. Would you like to speak with a Patient Advocate?
---